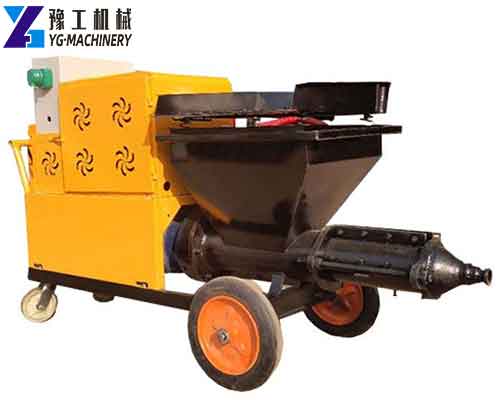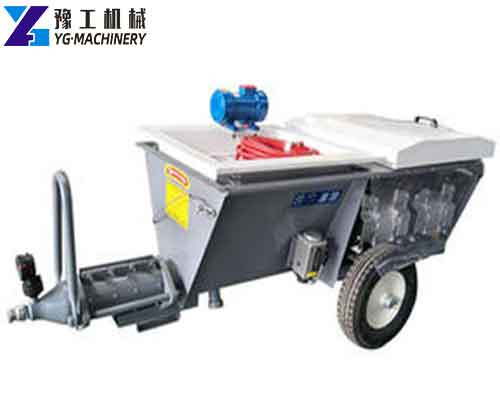 The concrete sprayer machine can use both pre-mixed and ready-mixed mortars at the same time. By changing the spray gun and screw pump, the air volume can be adjusted by using most ordinary mortars and special mortars to achieve multi-purpose use. Different materials can be used with different mixers to achieve the integration of mixing and spraying. It is suitable for reinforcement, leveling, painting, and pumping. It can be used for ordinary mortar plastering of interior and exterior walls, plastering plaster, thermal insulation mortar, bonding mortar, lime plastering, repairing plastering, face ash, sticking tiles, and filling mortar. Concrete sprayer machines are also called mortar spraying machines and stucco machines, in addition, YG Machinery also has some other construction machinery, such as shotcrete sprayers, fog cannon machines, hydroseeding machines, sandblasting machines, micro excavators, brick-making machines, GRC machines, and gypsum spray plaster machines. Contact us now to know more about machine details.【WhatsApp/WeChat/Skype/Phone】+86 136 1385 6800
Parameter of Concrete Sprayer Machine for Sale in YG Machinery:
| | | | | |
| --- | --- | --- | --- | --- |
| Model | YG311 | YG318 | YG500 | YG711 |
| Greatest Pressure | 3Mpa | 3Mpa | 3Mpa | 3Mpa |
| Capacity | 3㎡/h | 3㎡/h | 3㎡-4㎡/h | 4㎡/h |
| Applicable material ratio(water, ash, sand) | 0.7-1:1:3 | 0.7-1:1:3 | 0.7-1:1:3 | 0.7-1:1:3 |
| Main motor power | 4KW | 7.5KW | 8hp/12hp | 7.5KWstrength |
| Particle Size | ≤4mm | ≤8mm | ≤8mm | ≤8mm |
| Conveying Distance | H:30m/V:20m | H:50m/V:30m | H:50m/V:30m | H:50m/V:30m |
| Hopper Volume | 60L | 80L | 80L | 100L |
| The diameter of the feed delivers the pipe | 32mm | 32mm | 32mm | 32mm |
| Weight | 200KG | 320KG | 320KG | 320KG |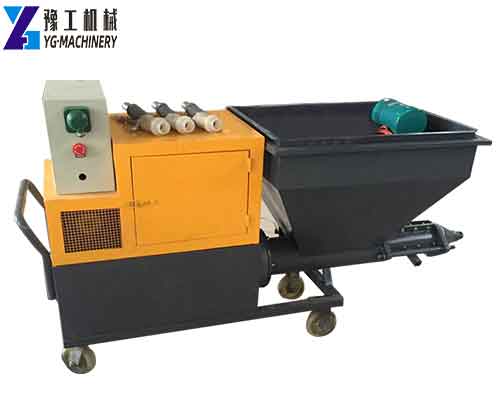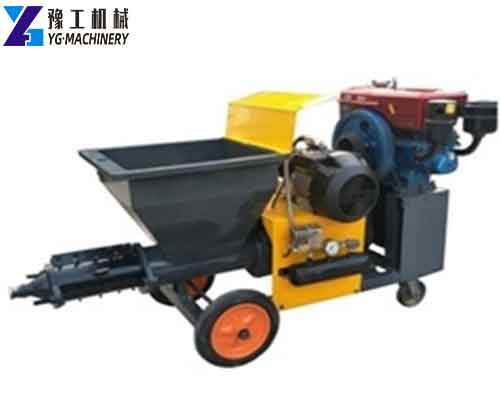 Scope of Application:
Indoor and outdoor ceiling spraying, expansion joint leakage, settlement joint leakage, subway leakage, tunnel leakage, mine plugging, civil air defense plugging works, dam leakage plugging, floor, cracks, hollow drum reinforcement, cement mortar spraying, dry powder mortar spraying, waterproof grouting and waterproof surface spraying, waterproof spraying grouting, ceiling spraying, wall spraying, paint spraying, relief effect paint spraying, handicraft spraying, sound-absorbing material spraying and other water-soluble objects.
Features of Small Concrete Sprayer Machine:
Suitable for spraying materials: putty powder, paint, latex paint, real stone paint, cement mortar, dry mortar, thermal insulation mortar, waterproof materials, fireproof materials, heat insulation materials, sound-absorbing materials, and other water-soluble materials.
Adjust the flow rate to bring out the best spraying effect.
In addition to the switch on the electric control box, it is also equipped with remote control switch spraying.
The connection between the spray gun and the feeding pipe can be rotated for easy operation.
High construction efficiency and good quality.
Small size, easy to carry on site, and low cost of accessories, simple maintenance.
Easy to use, fast, and saves materials, labor, and money. One machine only has three people, 150 square meters per hour (thickness 2cm).
Material ratio (cement) 0.7:3 mortar.
The Working Principle of the Mortar Spraying Machine:
The mortar spraying machine uses compressed air to drive the abrasive (or projectile) to the surface of the workpiece and to micro-cut or impact the surface of the workpiece to realize rust removal, paint removal, surface impurity removal, surface strengthening, and various Decorative treatment. Mortar spraying machines are widely used in various metal components and welding surfaces in the manufacturing of ships, aircraft, metallurgy, mining, railways, bridges, chemicals, vehicles, and heavy machinery industries. The sandblasting machine is also an ideal piece of equipment for decoration and carving on non-metal (glass, plastic, etc.) surfaces.
Popularization and Application of Concrete Spraying Machine:
With the development of cement construction, more and more construction designs involve mortar spraying operations. Diversion canal, diversion tunnel, slope protection, wall reinforcement, rockery modeling, etc. With the gradual improvement of construction requirements, it is obviously difficult for artificially applied shortboards (such as delamination and hollowing) to meet the construction requirements. It is restricted by slow feeding, steel bar hanging net, and so on. Manual smearing has been eliminated. In this context, the mortar spraying machine came into being. It is not only fast, efficient, and self-provided feeding spraying power but also has the characteristics of strong penetration and high density. Delamination hollowing does not exist at all. Hanging net spraying is its inherent advantage.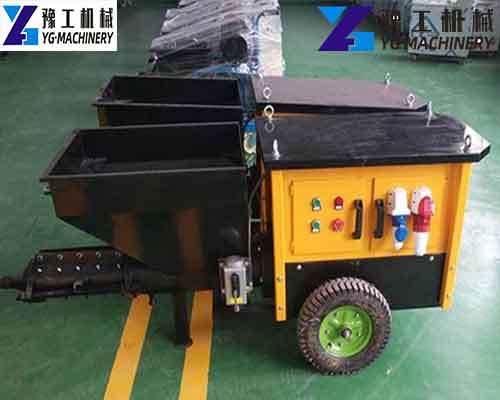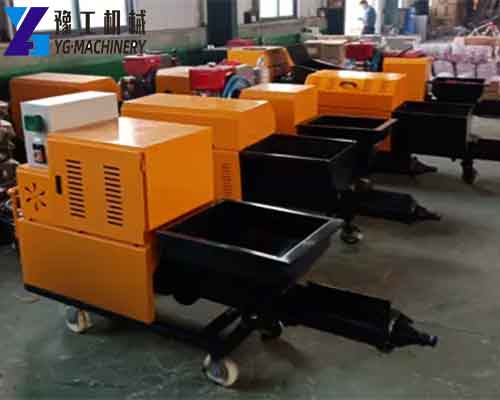 Concrete Sprayer Machine for Sale in YG Machinery Manufacturer with Factory Price:
Concrete sprayer machine has always been a necessity in the construction industry, It can also be said that it has made a great contribution, can reduce a lot of labor, and the price is not expensive. The service life is also very long, the operation is still simple, and it is a great helper in the construction industry. In addition, we also have other construction machinery, small backhoe loaders, electric forklifts, chain hoist trolleys, hydraulic scissor lift platforms, dry ice blasting machines, rubber vulcanizing machines, agricultural drone sprayers, wood shredders, polyurethane spraying machines, etc. Please contact us for more information about YG Machinery!【WhatsApp/WeChat/Skype/Phone】+86 136 1385 6800