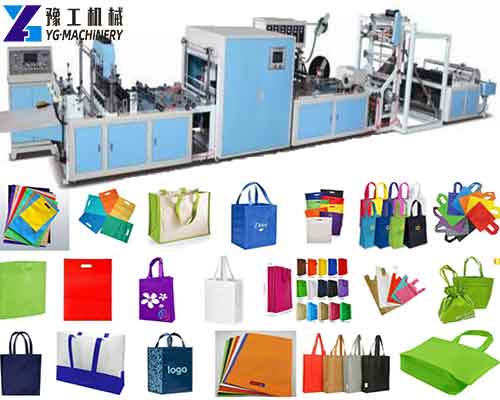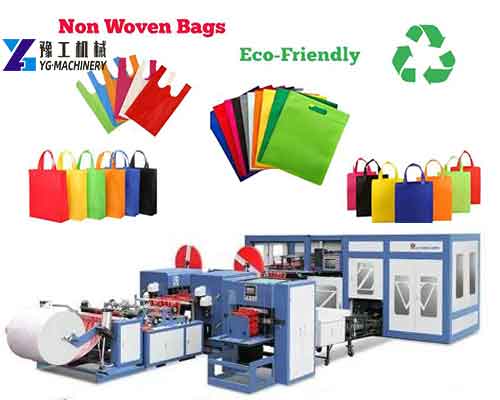 The non-woven bag making machine is suitable for non-woven raw materials and can process various specifications and shapes of non-woven bags, vest bags, handbags, leather bags, Spinning fruit bagging, plastic turnover basket bagging, grape bagging, apple bagging, etc. Non-woven bags are environmentally friendly products and are a relatively common type of packaging bag, mainly used for shopping, packaging, advertising, electronics, clothing, decoration, and other products. The machine integrates electromechanical and uses touch screen operation. Contact us for nonwoven bag making machine price.【WhatsApp/WeChat/Phone/Skype】+86 136 1385 6800
Non-woven Bag Manufacturing Machine Technical Parameter:
Model
YG-600 Model
YG-700 Model
Finish Products
D cutting bag
T-shirt bag
Box bottom bag
D cutting bag
T-shirt bag
Box bottom bag
Production Speed(pcs/min)
20-100
20-60
20-80
20-80
20-60
20-80
Bag Thickness(gsm)
30-120
25-100
30-120
30-120
25-100
30-120
Bag Width(mm)
100-700
200-450
100-700
100-800
200-450
100-800
Bag Length(mm)
250-580
100-800
200-580
250-690
100-800
200-690
Side-folding Size(mm)
50-100
50-100
Soft loop handle width
25/28/30
25/28/30
Box bottom side & bottom gusset
50-75
50-75
Voltage(V)
220V/380V (Depend on the client's requirements)
Power(kW)
18
Weight(kgs)
4000
4500
Machine size (m)
14*2.2*2.1
14*2.5*2.1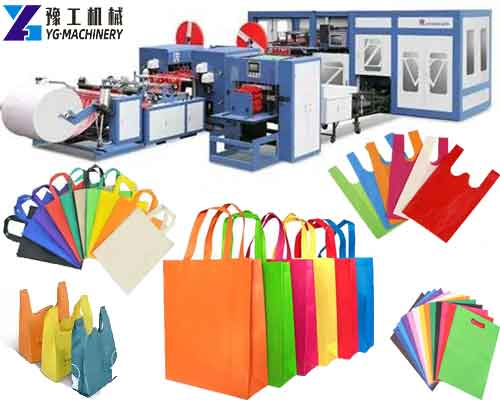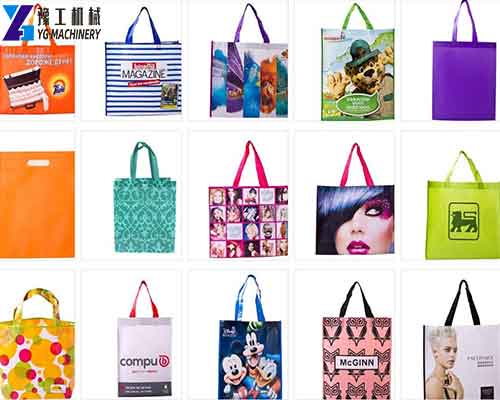 Working Principle of Fully Automatic Non-Woven Bag Making Machine:
The non-woven bag making machine is feeding powder (colloid or liquid) to the hopper above the packaging machine by the feeder, and the introduction speed is controlled by the photoelectric positioning device. The guide roller is driven and introduced to the lapel former, and after being bent, it is overlapped by the longitudinal sealer to form a cylindrical shape. The material is automatically measured and then filled into the finished bag. The barrel is pulled down intermittently, and finally, a flat bag with three sides of the lap seam is formed, and the sealing of the bag is completed.
5 Features of YG Non-Woven Bag Making Machine:
Using ultrasonic welding, no need for needle and thread, saving the trouble of frequent needle and thread change, there is no broken thread joint of traditional thread stitching, and it can also cut and seal the textile neatly locally. The stitching also plays the role of decoration, with strong adhesion, can achieve a waterproof effect, clear embossing, more three-dimensional relief effect on the surface, better working speed, and more high-end and beautiful product effect; quality guaranteed.
Using ultrasonic and special steel wheel processing, the sealed edge will not crack, will not damage the edge of the cloth, and there is no burr or curling phenomenon.
No preheating is required during manufacture and can be operated continuously.
The operation is simple, and it is not much different from the traditional sewing machine operation method, which can be operated by ordinary sewing workers.
Low cost, 5 to 6 times faster than traditional machines, and high efficiency.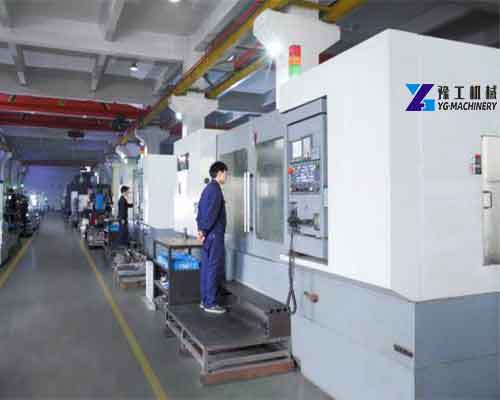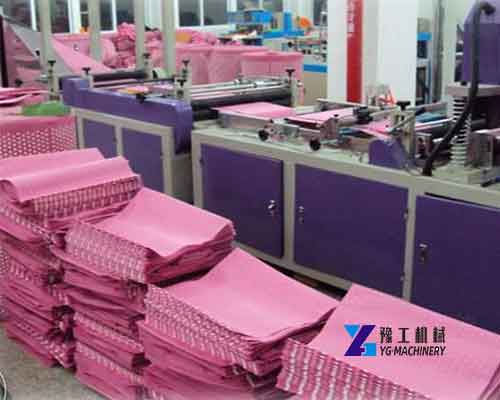 4 Advantages of Environmentally Friendly Non-woven Bags:
Non-woven shopping bags are more economical. Compared with plastic bags, non-woven bags are easier to print patterns, and the color expression is more vivid. And it can be used repeatedly, resulting in more cost-effective non-woven shopping bags.
Non-woven shopping bags are firmer. Strong toughness, not easy to wear. There are also many laminated non-woven shopping bags, which are not only firm but also waterproof and feel good.
Non-woven shopping bags have more advertising effects. A beautiful non-woven shopping bag can be transformed into a fashionable and simple shoulder bag and become beautiful scenery on the street. Be the first choice for customers to go out, you can print your company's logo or advertisement.
Non-woven shopping bags have more environmental protection and public welfare value. The repeated use of non-woven bags greatly reduces the pressure of waste conversion. Coupled with the concept of environmental protection, it can better reflect the image of the company and the effect of being close to the people.
Fully Automatic Nonwoven Bag Making Machine Price – YG Machinery Manufacturer
As one of the famous nonwoven bag machine manufacturers in China, YG Machinery can provide a one-stop solution for nonwoven bag machines for making non-woven bags in different sizes and thicknesses with good finishing. Our full automatic nonwoven bag making machine prices are competitive. In addition, we also have paper bag making machines, garbage bag making machines, woven bag making machines, disposable cup making machines, lunch boxes making machines, egg tray making machines, diaper making machines, sanitary napkin making machines, wet wipe machines, tissue making machines, glove making machines, face mask making machines, balloon making machines, condom making machines, disposable slipper making machines, etc. Inquire to get our machine price list.【WhatsApp/WeChat/Phone/Skype】+86 136 1385 6800