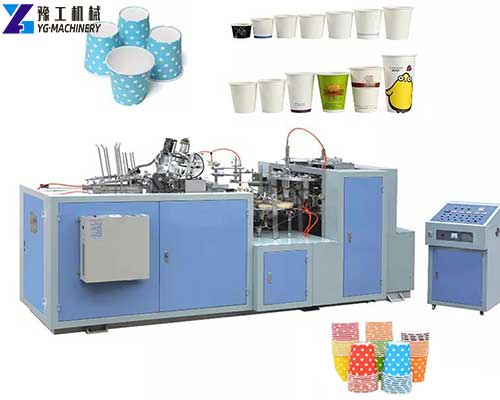 Application of Paper Cup:
A paper cup is a kind of paper container made by mechanically processing and bonding raw paper (white cardboard) made of chemical wood pulp, and its appearance is cup-shaped. Waxed paper cups for frozen food, can hold ice cream, jam and butter, etc. Paper cups for hot drinks are coated with plastic, resistant to temperatures above 90°C, and can even be filled with water. Paper cups are characterized by safety, sanitation, lightness, and convenience. It can be used in public places, hotels, and restaurants, and it is a disposable product. Want to know more about the paper cup production line?【WhatsApp/WeChat/Skype/Phone】+86 136 1385 6800
Paper Cup Making Machine Technical Parameter:
Model
YG-800
YG-C800
YG-S800
Paper Cup Size
3-16OZ
3-16OZ
3-16OZ
Raw Material
One-side PE
One-side PE
One-side or two-side PE-coated paper
(Singe PE or Double PE coated paper)
Speed
65-75 pcs/min
70-80 pcs/min
75-120 pcs/min
Suitable paper weight
150-180g;±20g
150-300g;±20g
160-300g/;±20g
Voltage supply
380V, 50HZ
380V, 50HZ
380V(220V) 50HZ
cup size
Bottom35-70mm,
Top45-90mm
High32-135mm
Bottom35-70mm,Top45-90mm,
High32-135mm
Bottom35-70mm,
Top45-90mm,
High32-135mm
General power
4.5 kW
5 kW
6 kW
Working Air Source
NO
NO
0.4-0.6Mpa; 0.4m3/min
Net weight
1680kg
1680kg
2000kg
Measurement (mm)
L:2115mm;W:1000mm;H:1700mm
L:2115mm;W:1000mm;H:1700mm
Main engine
L:2100mm;W:1200mm;H:1800mm
Cup holder
L:900mm;W:600mm;H:1500mm
Cup Side Sealing
Copper bar heating
Evergreen Ultrasonic
Evergreen Ultrasonic
Bottom Knurling
Heating
Heating
Hot Air System
We can customize the machine and mold according to the customer's requirements. Also, we have a high-speed machine, 100-120pcs/min.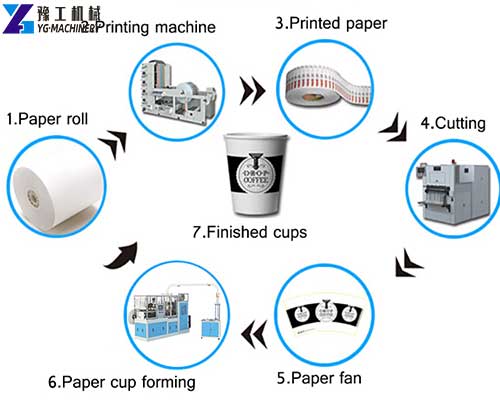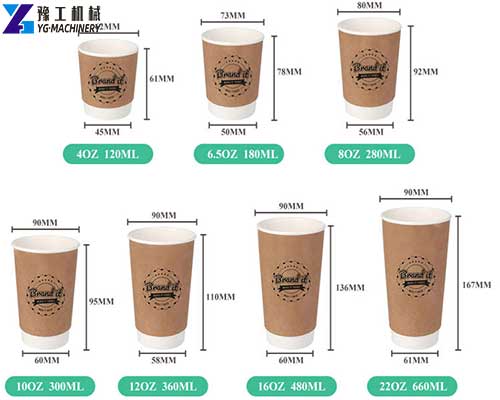 Why are More and More People Using Paper Cups?
According to the United Nations report, more than 80 countries around the world have completely or partially banned the use of disposable plastic products. And the list grows every year. The global paper cups market has been driven by rising demand for hot beverages such as tea and coffee in recent years. In addition, paper cups are also used as containers for frozen food and beverages, thereby contributing to the growth of the overall market. The market in developing countries in APAC has been growing at a healthy pace, and the expansion of food delivery services has shown strong growth in recent years. This can be attributed to the client's hectic lifestyle and hectic schedule. In addition, paper cups are being used more and more because of their convenience, saving time and effort, and can be easily discarded after use. As consumers become more environmentally conscious, they are choosing paper cups instead of single-use plastic containers. Moreover, rising awareness about cleanliness and hygiene and shifting consumer preference from reusable cups to disposable cups are contributing to the market expansion of paper cups. Government policies to encourage the recycling of paper cups are further driving the growth of the global paper cups market.
Paper Cup Production Process:
Buy PE paper→Paper Fan Printing→Roll Die Cutting→Paper Cup Forming
Corresponding to this process, the equipment you need is a paper tea cup printing machine, roll die cutting machine, and paper cup forming machine.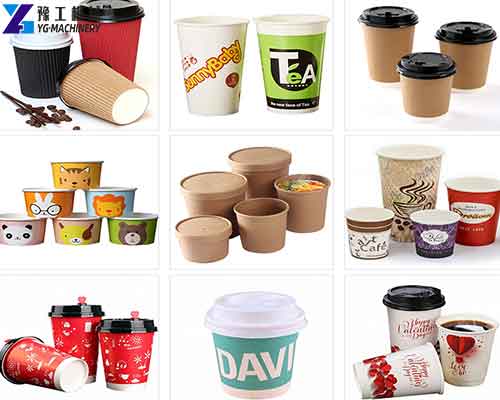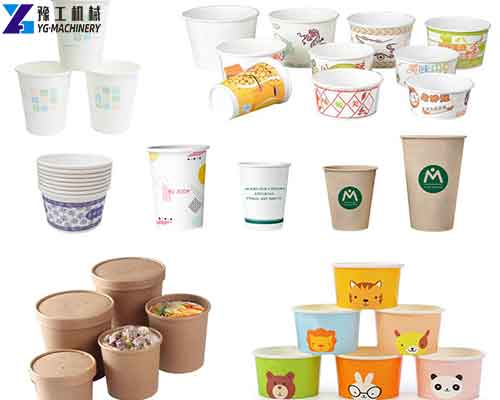 There are many different suppliers of paper cup machines in the market. How can we choose a cup-making machine that suits us best? The price of paper cup-forming machines in China ranges from as low as $5,000 to as high as $40,000, how do we choose the best one for us? First of all, we need to figure out what kind of market we want to enter, what kind of paper cups we want to produce, and how much demand there is in the market. The market and the mug determine what kind of machine you should buy. For example, if you are producing special custom mugs or considering entering the high-end market, you should purchase a high-quality mug-forming machine, which costs more. But the high-end market means high margins, and we pay back the upfront costs faster. Because the high-quality paper cup-forming machine has the advantages of stable operation, lower scrap rate, and longer service life. If your investment budget is not high, we suggest that you choose a low-speed/medium-speed paper cup machine to open up the market, and then you can continue to purchase equipment to expand your market share. YG Machinery's paper cup machine can make various types of paper cups, from 3oz-32oz, in addition, our equipment speed is from 70-150pcs per minute, which can meet the needs of different customers, so as to achieve the purpose of investment.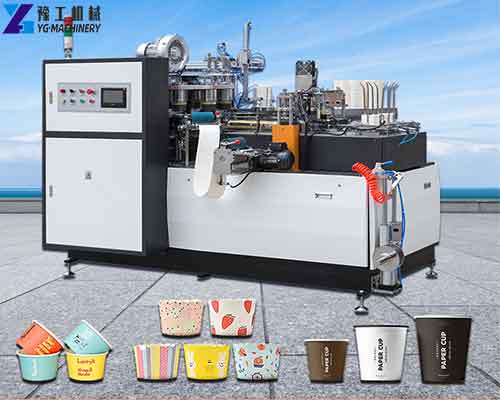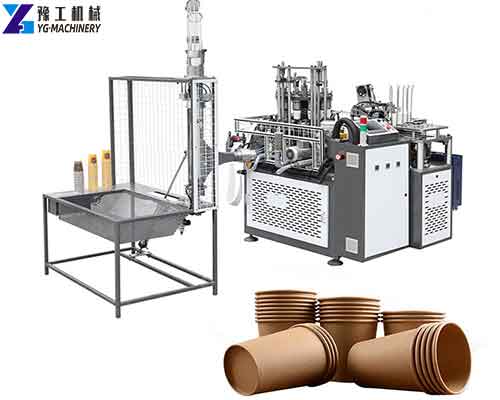 Paper Cup Production Line for Sale:
If your initial output requirement is not high, you can consider letting the paper factory process the paper as an agent, so that you don't need to buy a die-cutting machine and printing machine, saving investment costs. If you want to expand the output, if you produce all the raw materials including paper cups yourself, we recommend you buy the whole production line, including the printing machine, paper cup die-cutting machine, paper cup machine, etc. YG Machinery can provide you with the equipment for the whole production line. As long as you tell us your needs, our professional sales staff will equip you All the equipment you need will be handed over to us without any worries.
Paper Cup Production Line Manufacturer – YG Machinery
YG Machinery's paper cup machines have been sold to Russia, the United States, Brazil, the Philippines, Ireland, Croatia, Jordan, Lebanon, Senegal, Sweden, Libya, Saudi Arabia, Italy, the United Arab Emirates, Chile, Tunisia, Dubai, South Africa, Vietnam, Mexico, Montenegro, Afghanistan, Kosovo, Mexico, Turkey and other countries, and we have received unanimous praise, because our equipment is not only easy to operate, good quality and beautiful design, our company's after-sales team is very strong, always online, to escort customers. In addition, we also have double wall paper cup machines, paper bowl making machines, paper dish making machines, paper straw making machines, paper carton erecting machines, folder gluer machines, etc. Please feel free to contact us if you have any needs!【WhatsApp/WeChat/Skype/Phone】+86 136 1385 6800