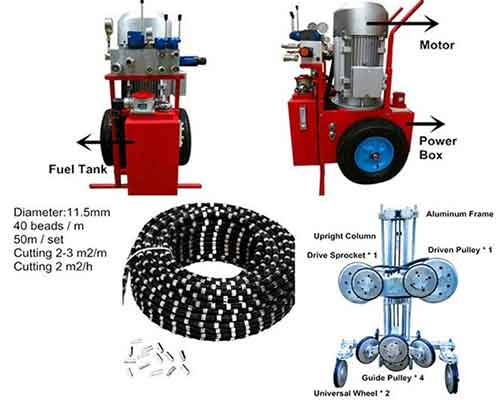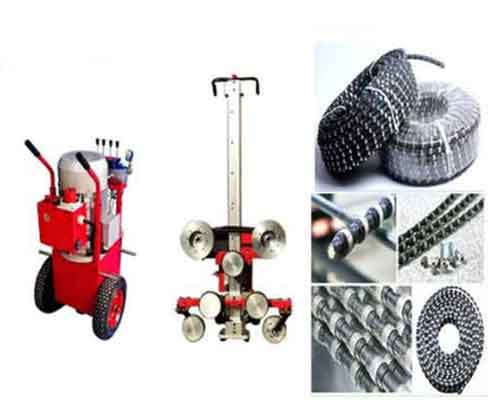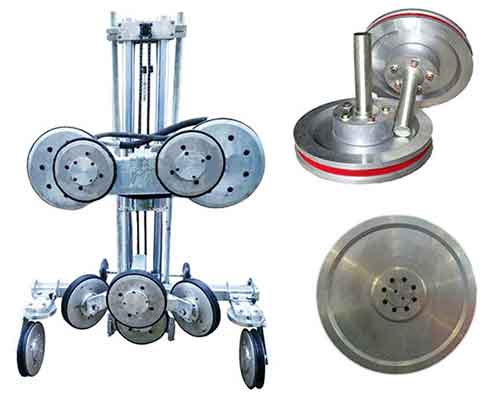 The hydraulic stone cutter is mainly composed of hydraulic power stations and hydraulic rope saw heads. It is a kind of diamond wire saw machine with a wide application range and high working efficiency. Its main working principle is that the oil pressure of the hydraulic pump station drives the rotation of the hydraulic motor, while the hydraulic motor drives the rotation of the driving wheel. Then the driving wheel drives the rope to rotate. Meanwhile, the wire saw rotates at a high speed from the direction of the driving wheel, so as to achieve the purpose of cutting and dismantling the reinforced concrete. The hydraulic stone cutter adopts the technology of static cutting, which can ensure the original structure won't be damaged. The stone wire saw cutting machine manufactured by our company is fully automatic cutting equipment for concrete, reinforced concrete, slab wall, underwater cutting operation, etc… Send us an inquiry for a quotation now.【WhatsApp/WeChat/Phone/Skype】+86 136 1385 6800
Technical Parameter of Hydraulic Stone Cutter
Wire Saw Wheel Parameters
Hydraulic Pump Station Parameters
Wire Drive Mode
hydraulic
Rated Output Power
22/25KW
Model Type
HM-40/80
Working Voltage
380v 50Hz
Minimum Input Power
25HP/33HP
Hydraulic Pump Station
Gear pump
Output Shaft Speed
350/940/1300r/min
Motor Working Floe
40-100L/min
Maximum Wire Length
18m
Working Pressure
15-20Mpa
Feeding Method
Fully hydraulic
Oil Tank Volume
16L
Wire Saw Wheel
64kg
Weight
98kg
Motor Weight
13kg
Dimension(mm)
650*550*1150
Cutting Type
Transverse and longitudinal cutting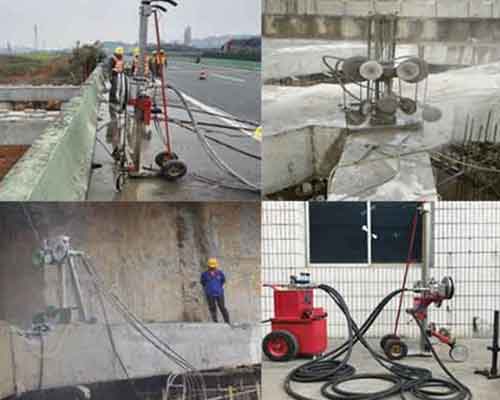 Features of Hydraulic Stone Cutter for Sale in YG Machinery
The portable vertical all-aluminum hydraulic stone cutter produced by our factory can be operated by a single person, which can save labor. It can achieve a variety of cutting forms for thicker concrete and is the most suitable construction cutting equipment for cutting and dismantling concrete walls, bridges, pillars, and other repair work. The hydraulic stone cutter can also be used for dense rows of reinforced concrete structures, even underwater cutting operations of 30 meters to 50 meters. Hydraulic concrete wire saws can meet the cutting depth that the wall sawing machine can't finish, and the cutting work depth isn't limited. The machine is widely used as the leading advanced cutting construction equipment in the construction of buildings, bridges, tunnels, and wharves reconstruction, replacing the traditional methods of forced punching and blasting. Buy the hydraulic stone cutter in Henan YG Machinery, as a manufacturer with many years of production experience, we will be your ideal choice.
Why Choose a Hydraulic Diamond Wire Saw Machine?
Higher cutting ability and working efficiency. The machine has strong motivation and can reduce labor intensity.
Safe and reliable operation. The hydraulic system itself has strong safety, reliability, and stability with an overload protection function.
Neat cutting section. Static and linear cutting technology means that there is no vibration in the cutting process.
No pollution and noise. Cooling water can take away the iron filings and concrete debris from the cutting process. At the same time, the closed system can control the splash of water.
How to Use The Hydraulic Stone Cutter to Cut Objects?
Installation. Install hydraulic power stations, directional wheels, and ropes according to the position of the cutting section.
Start to cut. Start the electric motor, and adjust the driving wheel lifting tension through the control panel. Ensure the diamond rope is properly tightened and start the circulating cooling water. Then start another electric motor to drive the diamond rope to rotate and cut. The stability of the base must be observed closely during the cutting process. Adjust the deflection of the guide wheels at any time to ensure that the cutting ropes are on the same plane.
Selecting cutting parameters. During the cutting process, operators must adjust the cutting parameters by operating the control panel to ensure the running speed of the diamond wire saw. On the other hand, a sufficient amount of flushing fluid should be ensured during the cutting process to ensure the removal of ground dust. Speed, parameters, and equipment stability are required during the cutting operation.
Hydraulic Stone Cutter Price – YG Machinery Manufacturer
There are several types of wire saw machines in our company. In addition to the hydraulic stone cutter, there are electric wire-cutting machines and stone-cutting machines, especially for mining and other large-scale operations. In addition, we also have hydraulic rock splitters, concrete wall saws, concrete pile breakers, high-frequency wall saws, excavator hydraulic shears, mini spider cranes, excavator drum cutters, excavator crusher buckets, hydraulic breaker machines, firewood splitter machines, horizontal band saw machines, etc. Prices vary greatly depending on the power and model. But we can guarantee no matter which machine you choose to buy, we will give you the most competitive and reasonable price. Whatever needs you have, please feel free to tell us, and we will help you solve them quickly.【WhatsApp/WeChat/Phone/Skype】+86 136 1385 6800