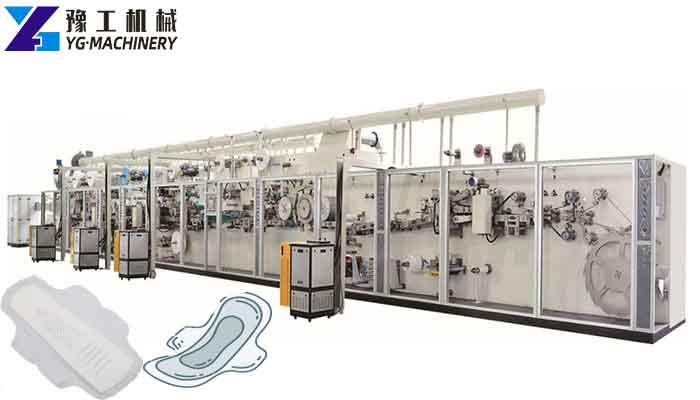 Sanitary napkin production equipment is specialized in the production of sanitary napkins. Sanitary napkins are the daily necessities of every adult young woman. Of course, there will be a big market. So it is very suitable for investment or increased investment, so there will be better returns. Today we will talk about the sanitary napkin manufacturing machine. In addition, we also have other protective equipment, diaper-making machines, wet wipes machines, tissue paper-making machines, fabric rewinder machines, shoe cover-making machines, balloon-making machines, condom-making machines, disposable cup-making machines, etc. Contact us to know more details.【WhatsApp/WeChat/Phone/Skype】+86 136 1385 6800
Parameter of YG Sanitary Napkin Manufacturing Machine for Sale:
| | |
| --- | --- |
| Overall size | 30*6*3.5M |
| Stable work speed | 600pcs/min |
| Machine capacity | 250KW |
| Machine size | 26*2*3.5M |
| Pass percentage | 98% |
| Air pressure | 0.6-0.8Mpa |
| Design speed | 800pcs/min |
| Power source | 380V,50HZ |
| Machine weight | 40T |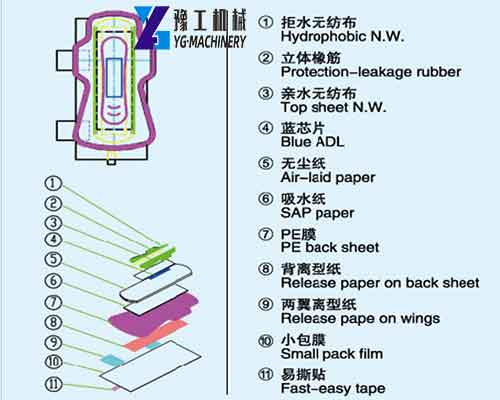 Functions of the Main Machine:
High-speed crusher: 450kgs/hour, can crush treated and untreated pulp.
Timing belts for the driven system.
Fluff pulp forming drum. It can produce both fluff pulp-type and ultra-thin-type sanitary napkins with a quick-easy package.
Main raw materials automatic tension controlling, automatic unwinding and splicing, auto rejection system for unqualified products, 3 sets auto web guider system. (used for surface nonwoven, PE film and air-laid paper, and tissue paper).
5 sets Web guider.
Waste raw materials collection device.
It can be controlled remotely which is convenient for maintenance and solving program problems.
Except for glue, all the other raw materials have missing detection functions, connection detection, and auto rejection function.
SAP mixed with fluff pulp feeding device.
Quick-easy inner packing type.
One set a touchable screen, switch on/off, running speed, time, counting pieces, parameter setting, alarm, error display, and error inquiry (functions setting that appear on the screen are different according to different machine types).
Safety shield using aluminum alloy frame toughened glass.
The glue applicator bridge structure is set on the front of the machine.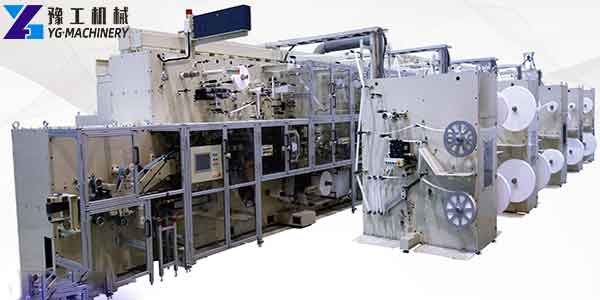 Configuration of Fully Automatic Sanitary Pad Making Machine:
Product size:

Daytime use: 240mm    Night use: 285mm(customized design).

Safety system: A safety guard is installed on the operating side, with an emergency stop switch, and a security identifier. The driven side is equipped with a safety pull wire.
Control system: PLC control system, operating on the touch screen, configuring HDTV monitor.
Materials corrective system: Germany BST automatic web guide system (optional).
Drive system: Convey servo drive, imported timing belt, key position adopt the imported bearing.
Product structure: Tissue paper, sap paper, top sheet nonwoven, double side nonwoven(3pcs), ADL, back sheet, back&wings release paper, packing film.
Tension system: Tissue paper, cotton core (SAP),  Top sheet nonwoven, ADL, PE film, back&wing release paper, packing film A&B shaft unwinding by Inverter motor.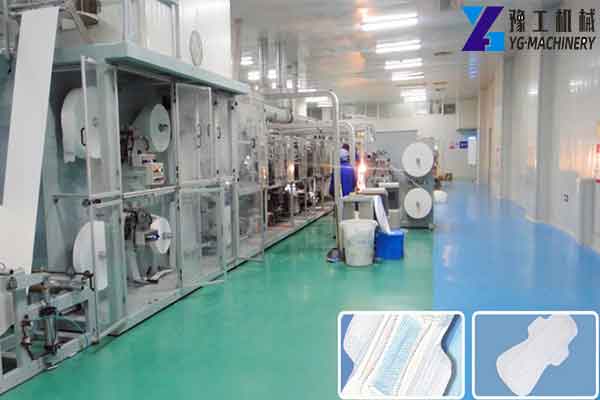 Our Main Raw Materials of Diapers & Sanitary Napkins:
PE film / Lamination film (Cloth-like film).
PP side tape / Magic side tape and PP frontal tape / Magic frontal tape.
Hot melt adhesive (Spandex/Structure) / Back glue.
Fluff pulp (treated/untreated).
SAP.
Non-Woven (Topsheet-Hydrophilic N.W./ leakage-SMS Hydrophobic N.W./ADL).
Spandex / Elastic waistband.
Quick easy tape for sanitary napkins.
Release paper (winged/back of sanitary pad).
Sap absorbent paper / Airlaid paper.
Perforated PE film / Perforated nonwoven.