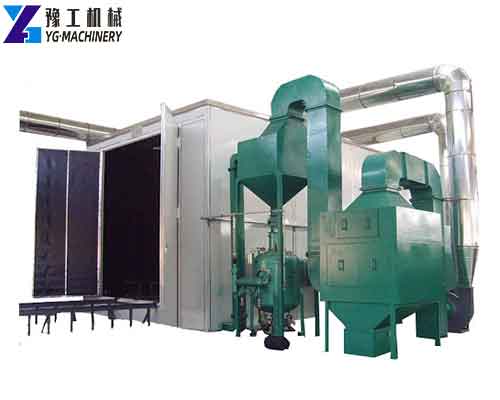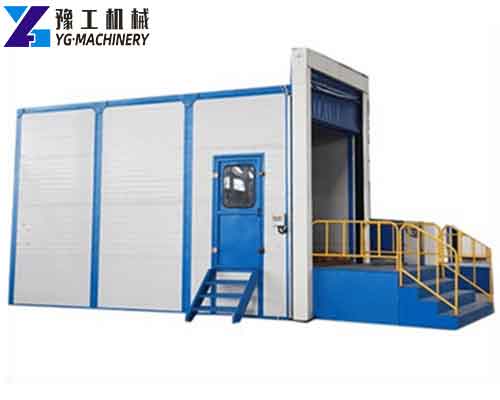 The sand blasting room is also called a shot blasting room and sandblasting chamber. It is suitable for surface cleaning and rust removal of some large workpieces and increases the adhesion between the workpiece and the coating. The sandblasting room is economical and practical, simple, and convenient to make. It is simple and greatly reduces the cost of the sandblasting room, and it is also accepted by many customers. The automatic mechanical conveying and recycling sandblasting room/shot blasting room adopts the method of mechanical conveying and recycling of abrasives, which has changed the method of pneumatic conveying and recycling that has been used from the 1980s to the 1990s. The method of mechanical conveying and recycling is more efficient, more environmentally friendly, and lower in cost. It is 20 times more efficient than the same type of pneumatic conveying recovery method, and energy-saving is 80%. Contact us now to know more!【WhatsApp/WeChat/Phone/Skype】+86 136 1385 6800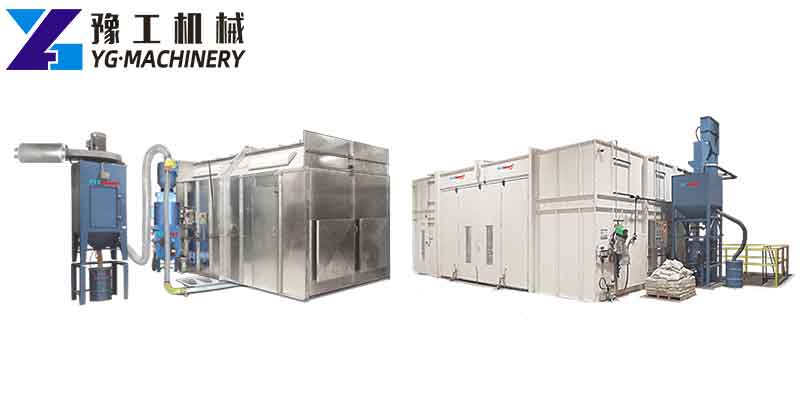 Sand Blasting Room Parameters:
| | | |
| --- | --- | --- |
| Size of Blasting Room | Size of workpieces | Blasting Gun Qty |
| 6000×6000×5000mm | 3000×3000×2500mm | 2 |
| 6000×6000×6000mm | 3000×3000×3500mm | 2 |
| 8000×6000×5000mm | 5000×3000×2500mm | 2 |
| 8000×6000×6000mm | 5000×3000×3500mm | 2 |
| 10000×6000×6000mm | 7000×3000×3500mm | 2 |
| 15000×6000×6000mm | 12000×3000×3500mm | 2 |
| 15000×8000×6000mm | 12000×5000×3500mm | 2 |
| 18000×8000×6000mm | 15000×5000×3500mm | 4 |
| 18000×10000×8000mm | 15000×7000×5500mm | 4 |
Sand Blasting Room/Shot Blasting Room Process:
Workpieces in → sandblasting/blasting → recycling → screening → dust removal → workpieces out, the process can be automatically controlled.
Automatic Mechanical Conveying and Recycling Sandblasting Room/Shot Blasting Room System
A complete set of sandblasting room/shot blasting room systems includes a sandblasting/blasting room body, air-source system, sandblasting/blasting system, abrasive recovery and separation system, ventilation, and dust removal system, workpiece conveying system, labor protection system, lighting system, and electrical automation control system, etc. Sandblasting room/shot blasting room is mainly used for surface blasting and shot blasting in construction machinery, bridge steel structures, heavy machinery, containers, rolling stock, aerospace, petroleum and petrochemical, electric power, weapons, and other industries deal with. The company adopts advanced module design, factory prefabrication, and site assembly; the structure is reasonable and beautiful.
Advantages of YG's Best Sandblasting Booth:
Compact design.
Completely independent equipment.
Simple and quick assembly.
Can be installed without a foundation pit.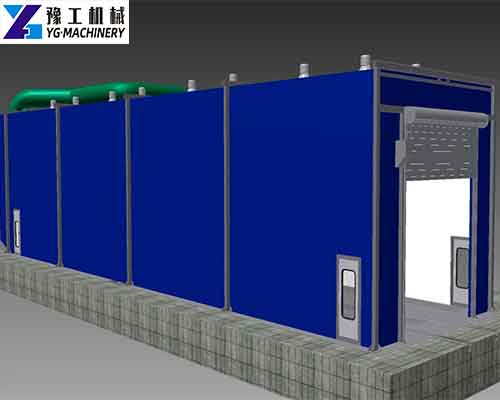 Hot Sale YG Sand Blasting Room Features:
Visionary investment – adopt a modular structure to facilitate future improvements.
Using standard components, the short stocking time.
Can be installed on the bottom of the plant, eliminating civil engineering.
High quality, strong reliability, and continuous improvement of all components.
The configuration conforms to ergonomics, which is conducive to precise operation and simple operation.
Convenient maintenance, and less downtime.
Low noise.
No need for additional exhaust pipes.
Rugged and durable, long service life.
Easy maintenance.
Application of YG Sandblasting Chamber:
Removal of foundry sand and slag.
Remove milling and forging oxide scale.
Remove rust.
Remove various paints and adhesions, such as dirt and dust.
Remove particles or base material layers near the surface of the workpiece.
Deburring of cutting parts and castings.
Improve surface roughness.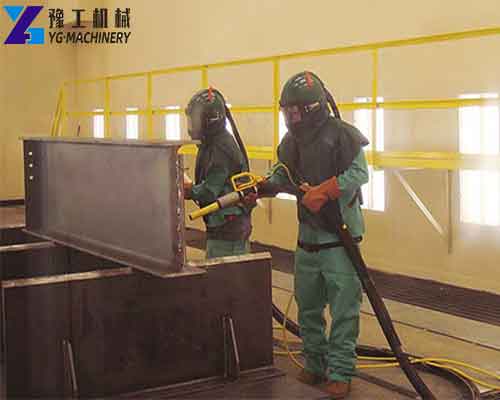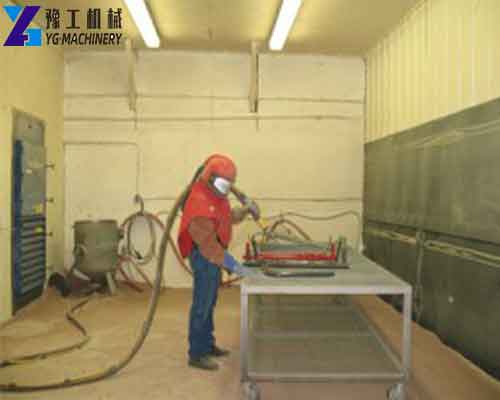 Precautions for the Use of Sandblasting Room:
There should be an alarm device in the entire system of the sandblasting room. In addition, there should be automatic sprinklers and fire extinguishers on hand spraying occasions to ensure safety.
In order to avoid injury, the operator must wear the prescribed protective equipment during operation.
It is easy to be contaminated in the sandblasting room, so it should be cleaned up in time during the spraying process and cleaned once a week.
The exhaust air volume of the sandblasting room is generally slightly lower than the air supply volume so the air pressure in the sandblasting room must be at a positive pressure to prevent unpurified air outside the equipment from entering the sandblasting room.
The particle size of silica sand used for sandblasting is 0.5~1mm (No. 20~40), and the compressed air pressure is 0.3~0.66Mpa (2~6kg/cm2).
Sandblasting is carried out in a special sandblasting machine. The new sand used by the sandblasting machine should be sun-dried to remove impurities in the sand before use.
In the process of sandblasting, if any quality problems such as cracks and bumps are found, they should be picked out in time and reported for timely treatment.
Hot Sale Sandblasting Room Manufacturer – YG Machinery
YG Machinery has always been a leading brand in the industry and has been developing new products to give our customers more choices. Our sandblasting chambers have been sold to Bangladesh, Iran, South Korea, Japan, and other countries, and they have also obtained good feedback, our equipment is highly efficient and requires fewer staff, which reduces a lot of labor costs for customers. Our company also produces road shot blasting machines for road polishing, etc., as well as portable sandblasting machines, which meet the different needs of different customers. In addition, we also have production lines, wet wipe machines, tissue-making machines, balloon-making machines, condom-making machines, disposable cup-making machines, paper bag-making machines, disposable slipper machines, lunch box-making machines, woven bag production lines, double wall paper cup machines, paper cup printing machines, folder gluer machines, paper bowl making machines, A4 paper making machines, A4 paper cutting machines, napkin paper machines, etc. If you are interested in our equipment, please contact us for more information and quotations!【WhatsApp/WeChat/Phone/Skype】+86 136 1385 6800