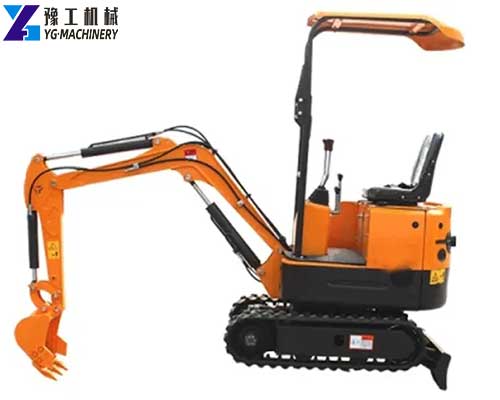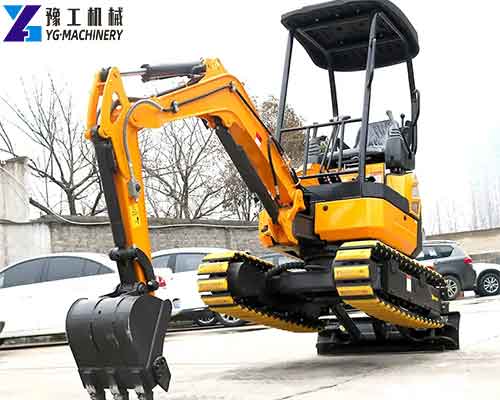 The mini crawler excavator (or crawling digger) is a tracked vehicle designed to dig grade, or move earth and large objects, and is classified by its mode of locomotion. Crawler excavators are widely used in construction work, such as digging trenches, holes, and foundations, as well as for handling materials, moving earth, demolition, dredging, etc. They are used for material handling, light demolition jobs, stump removal, ditching, construction projects, landscaping, road building, home garden use, and so on. It is multi-functional with many attachments that can be installed such as a breaker hammer, rock saw, crusher bucket, drum cutter, hydraulic shear, integrated drill and splitting, rock splitter, auger, wood grabber, ditcher, etc. Want to know more details? Contact us now!【WhatsApp/WeChat/Phone/Skype】+86 136 1385 6800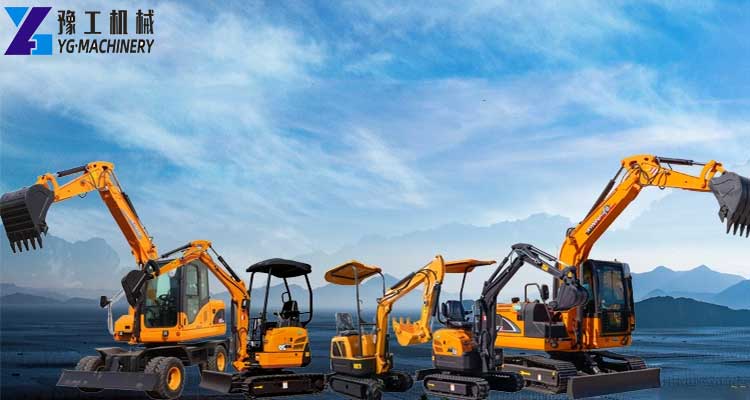 Mini Crawler Excavator Technical Parameter:
Model
YG10-8
Operating Weight
1000kg
Digging bucket capacity
0.025cbm/100kg
Bucket width
340mm
Rated power
10.2 / 7kw/2200r/min
Displacement
0.499 L
Bore stroke
70×55
Displacement
6.8ml/r
Travel speed
1.5km/h
MAIN DIMENSIONS
Overall dimension( LxWxH)
1877x896x1990 mm
Wheelbase
770 mm
The total length of the track
960mm
Platform ground clearance
376 mm
Platform back-turning radius
664 mm
Chassis width
896 mm
Track width
180 mm
Chassis ground clearance
132 mm
Track height
320 mm
OPERATING RANGE
Max. Digging depth
1650 mm
Max. Vertical digging depth
1376 mm
Max. Digging height
2365 mm
Max. Dumping height
1655 mm
Max. Digging radius on the ground
2560 mm
Min. Rotation radius
1200 mm
Max. Upgrade the height of the bulldozer blade
165 mm
Max. Digging depth of bulldozer blade
170 mm
We also have 0.8-ton, 1-ton, 1.6-ton, 1.8-ton, 2-ton, 2.2-ton, and 3.5-ton mini excavators for you to choose! In addition, support OEM!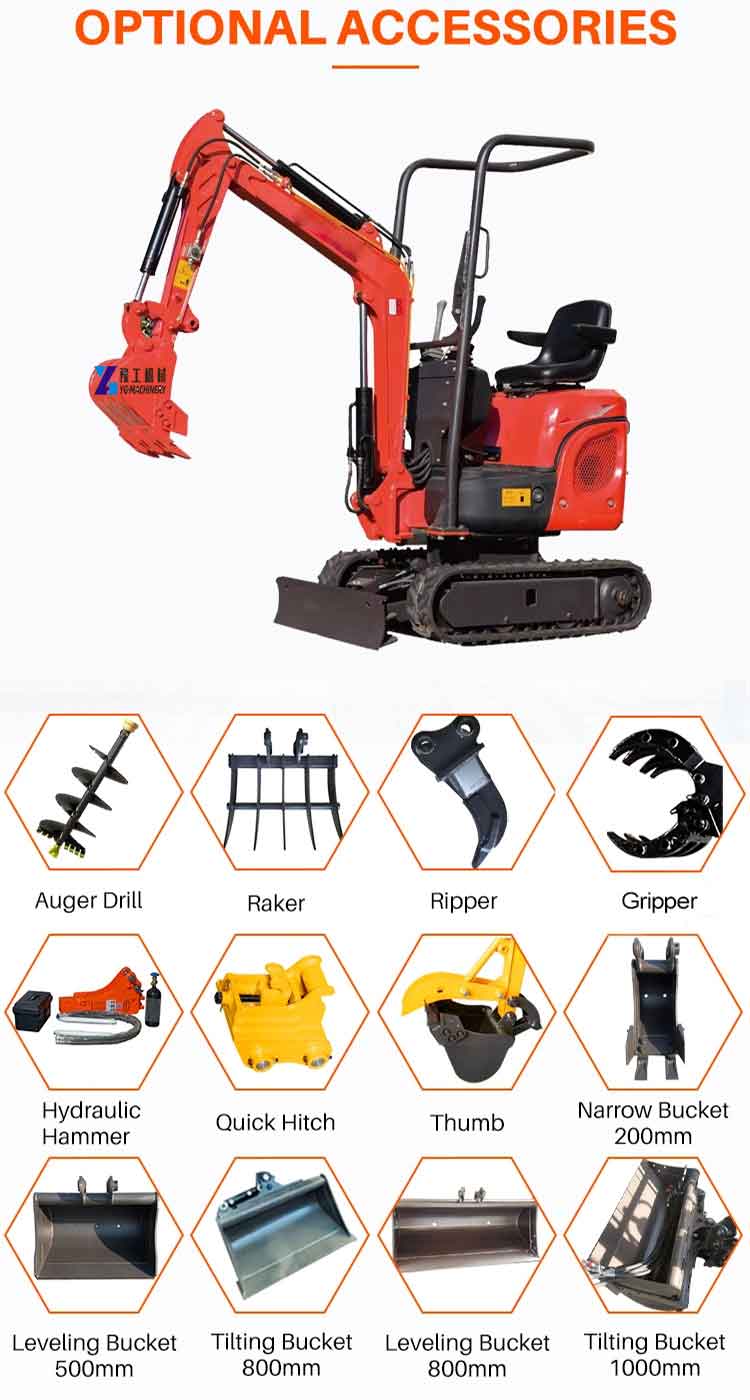 6 Features of YG Mini Crawler Excavator:
Why Choose Mini Crawler Excavator:
Compared with large excavators, small excavators have the advantages of low fuel consumption, good quality, low failure rate, unlimited space, and multi-function, which can be applied to the following aspects:
In addition: agriculture and forestry planting, farmland transformation, small earthwork engineering, municipal engineering, pavement repair, breeding farm, garden cultivation and river channel dredging engineering, and other operating environments. It includes digging, breaking, hook cleaning, drilling, and bulldozing. It can quickly replace accessories and greatly improve the utilization rate of the machine.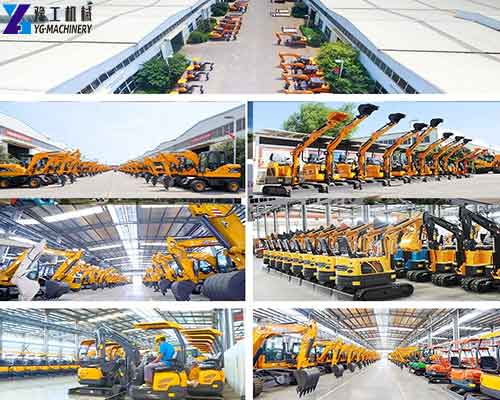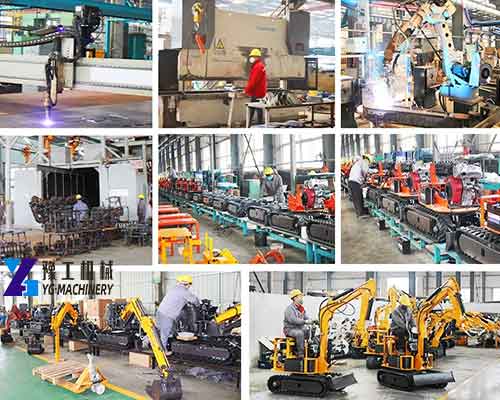 Mini Crawler Excavator Price – YG Machinery Manufacturer
Small crawler excavators are used in various engineering constructions, and everyone is familiar with them. Not only the function of its equipment is powerful, but it can also be equipped with different excavator attachments for activities, such as pile breaker, auger, wood grabber, ditch opener, hydraulic shears, double steel shears, etc. so that the excavator is suitable The scope of application is even greater. At present, the excavators of YG Machinery have been sold to the Philippines, the United States, Malaysia, Australia, Mauritania, Pakistan, Russia, Maldives, and many other countries, and have received good feedback from customers. In addition, we have micro excavators, small backhoe loaders, electric forklifts, hydraulic scissor lift platforms, auto brick-making machines, gypsum spray plaster machines, concrete mixer pumps, mini concrete pumps, hydroseeding machines, GRC machines, shotcrete machines, fog cannon machines, mortar spraying machines, portable sandblaster machines, rubber vulcanizing machines, etc. Contact us now!【WhatsApp/WeChat/Phone/Skype】+86 136 1385 6800