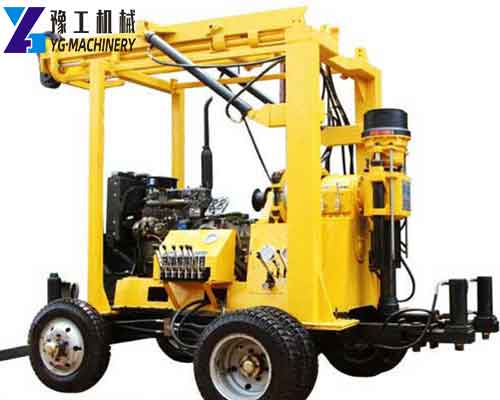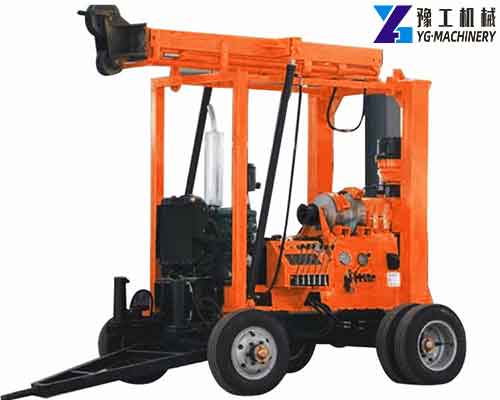 XYX-3 water drilling machine for sale in YG Machinery is the best-selling water well drilling rig. It has a beautiful appearance and is a trailer-mounted type water well drilling rig, which is suitable for a variety of working environments, the price is moderate, and the work efficiency is high. If you want to buy a water well drilling rig, we sincerely recommend you choose this XYX-3 water well drilling rig. It has been sold to the United States, Georgia, Chile, Papua New Guinea, Portugal, Guinea, South Africa, India, the Phillippines, and many other countries. Please contact us for the latest information.【WhatsApp/WeChat/Skype/Phone】+86 136 1385 6800
Technical Parameter of XYX-3 Trailer Mounted Water Well Drilling Rigs:
Technical Parameter
Model
XYX-3
Drilling Depth (m)
600
Open Hole Diameter (mm)
325
Final Hole Diameter(mm)
75
Drill Pipe Diameter(mm)
60
Drill Pipe Inclination (°)
90-75
Power (kW)
13.2
Weight (kg)
3600
Dimensions(mm)
2900*2560*3300
Spindle
Speed(r/min)
32-1057
Stroke(mm)
600
Winch
Max Pull Force(kg)
3000
Pull Speed(m/min)
0.3-1.9
Rope Diameter(mm)
12.5
Roll Capacity(m)
65
Drill Mast
Rated Load(ton)
18
Height(m)
6.5
Mud Pump
Mud Pump
BW-250
Work Pressure
80kg/cm²
Displacement(L/min)
250
Hose
Inlet Hose Diameter(mm)
76
Outlet Hose Diameter(mm)
51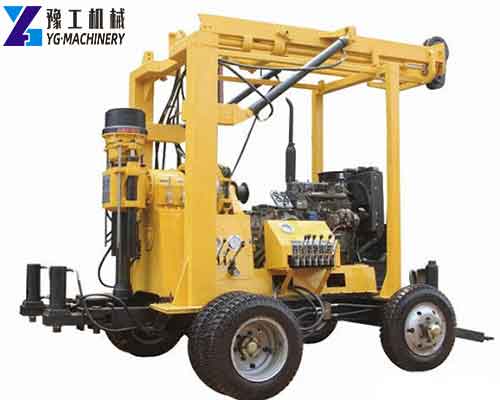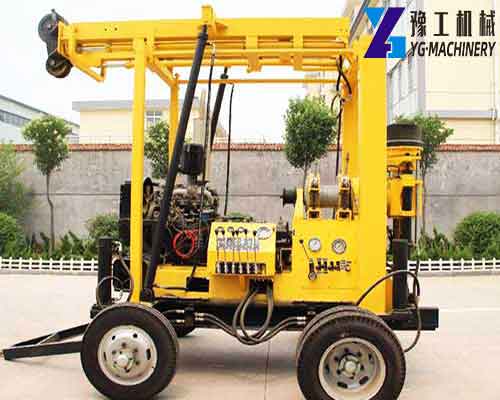 5 Features of YG Trailer Water Well Drilling Rigs:
Configured with the wheel mobile mechanism and hydraulic cylinder prop, the XYX-3 trailer-mounted water well drilling rig can move conveniently, which is also conducive to the horizontal adjustment of the machine.
The hydraulic feeding system is brought into service to enhance the drilling efficiency.
The product also employs the bottom hole pressure gauge to indicate the pressure. The operator can master the condition in the hole easily.
The trailer-mounted water well drilling rig utilizes hydraulic control to achieve up-and-down movement of the tower frame conveniently and reliably.
The electric starting of the diesel engine reduces the labor intensity of the workers.
Function Application of Deep Water Well Drilling Rig for Sale in YG:
The product is specially used in the field involving geological survey exploration, basic exploration for road and high-rise buildings, drilling of the inspection hole of a variety of concrete structures, the construction of dyke and dam of rivers, the subgrade grouting hole drilling, and direct grouting, the drilling of the city well, the construction of ground temperature central air conditioning, etc.
Trailer Mounted Water Well Drilling Rigs for Sale:
In addition, YG Machinery has trailer water well drilling rigs, tractor water well drilling rigs, crawler water well drilling rigs, portable DTH drilling rigs, crawler DTH drilling rigs, small water well drilling rigs, rock drills, rotary drilling rigs, horizontal directional drilling rigs, core drilling rigs, hydraulic drilling rigs, anchor drilling rigs, hydraulic pile drivers, portable air compressors, core drill rig for mining, etc. We are a professional drilling rig manufacturer. We have been engaged in this industry for many years. We have a very advanced technical team and after-sales team, and every business person is very knowledgeable about the product. Please contact us in time for the latest quotation.【WhatsApp/WeChat/Skype/Phone】+86 136 1385 6800