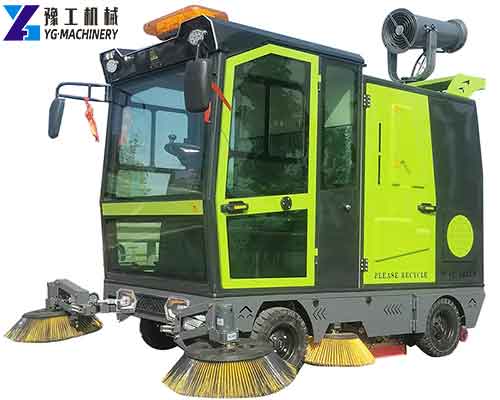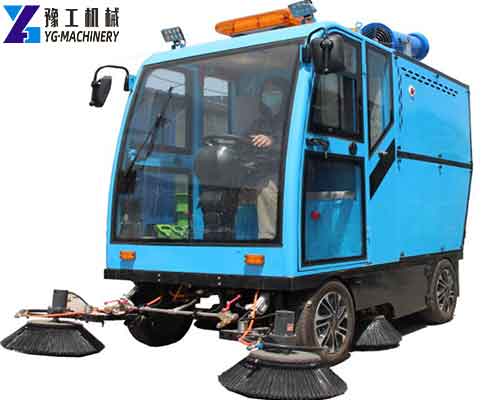 A street sweeper machine is actually a very important piece of equipment for most road sweepers. It can be widely used in all arterial roads, and can also be used in municipal or airport grounds, as well as urban residential areas, parks, and so on. Road cleaning can not only clean up garbage but also carry out all dust removal and purification for the air medium on all roads. It can effectively guarantee the aesthetic performance of the road, maintain the sanitation of the environment, and maintain the good work of all road surfaces. It can prevent or Reduce traffic accidents. Want to learn more?【WhatsApp/WeChat/Phone/Skype】+86 136 1385 6800
Street Sweeper Machine Technical Parameter:
| | | | | |
| --- | --- | --- | --- | --- |
| Model | YG-1 | YG-2 | YG-3 | YG-4 |
| Sweeping width(mm) | 1260 | 1400 | 2000 | 2100 |
| Main brush width(mm) | 500 | 700 | 700 | 800 |
| Working capacity(m2/h) | 6500 | 8500 | 16500 | 18500 |
| Trash can capacity(L) | 80 | 120 | 180 | 220 |
| Water tank(L) | 30 | 130 | 100 | 100 |
| Side brush width(mm) | 450 | 500 | 500 | 500 |
| Working speed(km/h) | 8 | 8 | 12 | 15 |
| Working time(h) | 6-8 | 3-4 | 4-5 | 6-8 |
| Charging time(H) | 5-6 | 3 | 4 | 5-6 |
| Net weight(kgs) | 380 | 480 | 870 | 950 |
| Battery | 48V 52Ah | 48V 58Ah | 48V 100Ah | 48V 150Ah |
| Dimension(mm) | 1500*1160*1200 | 1600*1400*1250 | 2250*1900*1900 | 2400*2050*1950 |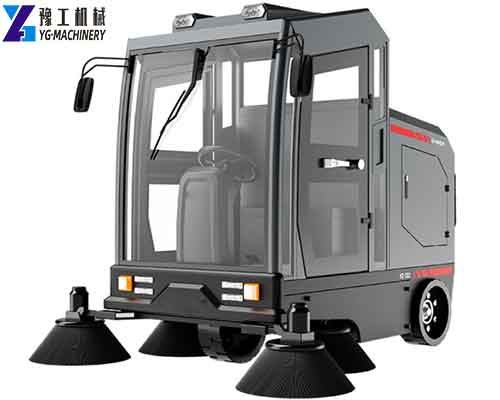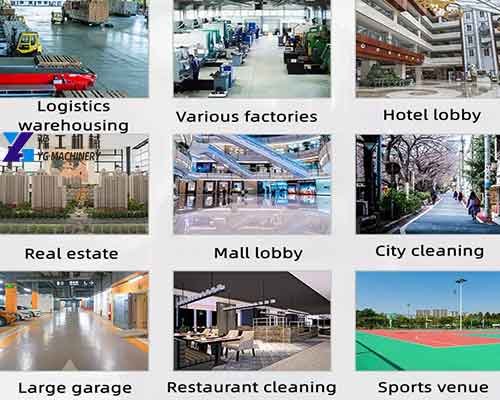 11 Features of Road Sweeper for Sale in YG:
Double brushes, sweeping width of 1200mm, small and flexible, good passability, can enter the standard-size elevator. Shuttle to each floor to clean.
It can be quickly connected to the battery design. The volume is light and the function is complete. The maintenance is simple. The turning radius is small. Even in a narrow range, it can be operated freely.
Highlights: Try the targeted design of new models: use a silent fan, noise reduction main brush motor, and working noise is not higher than 65dba. Dust collection system; and adopts energy-saving outer rotor motor with high power, fast speed, and low noise. Different fans can be selected according to different environments.
Reliable high-quality parts, effectively reducing maintenance and repair costs.
Drive motor after high power, strong climbing ability.
Imported electronic control system, over-current protection.
The use of high-performance maintenance-free batteries. No leakage. No harmful gas.
Humanized seat design. Comfortable. The front-to-back distance is adjustable, and suitable for people with different physical physiques.
A concise operation console, coupled with a car-style lighting controller, makes it easier for you to operate.
Steel chassis, strong load-bearing capacity, durable tires.
Mechanized operation is not only efficient, and effective, but the price of the multi-functional is also directly supplied.
Application of Street Sweeper Machine:
The electric sweeper mainly uses the battery as the power source to complete the fully automatic sweeping and cleaning function. Because it uses electric energy as the power, there is no secondary pollution and no exhaust emissions. Today, with more and more attention to environmental protection, it is more and more welcomed by enterprises and institutions. It is widely used in supermarkets, workshops, pedestrian streets, hotel halls, waiting halls, auditoriums, subways, and other large-area tiles, marble, and cement floors for cleaning and drying integration.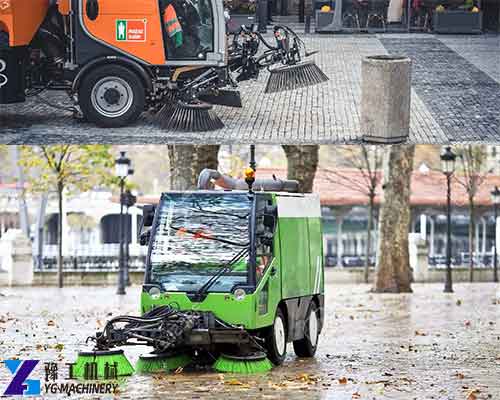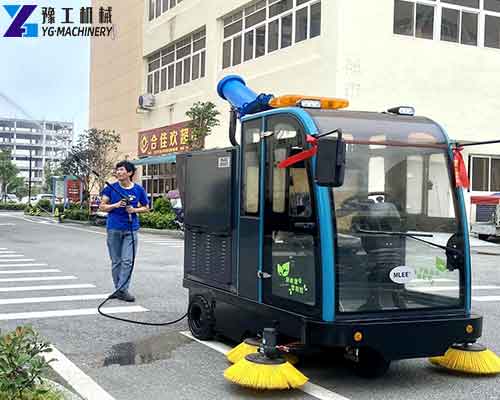 What Are the Benefits of A Street Sweeper?
Aesthetics: Sweeping removes debris from streets.
Safety: The removal of roadside debris lessens the rate of vehicle accidents and improves driver, biker, and pedestrian safety.
Pavement protection: Establishing a routine sweeping schedule in your community will help remove wearing debris and extend the life of paved roads and paths.
Environmental: Street sweeping helps eliminate the number of plastics and litter that end up on the sides of roads and ends up harming local wildlife.
Air quality: Street sweeping removes particles and associated pollutants, including toxins, that could otherwise be transported into the air. Regenerative air street sweepers appear to provide the most benefit with regard to the collection of small particles and prevention of re-entrainment. The greatest effect of sweeping is on larger particles (e.g. PM10 vs. PM2.5).
Flooding: Removal of debris reduces the likelihood of blocking stormwater conveyances, thus reducing the likelihood of street flooding.
Street Sweeper Machine Manufacturer – YG Machinery
With the development of society, electric sweepers continue to enter our lives, and the mechanized cleaning model has long been popular. At this time, the advent of electric sweepers has undoubtedly brought good news to the cleaning industry. Not only improves work efficiency but also reduces labor. At present, YG's road sweepers have been sold to the Philippines, Malaysia, Australia, the United States, Serbia, Thailand, Iraq, and many other countries. And the feedback has been great. Besides that, we also have fog cannon machines, road marking machines, floor shot blasters, road rollers, asphalt crack filler machines, floor scarifiers, floor grinders, concrete curb machines, trowel machines, electric snow blowers, concrete scabblers, etc. If you want to know more about other machines, contact us now!【WhatsApp/WeChat/Phone/Skype】+86 136 1385 6800