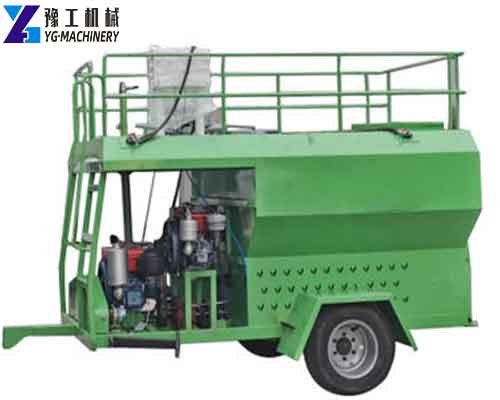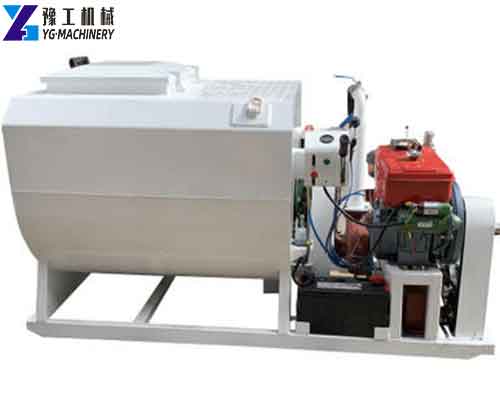 The hydroseeder machine for sale in YG Machinery is a device used for slope greening. Through this hydroseeding machine, the soil matrix, green grass seeds, water retention agent, binder, fertilizer, etc., are mixed with water in the spray planter mixing tank to form a colloidal slurry. Spray it on the slope with a mud pump. Since the slurry contains water-retaining materials, bonding materials, and various nutrients, it ensures the source of water and other nutrients needed for plant growth while preventing rain erosion from destroying the sprayed materials, so the plants can grow healthily and rapidly. At the same time, YG Machinery also has other construction equipment, such as shotcrete machines, concrete pumps, fog cannons, mortar sprayer machines, sandblasting machines, mini concrete pumps, concrete mixer with pumps, auto brick making machines, micro excavators, GRC machines, gypsum spray plaster machines, etc. Contact us now!【WhatsApp/WeChat/Phone/Skype】+86 136 1385 6800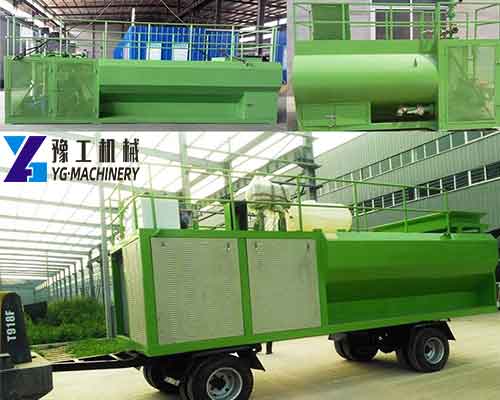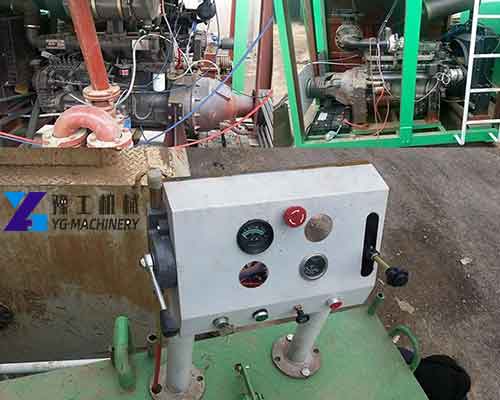 Technical Parameter of Hydroseeder Machine for Sale
Item
YG-2
YG-4
YG-6
YG-8
Tank Volume
2m³
4m³
6m³
8m³
Spraying Area
200-500m²
500-1500m²
700-2000m²
1000-2500m²
Spraying Distance
H 20-30m
H 20-35m
H 20-35m
H 24-40m
V 10-20m
V 10-25m
V 10-25m
V 15-30
Pipe Head
H 20-50m
H 20-60m
H 20-70m
H 30-80m
V 20-30m
V 30-40m
V 30-40m
V 30-50m
Weight
1000KG
1300KG
1600KG
1900KG
Dimension
2.5*1.5*1.4m
3.3*1.5*2.4m
3.6*1.8*2.4m
4.2*1.8*2.4m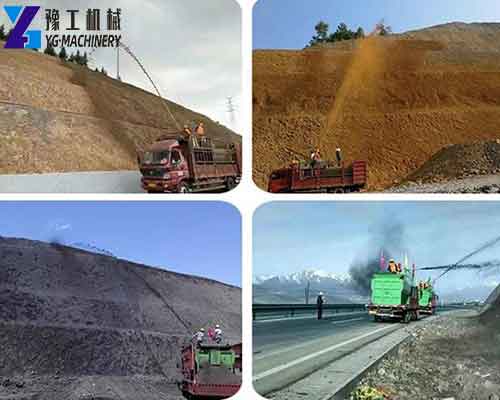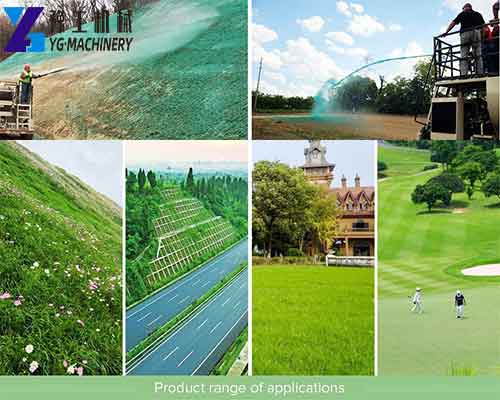 Application of Hydroseeding Machine for Sale:
The hydroseeding machine is suitable for greening and spraying in rocky, hard soil, sandy soil, barren land, acid soil, arid zone, coastal dams, and other places where plants are difficult to grow. Spray seeders are widely used in high-speed highway (railway) roadside slope greening, wound mountain re-greening, landfill without soil cover, mine re-greening, desert treatment, river embankment protection, maintenance watering, large-scale green space reconstruction, and other greening projects.
Product Advantages:
High outlet pressure: the invention patent "multi-stage pressurized mud pump", the outlet pressure of the domestically created mud pump can reach 2.4Mpa.
Long conveying distance: When the solid content is over 80% of the slurry concentration, the direct injection height is 50 meters, and the multi-stage pressurized conveying platform can realize a conveying distance of more than 300 meters.
Customized power: YG Machinery and YG Group jointly develop a series of power equipment such as low fuel consumption, low speed, high torque, strong plateau adaptability, and low maintenance cost. High power matching, increased power conversion performance, and improved spraying efficiency.
Quality Assurance: Standardized assembly line operation is adopted, and the whole machine is guaranteed for 12 months (except for vulnerable parts).
Technical support: Slope greening construction: plan design—equipment procurement—material supply—construction technical guidance—post-maintenance management one-stop service, providing you with a one-stop overall solution for slope greening construction and ecological environment restoration.
Hydroseeder Machine Performance Characteristics:
The overall frame of the hydroseeder sprayer is carefully welded with 120 square tubes, the tank body is folded by a 5mm steel plate, and the key parts of the tank body are reinforced with thickened 20mm steel plate to ensure the overall strength and durability of the machine and stable transportation;
It can transport viscous materials and increase the thickness of the spray layer;
The whole machine adopts mechanical stirring and chain transmission, which is convenient to use, high in transmission efficiency, easy for workers to maintain, and easy to operate. The mixing adopts a combination of spiral blade mechanical mixing and reflux scouring mixing to form three-dimensional mixing and effectively improve the uniformity of mixing. ;
Driven by a single diesel engine, low fuel consumption, convenient operation, and easy maintenance, reducing use and working costs;
Equipped with a 360-degree freely rotating universal nozzle, and also equipped with long and short and fan-shaped nozzles and guide pipe valves, which are convenient to exchange according to different working surfaces;
The core pump of the YG Machinery hydroseeding spraying machine adopts a special pressurized multi-stage pump, which can spray viscous materials from the nozzle at high speed, with a direct range of 20-50m, reducing construction difficulty, improving efficiency, and increasing safety. High slopes can be connected to rubber wear-resistant pipes to increase the lift and facilitate construction.
Note:
According to different proportions of conveyed materials, the conveying distance is quite different.
Suggested ingredient ratio: water: soil: rice husk and other spraying base material = 1:2-3:1 (the ratio of soil is measured on the basis of sand and soil, and the addition ratio of clay needs to be appropriately reduced according to specific conditions).
How to Improve the Spraying Effect of the Hydroseeder Machine?
In order to improve the spraying effect of the hydroseeder machine, pay attention to these points:
The spraying sowing area should be managed and maintained in time, and soil amendments (such as water-retaining agents) and adhesives should be used to ensure the effect of spraying and seeding, and necessary treatments for the flatbed, including land consolidation and fertilization. To meet the spraying requirements, the appropriate fertilizer and amount should be selected to make the seeds grow fast and firm. The proportion of fiber coverings selected by the spray planter should be appropriate to ensure the germination and growth of the seeds; the spray irrigation plan and irrigation volume should be determined according to the meteorological conditions. When necessary, appropriate moisturizing measures should be taken, appropriate lawn seeds or stolons should be selected, and the sowing rate should be determined; the soil sprayed should be analyzed, and the soil should be improved if necessary.【WhatsApp/WeChat/Phone/Skype】+86 136 1385 6800