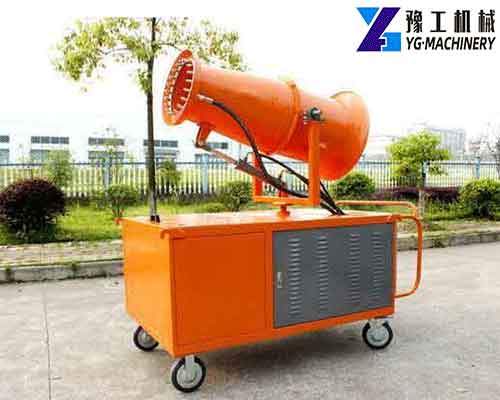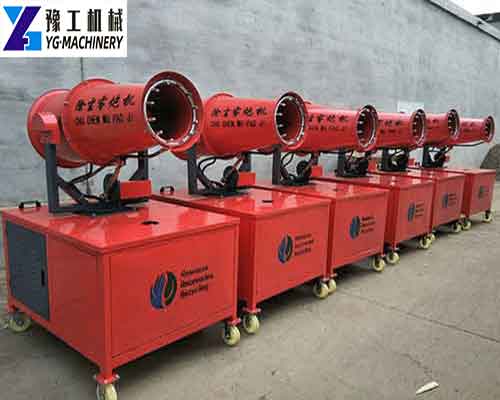 On March 27th, our customer from Myanmar sent us an email from the website saying that they were very interested in our dust cannon machine and wanted to know more about the machine. Our sales manager May quickly contacted the customer and told the customer about our machine Uses and other details. Regarding the machine, our sales manager recommended the YG-40 model that is most suitable for customers.【Whatsapp/Wechat/Phone/Skype】+86 136 1385 6800
Parameter of Hot-sale YG Fog Cannon Machine:
| | |
| --- | --- |
| Model | YG-40 |
| Spraying distance | 40m |
| Engine | electric |
| Electric | 380V/50HZ,3 phase |
| Fan motor | 4kw |
| Steering motor | 2*1.5kw |
| Pump motor | 2.5kw |
| Horizontal angle | 360° |
| Vertical angle | Minus10°-55° |
| The nozzle | 16 |
| Cylinder material | Q235 Carbon steel |
| Bucket | 480L |
| Water consumption | 3000L/h |
| Recycled water pipe | 1400mm |
| The machine size | 1650*1200*2200mm |
| Weight | 300kg |
Application of Dust Cannon Machine:
The fog cannon machine has strong wind power and strong maneuverability and is particularly suitable for dust removal in field operations such as coal mines and docks. The size of the water mist particles is 30-200um, and the water consumption can be saved by 70% -80% compared with other spray equipment (spray guns, sprinklers), and the dust area covered by water mist is much larger than other dust suppression equipment.
The process of talking with customers is very smooth, and customers also trust our products. Since the current stage, we also give customers enough care. Prepare to send some protective equipment to customers. When the customer asked for our product catalog, he said that he really needed some self-use. He wanted to buy 2,000 pcs for himself. Our company also has stock and complete certificates. Confirm that the customer can receive the goods in his own country, we sell at a very low price.
The customer said that there will be many orders in the future and look forward to our follow-up cooperation. Thank all customers for their trust in us!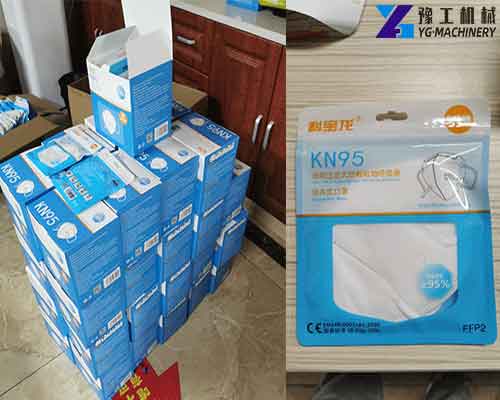 Dust Cannon Machine for Sale in YG Machinery Manufacturer:
The fog cannon of YG Machinery can be used for disinfection and dust reduction. At present, many domestic and foreign customers are using our fog cannon machine. Due to the recurrence of the new crown epidemic in the world, many new customers have also purchased fog cannons for street disinfection and so on. It also reduces the budget for customers to purchase new equipment for disinfection. In addition, we also have protective equipment such as household oxygen concentrators, industrial oxygen concentrator systems, face mask machines, melt-blown cloth machines, glove making machines, balloon making machines, condom making machines, disposable cup making machines, and wet-wipe machines. Please contact us.【Whatsapp/Wechat/Phone/Skype】+86 136 1385 6800