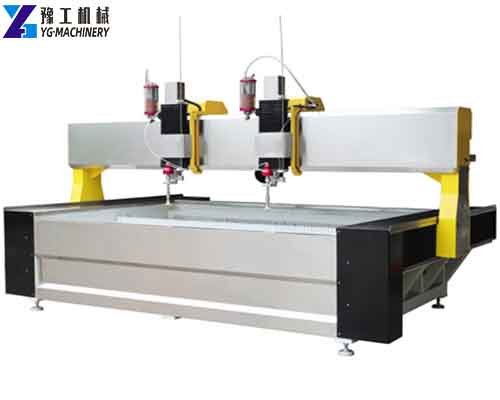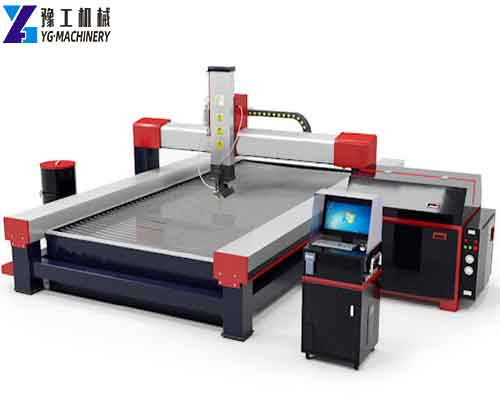 Waterjet cutting is a plane cutting machine tool that combines an ultra-high pressure water jet generator and a two-dimensional CNC machining platform. It raises the pressure of the water flow to high enough (above 200MPa), so that the water flow has great kinetic energy, which can penetrate chemical fibers, wood, leather, rubber, etc., and a certain proportion of abrasives can be mixed in high-speed water flow to penetrate almost all Hard materials such as ceramics, stone, glass, metals, alloys, etc. Under the guidance of the two-dimensional numerical control processing platform, start or end processing at any position of the material, and move at an appropriate speed according to the set trajectory to realize the plane cutting of any graphics.【Whatsapp/Wechat/Phone/Skype】+86 136 1385 6800

Parameter of CNC Waterjet Cutting Machine:
Name
Parameter
Unit
Fly-arm type
Type
4020
3020
4015
3015
2515
2015
1615
1210
Maximum cutting area
4.0*2.0
3.0*2.0
4.0*1.5
3.0*1.5
2.5*1.5
2.0*1.5
1.6*1.5
1.2*1.0
m
Bridge type
Type
6030
6020
4020
3020
6015
4015
3015
2015
Maximum cutting area
6.0*3.0
6.0*2.0
4.0*2.0
3.0*2.0
6.0*1.5
4.0*1.5
3.0*1.5
2.0*1.5
m
Maximum pressure
420
Mpa
Working pressure
350-400
Mpa
Maximum flow rate
3/3.7
L/min
Water ori diameter
0.3-0.33
mm
Inner hole size of the sand mixing pipe
0.8 or 1.0
mm
Main engine motor
Type
YG225l-4
Rating Power
37
KW
Rating speed
1480
R/min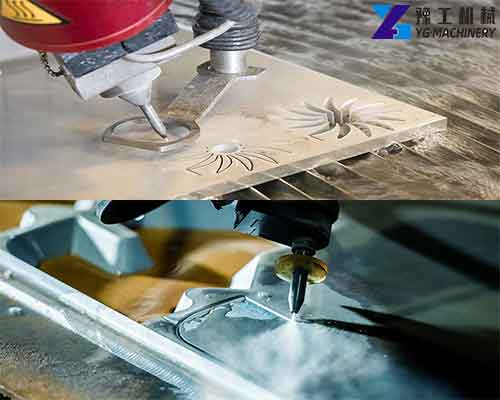 Water jet cutting, the ultra-high pressure water jet cutting machine is to pass ordinary water through an ultra-high pressure pressurizer to pressurize the water to 3000 bar, and then generates a water jet about 3 times the speed of sound through a water nozzle with a channel diameter of 0.3 mm. Under the control of the computer, it is convenient to cut soft materials with arbitrary graphics, such as paper, sponge, fiber, etc. If sand is added to increase the cutting force, almost any material can be cut.
High-pressure Waterjet Cutter 6 Features:
CNC water jet is ideal or the only processing method for materials that are difficult to cut by other methods, such as Kevlar, titanium alloy, and various composite materials.
Processing various non-metallic materials, such as instrument panels, carpets, asbestos brakes, car liners, door frames, roof glass, car interior trim panels, rubber, plastics, gas tanks, etc., as well as the forming and cutting of other internal and external components.
It can cut special materials, such as titanium alloy, honeycomb structures, carbon fiber composite material, laminated metal or reinforced plastic glass, etc. For example, when cutting an airplane blade with a water jet, the cutting edge of the blade has no heat-affected zone and work hardening, which eliminates the need for subsequent processing.
Foundry plants can use water jet cutting technology to remove aluminum oxide on the outside of the workpiece, sand and ceramic coatings on the castings, etc. At the same time, it can cut gray cast iron parts that are difficult to cut by conventional methods.
Forming and cutting of printed circuit boards and film shapes can be performed.
The water jet and abrasive jet cutting technology can also be applied in other industrial processes, such as cutting marble, granite, ceramics, etc. in the construction industry, processing finished paper rolls, corrugated paper, toilet paper, etc. in the paper industry, processing plywood, wood panels in the wood industry.
CNC Waterjet Cutting Machine Price – YG Machinery Manufacturer
The excellent performance of high-pressure waterjet cutting technology can cut materials that cannot be cut or are easily cut by other methods. At present, more and more customers choose this kind of machine. YG Machinery's products have always been very cost-effective. In addition, we have plasma cutting machines you can choose from. Also, we have other cutting machines, such as concrete wall saws, hydraulic wire saw machines, rock splitters, high-frequency wall saws, pile breakers, diamond chain saws, etc. Contact us to know more!【Whatsapp/Wechat/Phone/Skype】+86 136 1385 6800