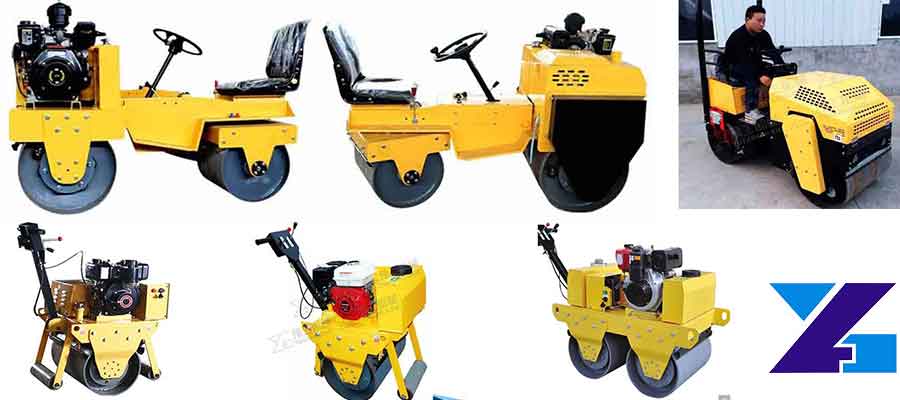 A mini road roller is a kind of road roller machine with small sizes, which can also be called pavement roller, asphalt roller for sale, paving roller, small asphalt roller, walk behind roller, or mini road roller compactor. The machine belongs to road construction equipment and is suitable for compacting asphalt pavement, sidewalks, bridges, parking lots, sports venues, and some other narrow compaction operations, especially for municipal departments to maintain, and repair grooves, streets, and square narrow belts. Meanwhile, it can also be used for personal use or for small areas of engineering and ground compaction. The most important is the application scope of the small road roller is more extensive and the price is much cheaper. As a professional manufacturer of various road machinery, mini road roller for sale with good quality and lower price in Henan YG Machinery will be your ideal choice.【WhatsApp/WeChat/Phone/Skype】+86 136 1385 6800
Road Roller Specification:
| | | | | |
| --- | --- | --- | --- | --- |
| Model | YG-600S | YG-880 | YG-850 | YG-880 |
| Power | 5.5HP | 25HP/20HP | 6.0HP | 25HP/20HP |
| Walk Speed | 2.4km/h | 0-5KM/H | 0-4km/h | 0-5KM/H |
| Climbing Capacity | 25% | 30% | 30% | 30% |
| Static Linear Load | 45n/cm | 45n/cm | 45n/cm | 45n/cm |
| Exciting Force | 20KN | 50KN | 20KN | 50KN |
| Vibration Frequency | 70HZ | 70HZ | 70HZ | 70HZ |
| Drive | Hydraulic Drive | Hydraulic Drive | Hydraulic Drive | Hydraulic Drive |
| Water Tank | 15L | 15L | 15L | 15L |
| Hydraulic Oil Tank | 3.6L | 19L | 3.6L | 19L |
| Engine Model | HONDA GX160 | GX390 | HONDA GX270 | GX390 |
| Steel Wheel Size | 426x600mm | 800x850mm | 580x700mm | 800x850mm |
| Package Size | 1050x900x1200mm | 2100*1000*1650 mm | 1550x900x1200mm | 2100*1000*1650 mm |
| Weight | 330kg | 1000kg | 750kg | 1000kg |
Road Roller Types
In general, the road roller machine can be divided into pneumatic type roller and steel wheel roller. But the roller machine produced by us is all typed. Mini road rollers for sale in our company can usually be divided into a walk-behind roller, which contains a walk-behind vibratory roller, a walk-behind road roller with a single drum and double drums, and a seat-driving road roller. In addition, different models use different engines, diesel or gasoline engines. Here is an introduction to these different types of road roller machines and you can choose the suitable type according to your requirements.
Walk-Behind Roller
The walk-behind roller, also known as the names, self-propelled roller, hand road roller, hand pushed small road roller, and walk-behind vibratory roller, has the features of small size, compact structure, easy transportation, large working power, and high efficiency. It can be used in conjunction with a large road roller machine. There are two kinds of walk-behind rollers for sale in YG Machinery, one has one drum and the other has two drums. The walk-behind roller with a single drum weighs 330kg. It can walk at a speed of 2.4km per hour and has 25 percent climbing power. The tandem walk-behind roller weighs 550kg, has 30 percent climbing power, and can walk at a speed of 0-4km/h. In terms of engines, they both use a single-cylinder, air-cooled four-stroke engine. The single-drum walk-behind roller can use both a gasoline engine and a diesel engine, but the tandem walk-behind road roller usually uses a gasoline engine.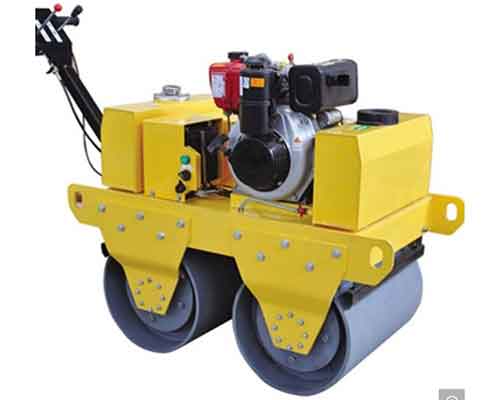 Walk-Behind Vibratory Roller
A small vibratory roller is a kind of mini road roller that uses its gravity and vibration to compact a variety of construction and road materials. In road construction, a vibratory road roller is most suitable for compacting all kinds of non-viscous soil, gravel, gravel mixture, asphalt, and concrete. The working principle of the vibratory roller is through the vibration of the vibrating drum to make a reciprocating impact force on the laminated material, to produce shock waves in the layer material which can be diffused and propagated along the depth direction in the laminated material. Then the particles of the laminated material can be changed from a static state to a dynamic state to achieve the purchase of compaction. The walk-behind vibratory roller in our company can vibrate vertically and has a great exciting force and high compaction efficiency. It can walk back and forth, use a centrifugal clutch for vibration, change speed continuously, and directly control the magnitude of exciting force by pulling the throttle. Compared with the vibratory roller for sale in a big size, it is very convenient to turn and can be said to be the ideal equipment for compacting narrow sites.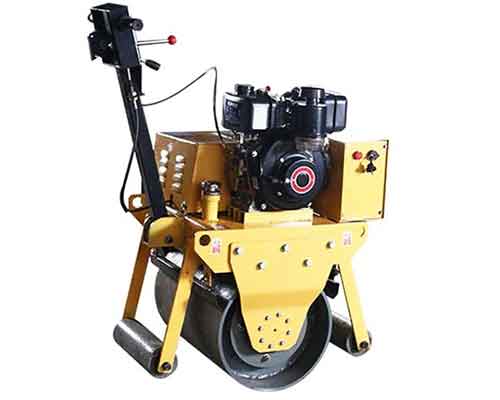 Tandem Roller for Sale
The tandem road roller is usually a drive roller, which is a kind of small-size vibratory roller for sale, so it can also be called a tandem vibratory roller or double drum vibratory roller. Of course, you can also find the model YG-600D in our company which is a walk-behind tandem roller, and the price will be a little lower than the YG-850 model. However, if you want to purchase a more labor-saving and more efficient mini road roller, you'd better buy the drive model. This kind of small road roller is straightforward to operate and can save time and effort. Its machine uses a single-cylinder, air-cooled 4-stroke diesel engine with a capacity of 3.6L. In addition, we also have a fully hydraulic road roller with seat driving which weighs 1000kg and the engine can be a diesel engine or petrol engine. Whatever type of mini road roller you need, contact us for a quotation.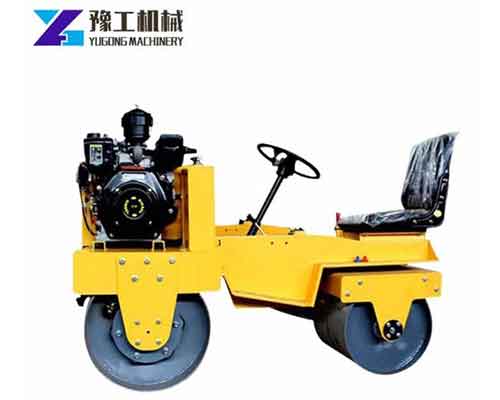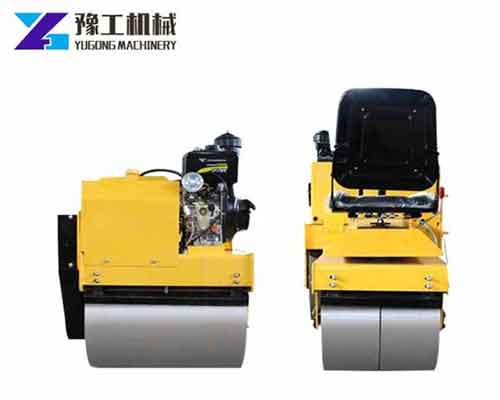 Single Drum Vibratory Roller
The single drum vibratory roller is hand-pushed, which is much cheaper than other types. It is suitable for some small projects, narrow area operations, community roads, park trails, etc… The model is mainly used for some small road construction projects and the compaction of some corners of the road. To fit the height of different operators, our walk-behind roller is designed with an adjustable height handrail. And there are two control handles on the handrail that operators can easily control the machine. Send us an email to tell us the model you need now and we will give you the best service.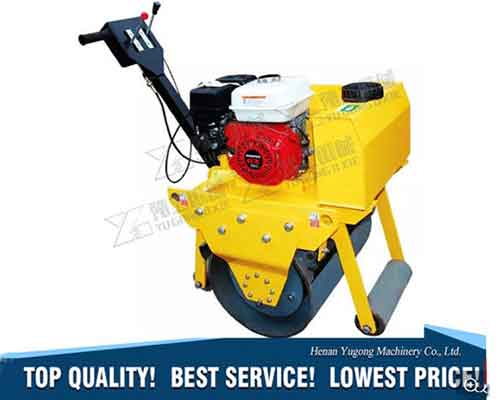 The Capacity And Features of Mini Road Roller for Sale
The working radius is small and can work in a narrow area. This kind of road roller is designed to be very compact with a structure as comprehensive as the big-size road roller for sale. So it is very suitable for those narrow places where large pavement rollers can't reach. The most important is that the small road roller is very easy to transport to many countries and regions worldwide.
It has a strong working force and high working efficiency and can be used with road rollers of big size which is usually used for large engineering construction and ground compaction. However, there are some corners and narrow places they can't get in. At this point, a small road roller with the same compaction strength and more flexible action power is needed.
The extra-large water tank can reduce the trouble of the water recharging back and forth, which increases the sustainable working time of the compaction equipment and greatly improves the working efficiency.
The handrail of the mini road roller adopts a plane gear adjusting mechanism, which can be adjusted flexibly and conveniently according to needs. Then it can be easily operated by workers of different heights. In addition, it can be folded which is convenient for transportation and storage.
It is suitable for higher curb clearance and smaller side clearance, especially for compaction against walls and road rocks.
The surface spray makes it look beautiful and has rust-proof corrosion.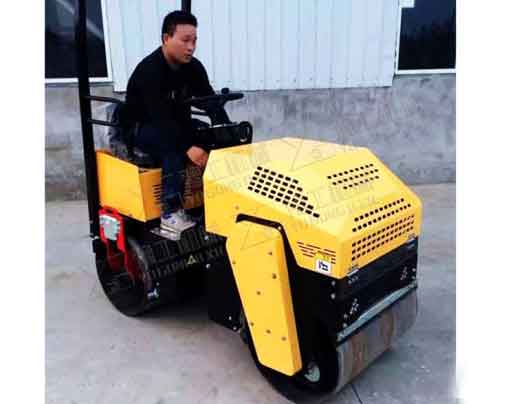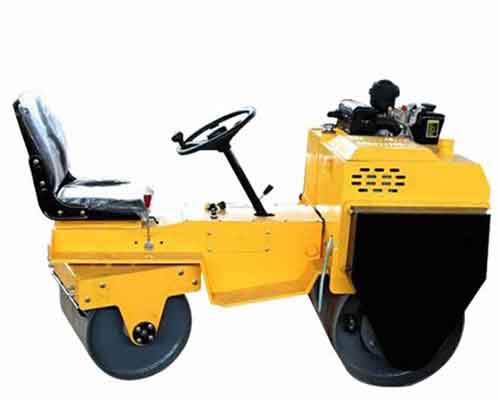 Uses of Mini Road Roller:
Stratified compaction of cement stable layer in highway municipal maintenance and filling construction.
The compaction of asphalt concrete at the edge and corner of a trench wall.
The compaction of the area that road roller can't get in and work when pipe culverts, passageways, bridge abutments, and other structures are backfilled in highway construction.
The road lay off the municipal landscape, residential community landscape, golf course construction, and the paving and compaction of the sidewalk.
It can also flexibly and efficiently complete the compaction of some other construction areas that are narrow and sensitive to the weight of the compaction equipment.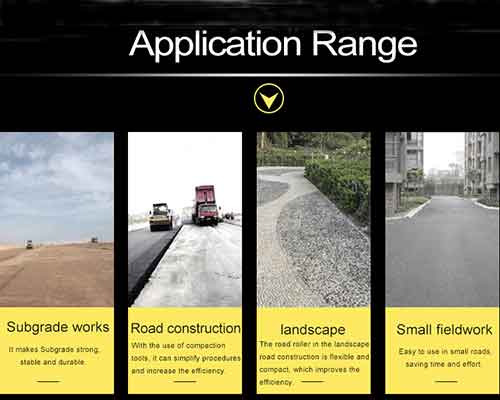 Considerations When Buying a Mini Road Roller:
The tonnage of the road roller. First, You can choose a suitable paving roller according to the size and duration of the project. Second, you should pick up the weight, amplitude, and vibration frequency of the compaction machinery depending on the thickness of the mixture spread when crushing the asphalt concrete pavement.
Choose a suitable mini road roller for sale according to the layer thickness. Generally, it's much better to use a mini vibratory roller with an amplitude of 0.35 to 0.60mm, weighing 2 to 6 tons when the layer thickness is less than 60mm, to avoid the phenomenon of the heap, wave, and damage to aggregate. For the thick layer with a thickness over 100mm, the vibratory roller for sale with a large amplitude that can be up to 1mm and a weight of 6-10 tons will be more suitable. At the same time, to prevent the asphalt mixture from being too cold, it should be rolled immediately after the spread.
Choose depends on highway type or grade. Of course, you can also pick up the corresponding road roller for sale depending on the type of material being pressed. If you don't have any idea about which type to choose, please kindly tell me more about your requirements and your uses, and then we will recommend the most suitable model for your needs.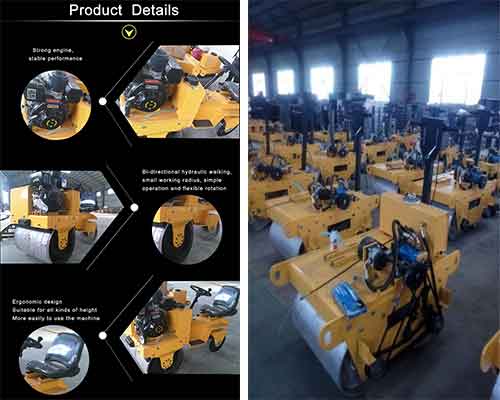 YG Machinery Reliable Road Roller Manufacturers
Henan YG Machinery is a top and professional manufacturer of various road machinery, such as road marking machines for sale, shot blasters for sale, concrete scarifier machines, concrete curb machines, electric snowblowers, electric road sweepers, trowel machines, asphalt crack fillers, etc… We have specialized in the production of machinery for more than twenty years. We are devoted to research and development, production, and sales of road, bridge, mining, and tunnel construction equipment, and some other machinery. We always adhere to the principles of quality first, customer, service first, and safety. It's because of our persistence and work philosophy that our machinery is not only welcomed in China but also exported to many countries and regions around the world. So if are interested in our mini road roller, please feel free to contact us for more details. We are looking forward to cooperating with you.【WhatsApp/WeChat/Phone/Skype】+86 136 1385 6800
Mini Road Roller Price
As a manufacturer, all the machinery in our factory is sold directly by ourselves. Without the third party raising the price in the middle, the mini road roller price in YG Machinery is very reasonable and competitive. At the same time, quality is what we insist on in the first place. So if you need to purchase a mini road roller or other bridges, tunnels, and road machinery. Please don't hesitate to contact us for more details, and we will reply to you as soon as we can.