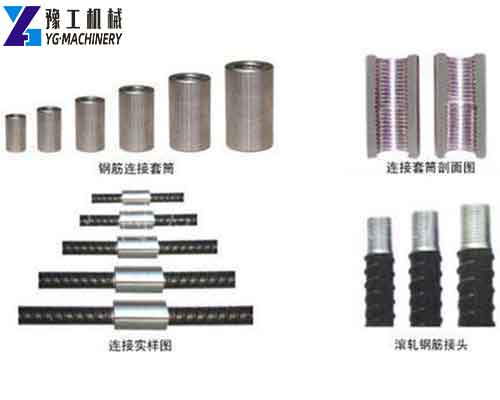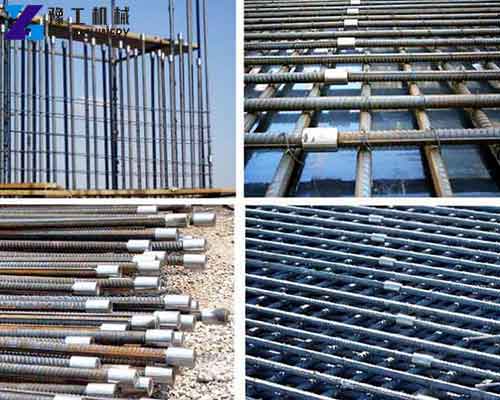 In July 2017, a client from Kuwait found our company online through a keyword search. He wants to buy a large number of threaded rebar couplers to connect steel bars processed by rebar thread rolling machines. Then our sales manager specifically responsible for steel processing machinery communicated with him about his uses, requirements, transportation, port, price, and some other questions. After several days of communication and confirmation, the customer quickly placed his first order. He bought 5000 pieces of rebar connectors, as well as some rolling wheel blades. After he used our products, he told our sales manager that the quality is very good and he expressed the idea that he would order the couplers from us again when he needs them. The customer is a large contractor, he has a great demand for threaded rebar couplers. A month after the first purchase, the customer purchased another 5000 pieces of mechanical rebar couplers of the same size.【WhatsApp/WeChat/Phone/Skype】+86 136 1385 6800
Technical Parameter of Mechanical Rebar Couplers:
Size(mm)
O D±0.5(mm)
L±0.5 (mm)
Thread
Pitch
Threaded Rebar Coupler Weight/pc (kg)
Φ16
25
40
M16.8
2.0
0.111
Φ18
28
45
M18.75
2.5
0.136
Φ20
31
50
M20.75
0.175
Φ22
33
55
M22.76
0.203
Φ25
37
60
M25.75
0.266
Φ28
41
70
M29.17
3.0
0.375
Φ32
47
75
M33.18
0.533
Φ36
54
85
M37.3
0.828
Φ40
59
95
M40.93
1.085
Φ50
78
125
M50.5
3.5
2.896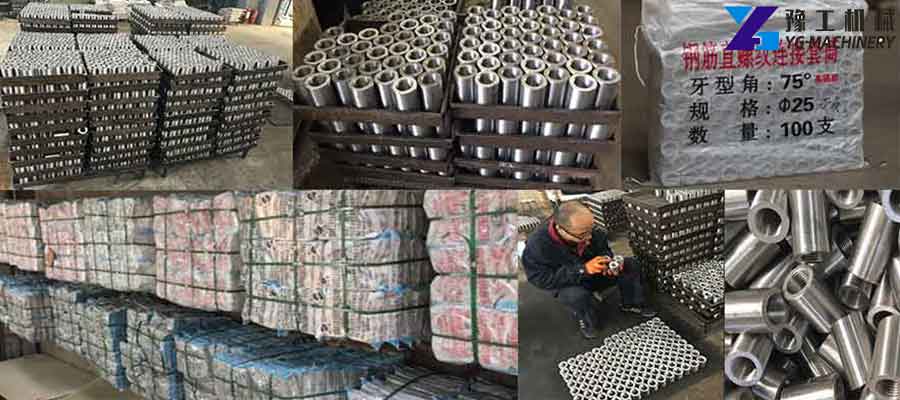 Rebar Connectors for Sale:
Then in 2018, a customer in Kuwait ordered our rebar-threaded couplers twice more. The numbers are 15000 pieces and 13000 pieces. The diameters are 16 mm, 20mm, and 40mm. In addition, he bought some rolling wheel blades every time, and for that, it's a great consumable as an indispensable part of the rebar threading machine. Rebar threaded couplers for sale in YG Machinery with high quality and the best price, contact us now!
Threaded Rebar Couplers Manufacturer – YG Machinery
We can manufacture threaded rebar couplers with diameters of 16mm to 40mm and angles of 60 degrees and 75 degrees. If you have a clear idea of the model you need, please email us to tell us more about your requirements, and we will give you the best price. If you don't know which model you should use, you can first order some samples of various models from us. After testing, you can then purchase a suitable model. In addition, we also have rebar threading machines, wire straightening and cutting machines, rebar bending machines, beam bending machines, pipe shrinking machines, hydraulic combined punching and shearing machines, steel hoop bending machines, and rebar upsetting machines, auto tapping machines, stirrup bending machines, chain link fence machines, etc. Check the parameters below and contact us for a quotation now.【WhatsApp/WeChat/Phone/Skype】+86 136 1385 6800