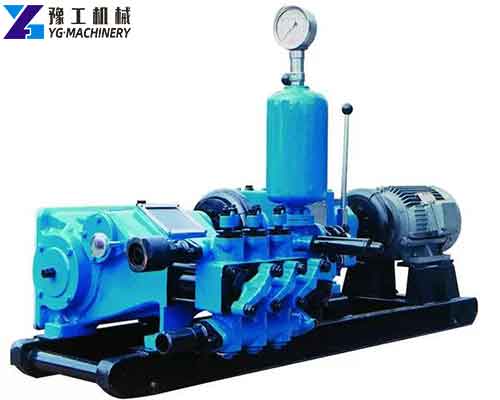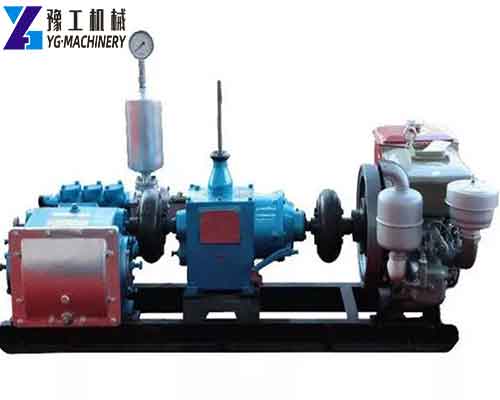 The mud pump refers to a machine that transports flushing fluids such as mud or water into the borehole during the drilling process. Mud pumps are an important part of drilling equipment. Mud pumps can be used with our drilling rigs, core drill rigs, hydraulic drilling rigs, small water well drilling rigs, crawler mounted water well drilling rigs, tractor water well drilling rigs, trailer water well drilling rigs, DTH drilling rigs, crawler DTH drilling rigs, anchor drilling rigs, horizontal directional drilling rigs, rotary drilling rigs, hydraulic pile drivers, etc. Mud pump for sale in YG Machinery, contact us to know more details and quote.【WhatsApp/WeChat/Phone/Skype】+86 136 1385 6800
YG Mud Pump Technical Parameter:
| | | | | |
| --- | --- | --- | --- | --- |
| Model | BW150 | BW160 | BW250 | BW320 |
| Max. traffic | 150L/min | 160L/min | 250L/min | 320L/min |
| Max. pressure | 7Mpa | 10Mpa | 6Mpa | 8Mpa |
| Power | 7.5kw | 11kw | 15kw | 30kw |
| Inlet pipe diameter | 51mm | 51mm | 76mm | 76mm |
| Outlet pipe diameter | 32mm | 32mm | 51mm | 51mm |
| Weight | 560kg | 480kg | 760kg | 1000kg |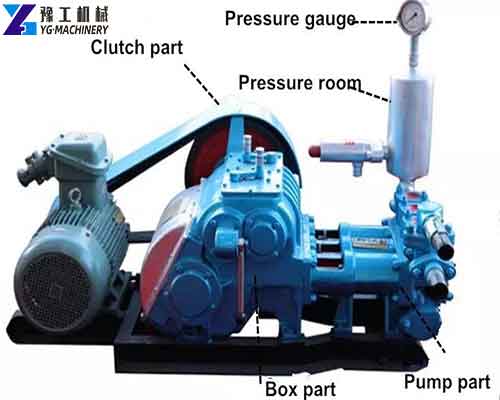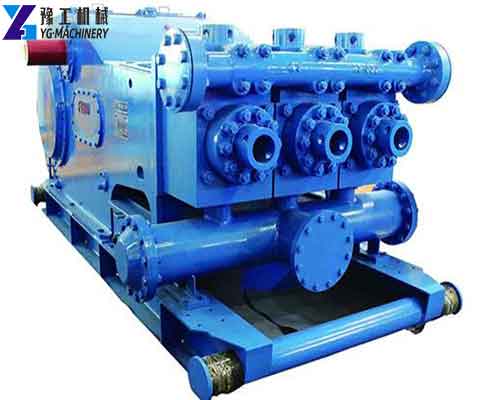 Mud Pump Working Principle:
A mud pump is a machine that delivers flushing fluids such as mud or water to the borehole during drilling. It is an important part of the drilling equipment. During the drilling process, the mud pump injects the mud into the well with the drilling bit. The debris and other wastes are brought back to the surface to clean the well. Its working principle is to rely on the reciprocating motion of the piston so that the working volume of the pump chamber changes periodically, and then the liquid is sucked and discharged. It is composed of a pump cylinder, piston, inlet and outlet valves, inlet and outlet pipes, connecting rods, and transmission devices. It is more suitable for drilling operations with high pressure and small flow.
Application of BW Pump:
Mud pumps can be widely used in mining, electric power, metallurgy, coal, environmental protection, and other industries to transport slurry containing abrasive solid particles. Such as slurry transportation in metallurgical beneficiation plants, hydraulic ash removal in thermal power plants, coal slurry and heavy medium transportation in coal washing plants, dredging of river channels, and dredging of rivers. In the chemical industry, some corrosive slurries containing crystals can also be transported.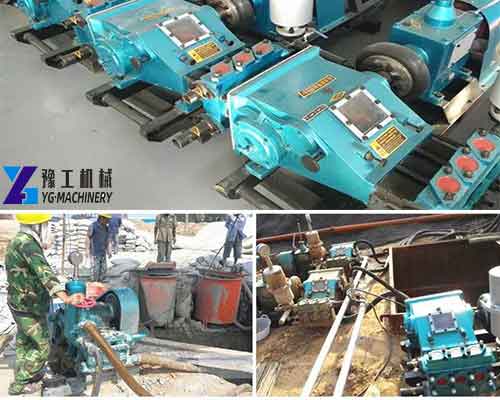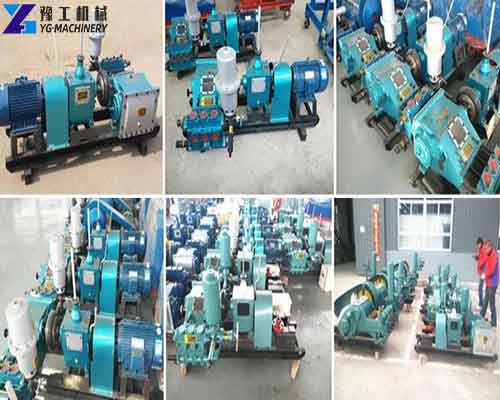 Mud Pump for Sale in YG Machinery Manufacturer
A mud pump is a device used to transport liquids such as mud or water. Today, it has been widely used in drilling. Drilling rigs have always been the best-selling products in YG Machinery. Many machines are sent all over the world every month. We have a lot of users who love our machines and praise our equipment for its high efficiency and good quality, which fully meet their needs, of course, many customers choose to configure mud pumps, and of course, there is another option, air compressors. The mud pump of YG Machinery has a large flow rate, which can perfectly match various types of drilling rigs, and is an absolutely perfect choice. Of course, the price of our machines is also very cheap, because we are the source factory and the production batch is very large, so the unit price is not high. If you are interested, please get in touch with us.【WhatsApp/WeChat/Phone/Skype】+86 136 1385 6800