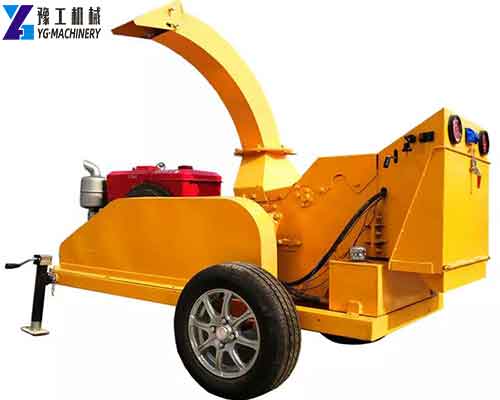 The newly developed and produced garden branch wood shredder for sale in YG Machinery is suitable for gardens, orchards, forestry, highway tree maintenance, parks, golf courses, and other departments. Trunk, equipment is simple to operate, and requires one-time molding, after crushing, it can be used as mulch, garden bed base, organic fertilizer, edible fungus, biomass power generation, and can also be used in the production of the high-density board, particle board, paper industry, etc. Want to know more about wood shredder details? Contact us now!【WhatsApp/WeChat/Phone/Skype】+86 136 1385 6800
Wood Shredder Technical Parameter:
| | | |
| --- | --- | --- |
| Model | YG-6130 | YG-6145 |
| Motor Type | Diesel motor, electric start | Diesel motor, electric start |
| Capacity | 2 tons/hour | 5 tons/hour |
| Dimensions | L2300*W1300*H1800 | L3200*W1700*H2400mm |
| Knife Roller Diameter | 300 mm | 500 mm |
| Equipped with power | 23.6KW diesel engine | 75KW (102 hp) diesel engine |
| Host speed | 2600r/min | 2500r/min |
| Number of blades | 4 moving knives, 1 stationary knife | 4 moving knives, 1 stationary knife |
| Maximum broken branch diameter | 130mm | 250mm |
| Feed throat size mm | 300*180 | 450*380 |
| outlet direction | The 360-degree quick adjustment device | 360-degree quick adjustment device, outlet angle adjustment, outlet nozzle, height adjustment |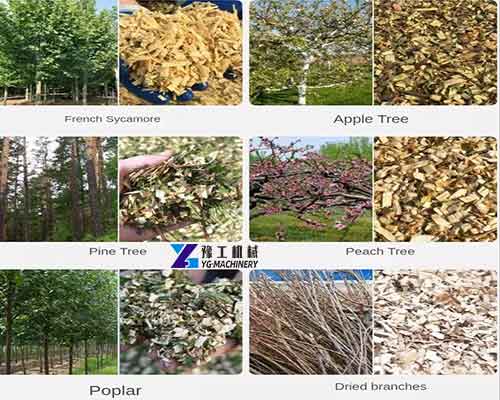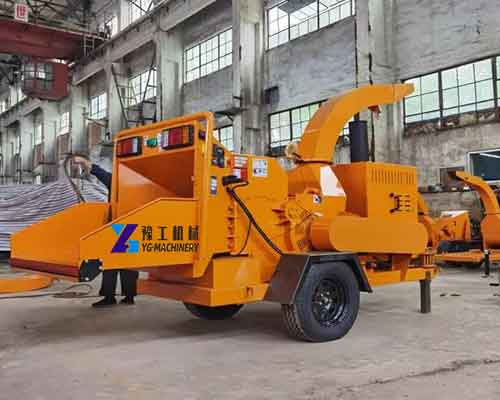 Bamboo wood powder, fruit shells, Chinese herbal medicine, bark, leaves, wheat bran, konjac, black hemp, rice husk, corncob, straw, starch, grain, shrimp skin, fish meal, Shells, seaweed, dehydrated vegetables, hawthorn, dried ginger, garlic slices, pumpkin powder, seasoning, jujube, paper, circuit boards, plastics, chemical raw materials, seawater products, condiments, feed, mica, graphite, bentonite, perlite, Distiller's grains, furfural, cakes, charcoal, activated carbon, cellulose, potato dregs, tea, hair, soybean meal, cotton, refined cotton, cowhide, sheepskin, plant roots, stems, leaves, flowers, fruits, various edible fungi, etc. It is an ideal pulverizer in the chemical industry, building materials, medicine, health care, breeding, food, mosquito coils, and other industries. (Note that wood shredders are not suitable for crushing flammable and explosive materials).
Features of Wood Branch Shredder:
The wood shredder is a series of special equipment for wood shredding, which was invented after years of research and design according to the needs of my country's industrial production. Due to reasonable design, compact structure, safety, durability, and high production efficiency, after popularization and use, the effect is good. The whole set of equipment is driven by only one motor, with low noise, simple structure, compact layout, cheap price, stable work, and low energy consumption. Less, high output, good quality wood chips, and low processing cost. Wood chippers can be driven by a diesel engine or an electric motor, and the hydraulic forced-feed system facilitates reduced bulk and fast feeding of fluffy branches. The front pressure roller can prevent the material from flowing back and ensure the safety of use. The rotor structure of the drum cutter optimizes the cutting effect and can easily chip 6-inch logs for higher capacity. Chipping capacity can easily reach 1000kg/h. The finished product is more suitable for making organic fertilizers and ground covers.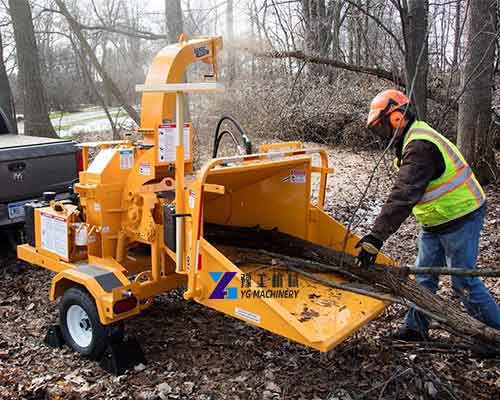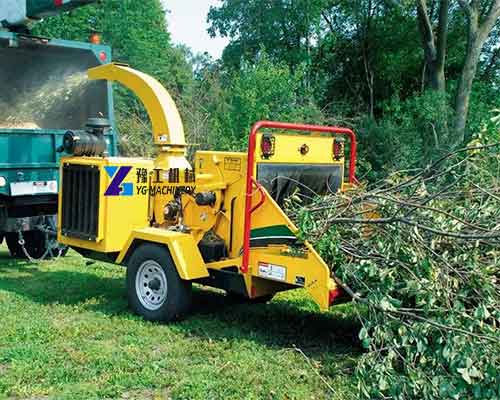 Why Choose YG's Wood Shredder?
As the seasons change, branches, trunks, etc. will fall, and a large accumulation of these materials will cause unnecessary trouble. This way, we must find a way to process these materials. Whether these things have other functions depends on how we process them. At this time, the wood shredder can make its debut. The wood shredder can directly crush the branches and trunks. Crushing processing, the crushed finished product can be used in many places, such as the crushed sawdust can be used as a culture medium, and sawdust can be processed into charcoal and other energy sources that can be recycled.
Wood Shredder for Sale in YG Machinery Manufacturer
I believe that after reading the above description, you will have a certain understanding of wood shredders. YG's wood shredders have been sold to more than 30 countries including Chile, Malaysia, India, Pakistan, the United States, and Thailand. Customers have great feedback on our equipment and often help promote our brand. Therefore, we have gained a lot of high-quality customers, who purchase new equipment from our company regularly every year. Of course, in addition to wood shredders, we also have other equipment, such as hydroseeding machines, mortar sprayer machines, shotcrete machines, fog cannons, mini concrete pumps, trencher machines, brick making machines, backhoe loaders, electric forklifts, micro excavators, firewood splitter machines, etc. If you are interested in these machines, please contact us. 【WhatsApp/WeChat/Phone/Skype】+86 136 1385 6800