A customer from the Philippines purchased a walk-behind roller for sale in Henan YG Machinery in March 2017. There are two types of walk-behind vibratory rollers in our company, the single drum walk behind the roller and the double drum walk behind roller. These two models are the two most popular roller types, which are easy to use, reliable, inexpensive, and solid in structure, as well as the volume, is small, the function is strong, and the energy consumption is low. So if you are looking for a road roller machine for narrow areas, the walk-behind model will be your ideal choice. Then you can choose whether to buy the single drum model or double drum model depending on the working efficiency you want.【WhatsApp/WeChat/Phone/Skype】+86 136 1385 6800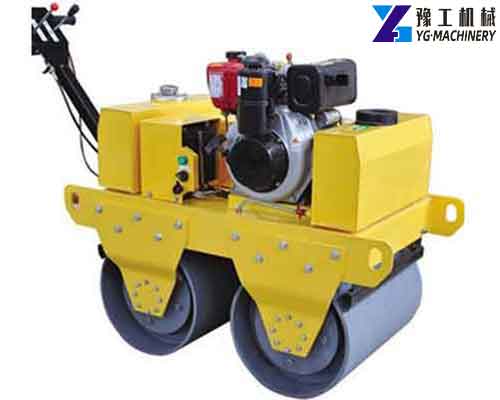 Technical Parameter:
| | |
| --- | --- |
| Model | YGM-600D |
| Power/Speed | 6.0Hp / 3600rpm |
| Walking Speed | 0-4km |
| Climbing Capacity | 30% |
| Load | 45N/cm |
| Drum Wheel Size | 450*600mm |
| Excitation Force | 20KN |
| Water Tank Volume | 15L |
| Engine | Honda GX390 |
| Engine Type | Diesel/Air cooling/4stroke  OHV Single Cylinder |
| Oil Tank Volume | 3.6L |
| Package Size | 1050*900*1200mm |
| Weight | 550kg |
Details of The Double Drum Walk Behind Road Roller
The machine weighs 550kg, and the size of the steel wheel is 426*600mm with a speed of 0-4km/h. It has a strong compaction density and high working efficiency. The volume of the water tank is 15L and the volume of the fuel tank is 3.6L. The driving mode is hydraulic transmission and the vibration mode is the mechanical transmission. In addition, the engine can be diesel or gasoline, customers can choose according to their own requirements.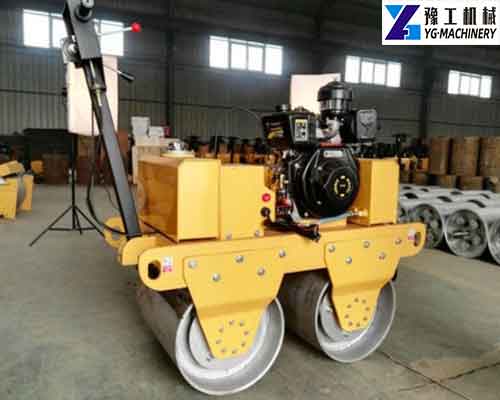 Types of YG Road Roller Machine:
Of course, if you would like to buy more labor-saving compaction equipment, you can choose the ride-on paving roller machine. The ride-on model is always a tandem road roller. You can check the parameters below to choose the type you want, or you can click the picture to check more on the product details page.
Road Roller Machine Manufacturer – YG Machinery
YG Machinery's road rollers have been sold to many countries, which has reduced a lot of costs for their projects, and the customer's project has been done perfectly, all thanks to the purchase of YG Machinery's road rollers. In addition, we have many other types of road construction machinery, such as road marking machines, shot blasting machines, asphalt crack filler machines, curb and gutter machines, trowel machines, fog cannon machines, floor grinder machines, concrete scarifier machines, electric road sweepers, etc. Contact us to know more machine details. 【WhatsApp/WeChat/Phone/Skype】+86 136 1385 6800