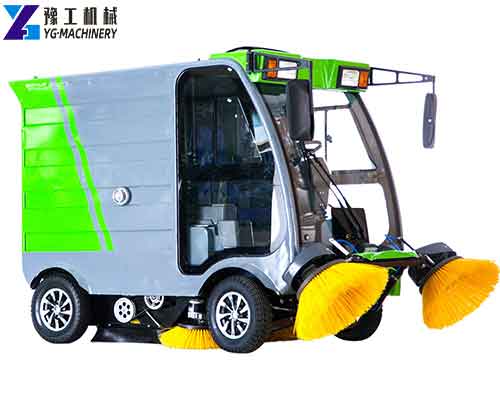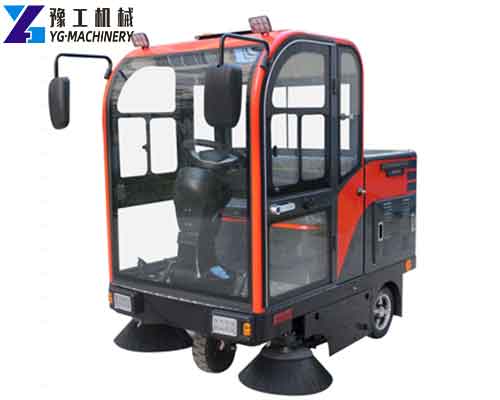 The electric road sweeper is mainly responsible for cleaning the road. It gives everyone a clean road and builds a good environment for the road. It is also a very important point on how to judge a civilized city. It can clean the road surface quickly, and work efficiency is also very high. It is widely used and very efficient. If you want to reduce labor, please contact us as soon as possible! As a professional road machinery manufacturer, we also have street road sweepers, road marking machines, road rollers, shot blasting machines, concrete curb machines, crack filling machines, floor grinders, concrete scarifier machines, trowel machines, etc. If you also want to become a road machinery distributor or to purchase equipment for the engineering project, please contact us.【WhatsApp/WeChat/Phone/Skype】+86 136 1385 6800
5 Brush heads Road Sweeper Technical Parameters
| | |
| --- | --- |
| Cleaning width | 1900mm |
| Main brush width | 700mm |
| Work efficiency | 8000-15000/h |
| Working time | 4 to 8 hours |
| Garbage bin capacity | 180L |
| Roller Brush Motor | 700W |
| Power | 48V |
| Water tank | 80L |
| Walking speed | 0-12km/h |
| Battery capacity | 48V 100Ah |
| Weight | 625kg |
| Dimension(L*W*H) | 1950x1900x1900mm |
| Drive motor | 800W |
| Operating power | 700+450+100*4+50W |
| Filtering area | 5㎡ |
3 Brush heads Road Sweeper Technical Parameters
| | |
| --- | --- |
| Cleaning width | 1500mm |
| Main brush width | 700mm |
| Work efficiency | 8000-10000/h |
| Working time | 4 to 8 hours |
| Garbage bin capacity | 160L |
| Roller Brush Motor | 700W |
| Power | 48V |
| Water tank | 80L |
| Walking speed | 0-12km/h |
| Battery capacity | 48V 100Ah |
| Weight | 450kg |
| Dimension(L*W*H) | 1850x1120x1900mm |
| Drive motor | 800W |
| Operating power | 700+450+100*4+50W |
| Filtering area | 5㎡ |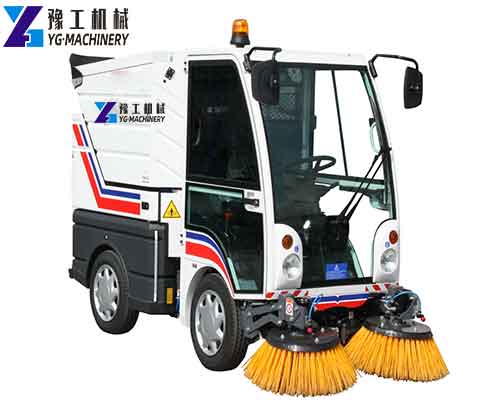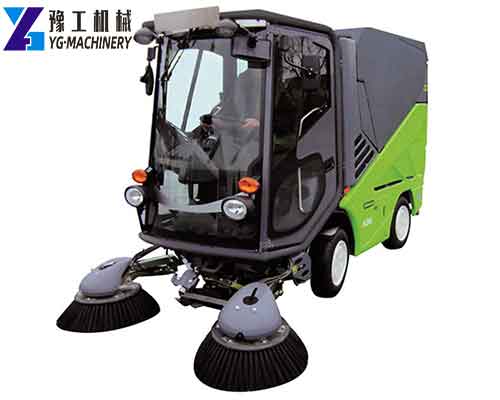 The Appearance of High-Quality YG Road Cleaner Machine:
The whole car is made of sheet metal steel material, one-piece stamping, good firmness, anti-collision, not easy to deform, and damage. The front toughened glass is clear and durable.
The whole car adopts the automobile process electrophoresis paint, which is anti-impact and has good adhesion and corrosion resistance.
The appearance structure is reasonable and practical, and it is dual-purpose in winter and summer. In summer, the interior of the machine is equipped with skylights, fans, and left and right doors that can be freely disassembled, and the rear windows are freely ventilated. It has the effects of ventilation, cooling, and shading. The enclosed cab is used in winter, which has good sealing and keeps warm.
5 Features of Street Cleaner Machine :
The main wheel is made of wear-resistant imported rubber, which is strong and wear-resistant.
High-density wear-resistant rolling brushes extend the service life.
30L large capacity dust collection box.
The 5-level regulator reduces the cost of consumables.
Walk-behind unpowered sweeper, saving time and effort, the future development trend of new energy.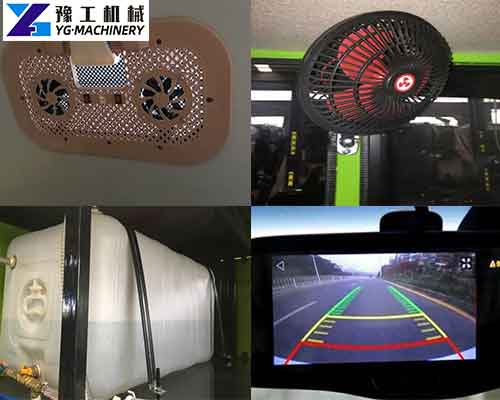 Street Cleaner Machine Application Range:
Suitable for cleaning operations in various climates and cleaning municipal roads and road cleaning in real estate communities, and more suitable for cleaning squares, highways, residential quarters, parking lots, docks, airports, stations, cement plants, power plants, underground garages, parks, factories, industrial parks, and other places dust removal.
Why Choose YG Mini Electric Road Sweeper Machine?
A combination of vacuuming, sweeping, and spraying water, and equipped with an MP3 player.
The built-in powerful dust control system, strong dust collection ability, and sweeping up to 1600mm.
Adopt advanced high-performance maintenance battery, no leakage, no harmful gas generation.
With internationally advanced cleaning and throwing technology, the theoretical value of the dust box utilization rate can reach more than 99%.
Reliable high-quality parts, effectively reducing maintenance and repair costs.
Solid tires, dedicated for airport use, strong and durable.
Imported electronic control systems, over-current, and under-voltage protection aggravate the chassis and have a larger dustbin volume.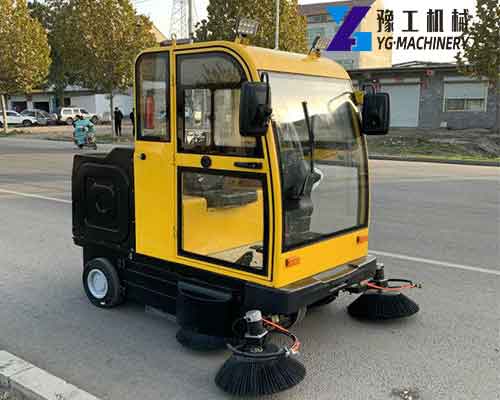 Electric Road Sweeper Price – YG Machinery Manufacturer
YG Machinery's road sweeper can clean fallen leaves, cigarette butts, confetti, pebbles, sand, etc. on the ground. The road sweeper is an environmental sanitation equipment. It is an automatic cleaning machine that combines road dust collection, sweeping, water spraying, and garbage transportation. It is a new type of cleaning equipment used in outdoor environments. The electric road sweeper is suitable for outdoor cleaning of parks, sanitation, cleaning companies, property management companies, squares, universities, highways, and squares. It can easily clean up all the garbage from dust to large pieces, as small as dust, paper scraps, iron filings, sawdust, leaves, cigarette butts, as large as stones, glass, cans, etc.
Because it is a newly developed machine, it conforms to modern science and technology, has high work efficiency, and has a wide range of applications. At present, YG is strongly recommending this new type of equipment. If you have a new project, please consider our new electric road sweeper, which will be sold to you at a very suitable price and has the best selling service. You have no worries. At the same time, we also have other types of construction equipment such as mortar sprayers, fog cannons, sandblasting machines, hydroseeding machines, GRC machines, mini concrete pumps, mini excavators, etc. Please contact us for more information.【WhatsApp/WeChat/Phone/Skype】+86 136 1385 6800