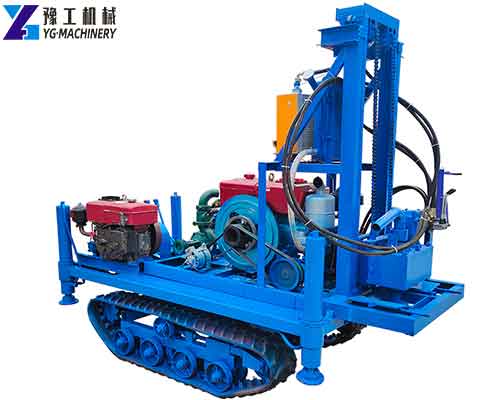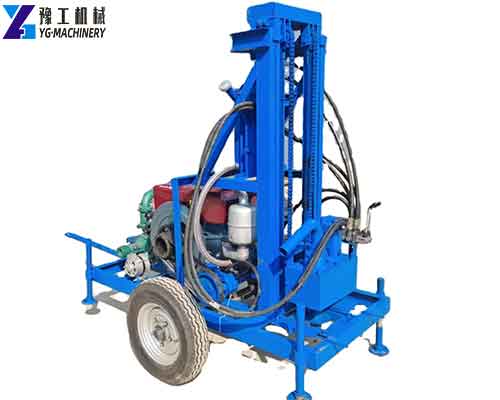 This borehole drilling machine mainly applies to geothermal drilling, farm irrigation, house yard, gardens, water well drilling and drilling etc, it can drill 70-450mm diameter, Max 200m depth. It also can be used in small buildings piling, like farmhouses or factories, the drilling diameter can reach 450mm, and it can apply to different strata, such as sand, soil, clay, soft rock, and so on. Click here to know the borehole drilling machine price.【WhatsApp/WeChat/Phone/Skype】+86 136 1385 6800
Borehole Drilling Machine Parameter:
| | | |
| --- | --- | --- |
| Model | YG-240-22P | YG-240-30P |
| Dimension | 1450*1550*1970mm | 2000*1230*2090mm |
| Weight | 200kg | 200kg |
| Drill rod diameter | 42mm | 51mm |
| Drill rod length | 1.5m/unit | 1.5m/unit |
| Rod change method | Full automatic screw thread | Full automatic screw thread |
| Max drilling depth | 200m | 200m |
| Diesel engine power | 22HP | 30HP |
| Drilling hole diameter | Within 280mm | 100mm-240mm |
| Lifting height | 2.5m | Max 2.5m |
| Lifting force | 1000kg | 2000kg |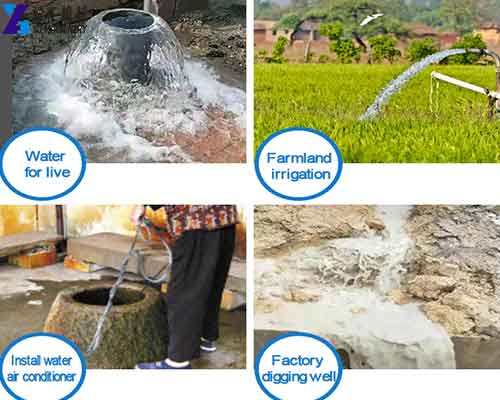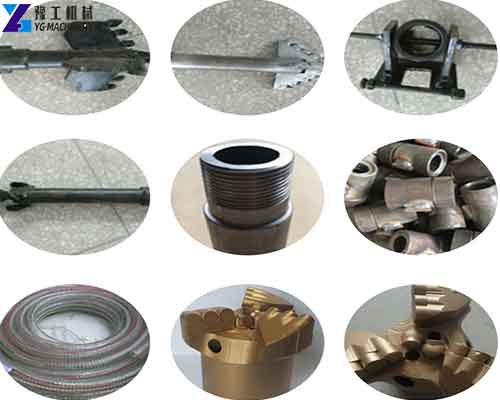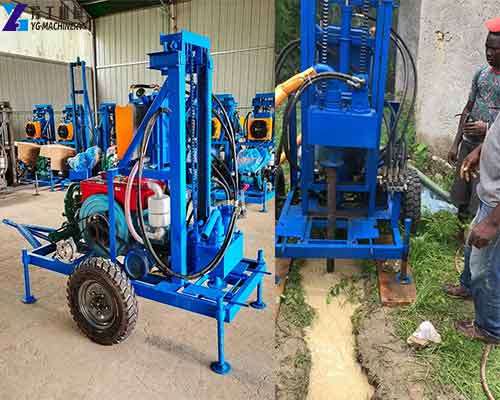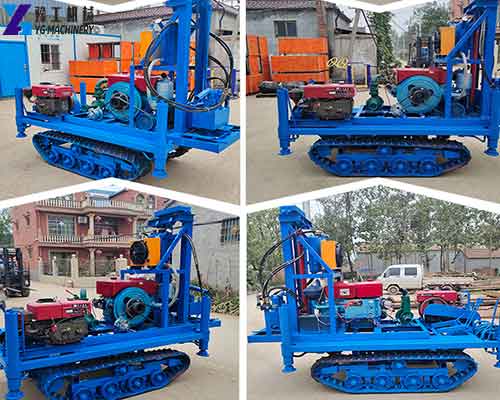 Daily Maintenance of Small Hydraulic Drilling Machine:
The motor part of the drill should be handled with care to avoid rain and splash.
The motor wire connector shall not touch to connect with electricity.
Often check whether the wire rope replacement.
Check the connection of each part of the oil pipe, whether there is oil leakage, and whether the oil level is normal.
Before and after the use of the drill pipe wire head with oil lubrication placed in the rain shelter, to avoid rust.
The motor shall not be overloaded for a long time.
Check the circuit and transformer insurance when the motor does not work.
It is strictly prohibited to continuously pressure the cylinder when it rises or falls to the end position of the stroke.
During the period when the drilling machine is not in use, the water in the water injector and the water pump shall be drained in time, and the connection with the drilling machine shall be disconnected and stored separately.
Borehole Drilling Machine Price – YG Machinery Manufacturer
Hydraulic lift electric drilling rig is a new mechanized drilling rig with high efficiency, lightweight, economy, and practicability produced by our factory. Its advantages are large torque, small volume, portability, high efficiency, easy operation, low noise, and adaptability to various environmental topography. At present, YG Machinery's drilling rig series are very popular and have been sold to Mexico, the Philippines, Poland, Canada, the United States, Congo, Zimbabwe, Peru, Côte d'Ivoire, Slovakia, Thailand, Vietnam, Malaysia, Australia, etc. There are customers all over the world. Use YG brand drilling rigs. Because our equipment is easy to operate and the price is reasonable, there will be a lot of customers willing to buy equipment from us, a big factory, and you trust directly. In addition, we also have other machinery, trailer water well drilling rigs, tractor water well drilling rigs, crawler water well drilling rigs, core drilling rig for mining, horizontal directional drilling rigs, crawler DTH drilling rigs, anchor drilling rigs, rotary drilling rigs, hydraulic drilling rigs, hydraulic pile drivers, DTH drilling rigs, portable air compressors, small water well drilling rigs, mud pumps, etc. Welcome, consult us!【WhatsApp/WeChat/Phone/Skype】+86 136 1385 6800