XY-3 Series core drill rig is a kind of spindle core drilling rig for a variety of drilling process requirements which is mainly suitable for medium and shallow drilling and diamond drilling. The machine can match the corresponding motor or diesel engine for power. Meanwhile, the spindle core drilling rig with a simple structure for sale in our company is very easy to operate and disassemble.【WhatsApp/WeChat/Phone/Skype】+86 136 1385 6800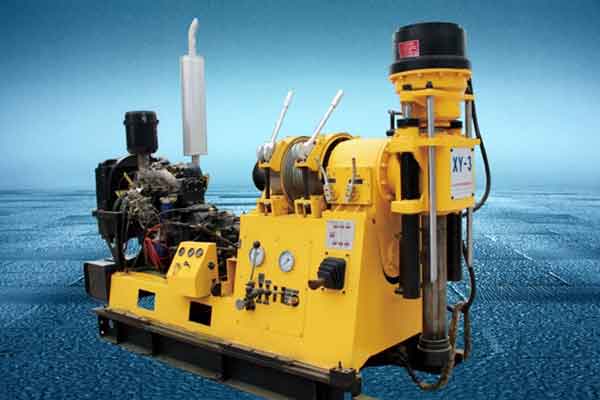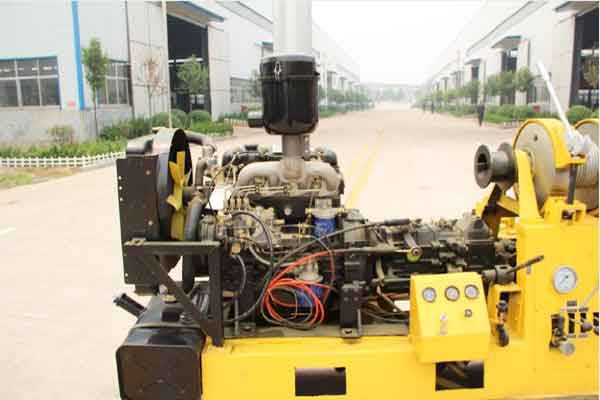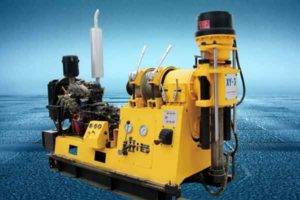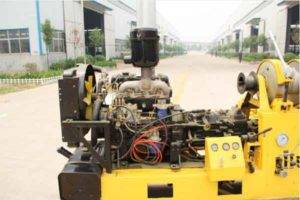 Technical Parameter of XY-3 Spindle Core Drilling Rig:
Technical Parameter
Model
XY-3
Drilling Depth (m)
600
Open Hole Diameter (mm)
325
Final Hole Diameter(mm)
75
Drill Pipe Diameter(mm)
60
Drill Pipe Inclination (°)
90-75
Power (kW)
13.2
Weight (kg)
1800
Dimensions(mm)
2600*900*1750
Spindle
Speed(r/min)
32-1057
Stroke(mm)
600
Winch
Max Pull Force(kg)
3000
Pull Speed(m/min)
0.3-1.9
Rope Diameter(mm)
12.5
Roll Capacity(m)
65
Drill Mast
Rated Load(ton)
18
Height(m)
11
Mud Pump
Mud Pump
BW-250
Work Pressure
80kg/cm²
Displacement(L/min)
250
Hose
Inlet Hose Diameter(mm)
71
Outlet Hose Diameter(mm)
51
10 Features of Spindle Core Drilling Rig:
The rig adopts the MW525 automobile gearbox assembly.
With a 10-speed series and reasonable speed range, high torque, and strong bearing capacity, it can realize remote control of speed.
It has large installed power and two series reverse speeds, which can make it easy to deal with accidents.
The structure of the motor drive is compact and the control handle is concentrated which makes the operation simple, flexible, and reliable.
The hole diameter of the vertical shaft is 96mm and can be replaced with a big six-square active drill pipe.
The supporting distance is big and the rigidity of the drilling rig is good.
The hydraulic system can control the feed pressure and speed to adapt to various types of formation drilling needs.
Equipped with a hole bottom pressure indicator which makes it easy to observe what's going on inside the hole.
The vertical shaft and hoist can be operated independently.
Small in size, lightweight, and easy to move.
Spindle Core Drilling Rig Price – YG Machinery Manufacturer
The drilling rig has always been a hot-selling product of YG Machinery. At present, this spindle core drilling rig has been sold to many countries in the world, with high-cost performance, and can meet the requirements of customers. In addition, we have hydraulic drilling rigs, small water well drilling rigs, trailer-mounted water well drilling rigs, tractor water well drilling rigs, crawler water well drilling rigs, hydraulic pile drivers, crawler DTH drilling rigs, portable DTH drilling rigs, rotary drilling rigs, horizontal directional drilling rigs, anchor drilling rigs, portable air compressors, core drilling rig for mining, etc. Please contact us to know more machinery!【WhatsApp/WeChat/Phone/Skype】+86 136 1385 6800