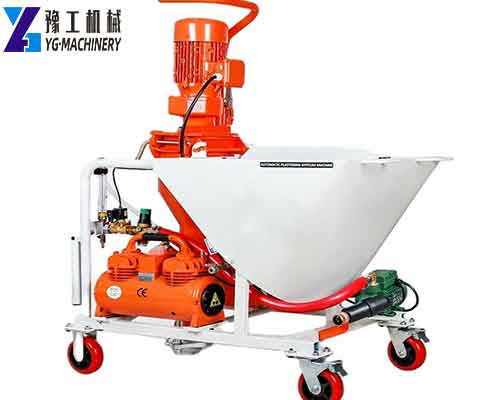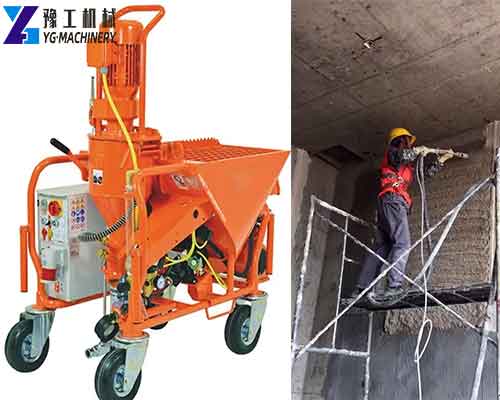 The automatic gypsum spray plaster machine integrates the functions of feeding, mixing, pumping, and spraying, and is suitable for the construction of various ready-mixed dry-mixed mortars with different characteristics and uses, such as lime-based, gypsum-based, and cement-based plaster, masonry Construction mortar, thermal insulation mortar, repair and bonding mortar, self-leveling mortar, etc. Want to know more machine details? Contact us now!【WhatsApp/WeChat/Phone/Skype】+86 136 1385 6800
Gypsum Spray Plaster Machine Parameter:
| | |
| --- | --- |
| Product Name |  YG-20 Gypsum Spraying Machine |
| Voltage | 220V/380V |
| Max Flow | 30L/MIN |
| Main Power | 5.5KW |
| Vertical Spraying | 20m |
| Horizontal spraying | 80m |
| Hopper volume | 115L |
| Max Aggregate Size | 6mm |
| Weight | 145Kg |
| Dimension(L*W*H) | 110*70*140cm |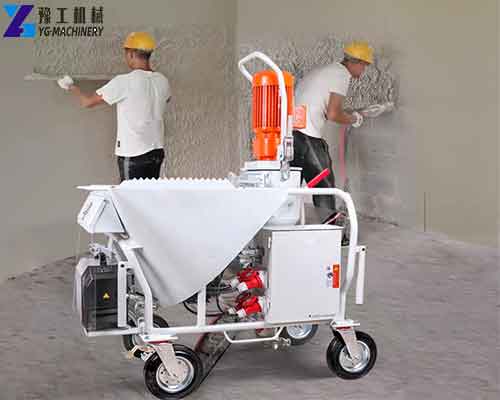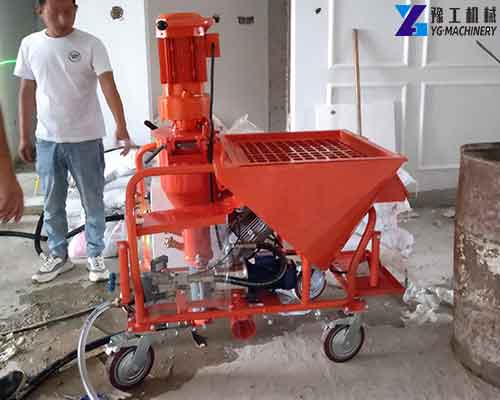 Multi-function spraying machine, suitable for pumping all ready-mixed dry mixing mortar, such as self-leveling mortar, plaster mortar, lime plaster mortar, cement mortar, lime and cement mortar, polymer mortar, plaster cement mortar, clay mortar, insulation materials, grouting mortar, fireproof mortar, floor mortar, seaweed mud, thermal mortar, putty, bottom coating, wall painting, masonry mortar, etc.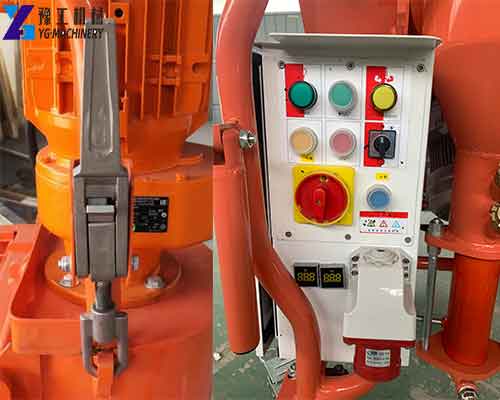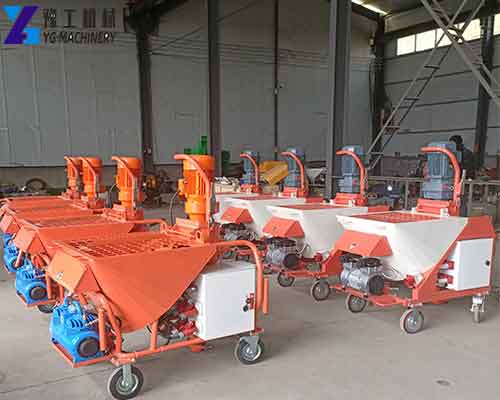 Check the Mortar Wall Plaster Machine Operation Guide:
Turn on the power, press the button, and the screw pump will start to work. If the steering is reversed, adjust the power supply after pressing the stop button to stop, and change the steering, and there will be no material in the reverse direction.
Inject a small amount of water into the inlet of the conveying hose, or use a screw pump to pump water to wet the conveying hose, and gradually discharge the water in the pipe from the outlet.
Put the uniformly stirred material into the hopper, press the start button, and the spraying work can start, and the spraying quality can be adjusted by adjusting the air volume.
Stirring materials must be continuously added to the hopper so that the gypsum can be sprayed continuously.
After the spraying is completed, the material in the hopper should be sprayed before stopping the machine. Remove the spray head and take the parts apart and clean them one by one.
Pour 50 kg of clean water into the hopper, start the pump to clean it, and when clear water flows out of the nozzle, remove the delivery hose and roll it up.
Gypsum Spray Plaster Machine Price – YG Machinery Manufacturer
This gypsum spray plaster machine with factory price is designed to spray mortar, cement, mud, slurry, etc. It's commonly used in wall and ceiling spraying work, and it's suitable to spray in roads, highways, tunnels, railways, hydroelectric power stations, and underground chamber construction. This machine is a multifunctional spraying machine developed by the combination of our company's core technical backbone and our customer feedback. It has stable performance, mixed slurry uniform, and excellent efficacy. In addition, we also have mortar sprayers, putty spraying machines, shotcrete sprayers, fog cannons, hydroseeding machines, GRC machines,  sandblasting machines, mini concrete pumps, concrete mixer with pumps, auto brick-making machines, micro excavators, small backhoe loaders, electric forklifts, hydraulic scissor lift platforms, etc. Contact us to know more details!【WhatsApp/WeChat/Phone/Skype】+86 136 1385 6800