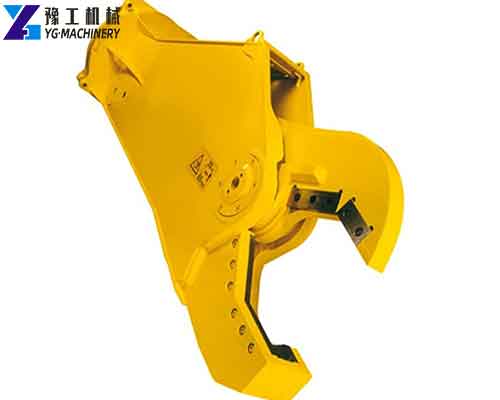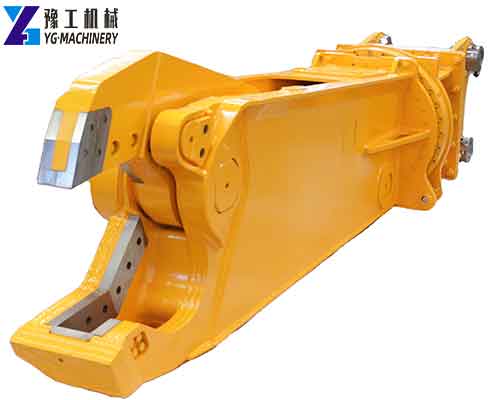 Demolition shears used in demolition are one of the most powerful, versatile tools in the excavator attachment arsenal. Steel hydraulic jaws are used to dismantle a steel structure during demolition, easily cutting through steel plates, girders, and rebar. A hydraulic shear is a perfect machine for primary demolitions. They are mainly used to cut steel on demolition sites. Often they are called scrap shears. Hydraulic shears have enormous cutting power and rapid cycle times guaranteeing incredible productivity. They can cut tonnes of steel in the blink of an eye! Want to know more machine details?【WhatsApp/WeChat/Phone/Skype】+86 136 1385 6800
YG Demolition Shear Technical Parameter:
Product
Excavator-mounted hydraulic demolition shear for waster scrap rebar
Item
YG-620
YG-1413
YG-2200
YG-2977
YG-4052
Weight kg
620
1413
2200
2977
4052
Max. Open Size mm
334.4
540
500
660
801
Width mm
864
1175
1370
1600
1700
Height mm
1521
2050
2380
2600
2700
Effective Shear Depth mm
286
348
486
578
736
Rotating Way
360 collision
360 hydraulic
Working Pressure Bar
235
300
320
320
320
Bottom Shear Force T
81.2
138.2
171.2
330.2
387.2
Medium Shear  Force T
50.2
80.2
100.2
189.2
218.2
Tip Shear Force  T
32.2
53.2
75.2
127.2
147.2
Applied Excavator Weight  T
5-9
10-19
20-25
28-35
38-50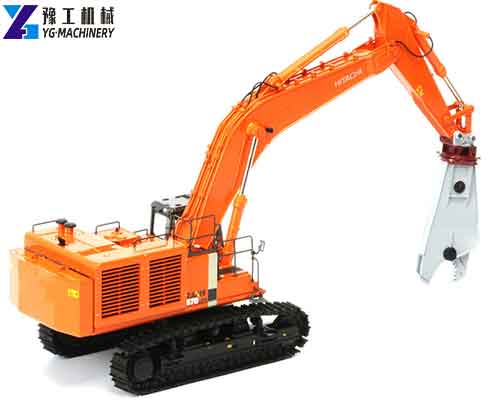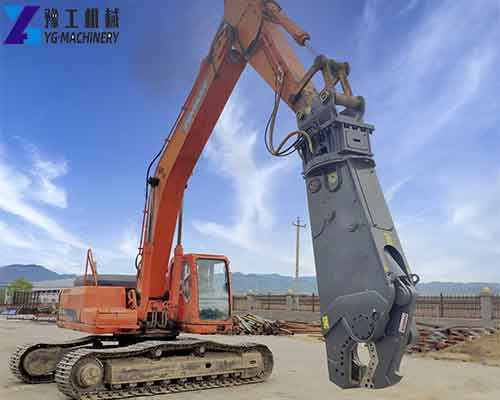 Excavator hydraulic shears have the characteristics of high strength, high power, small size, and convenient use. Because excavator hydraulic shears can quickly and effectively cut off anti-theft doors and windows, steel guardrails, car fires, traffic accidents, earthquakes, and other disasters. Railway vehicles and other metal or non-metal structures can rescue trapped people and play a role in rescue and disaster relief. Therefore, they are often used for demolition and rescue in various places. They are fire brigade, traffic police force, industrial and mining enterprises, and other disaster relief and rescue departments. Common demolition tools. It can also be used in working conditions such as house demolition, scrap steel, scrap steel, steel bar shearing, automobile dismantling, reinforced concrete separation, etc.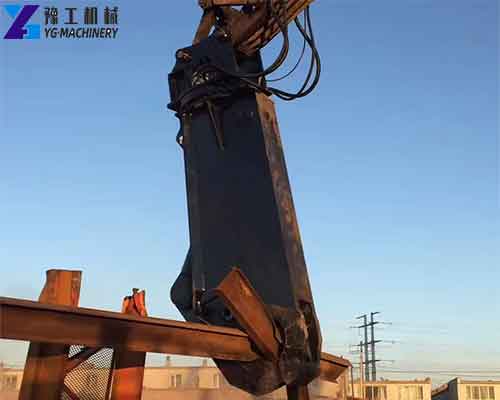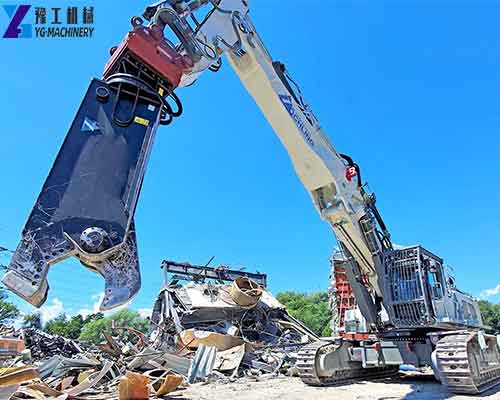 Why Choose YG Excavator Hydraulic Shears?
The machine is made of a high-strength wear-resistant plate, which is high in strength and light in weight. It has a high-pressure large-diameter oil cylinder and a piston cylinder sheath to provide great force while avoiding damage to the piston rod. The two scissor plates have a synchronization device to realize synchronous opening and closing. High-toughness and high-strength steel are used to cut iron like mud. The four sides of the blade are interchangeable and can be reused to greatly reduce loss. The double-sided guide friction block can be adjusted anytime to ensure perfect cutting. Reasonable lubricating oil passages can effectively reduce daily wear and reduce friction coefficient to ensure smooth cutting. Slippery and powerful.
Demolition Shear Price – YG Machinery Manufacturer
The excavator hydraulic shear is a modification of an excavator and is installed on the excavator for use. Make it a mobile quick dismantling machine that can cut and disassemble various scrap steels and scrap cars. Of course, other types of excavator attachments can also be installed to make the functions of the excavator more diverse and more widely used. We also have mini spider cranes, excavator hydraulic shears, pile breakers, excavator hydraulic rock splitters, hydraulic frequency wall saws, concrete wall saws, diamond wire saw machines, crawler wire saw machines, hydraulic rock splitters, plasma cutting machines, CNC waterjet cutting machines, etc. Want to know more machine details, contact us now!【WhatsApp/WeChat/Phone/Skype】+86 136 1385 6800