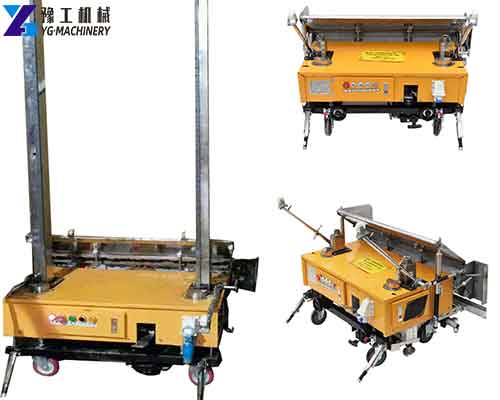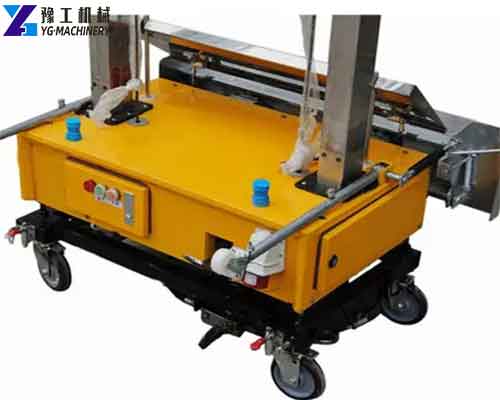 An automatic wall plastering machine, also known as a plastering machine and wall plasterer machine, is a special machine for plastering walls, which belongs to the field of construction machinery. The process is labor-saving and time-saving, easy to carry, simple to operate, and the project quality is excellent, especially for some workers who do not have any experience and skills in wall plastering. Want to buy the machine? Contact us now!【WhatsApp/WeChat/Phone/Skype】+86 136 1385 6800
Automatic Cement Plastering Machine Parameter:
| | | |
| --- | --- | --- |
| Model | YG-800 | YG-1000 |
| Plastering height | Below 4 meters | Below 5 meters |
| Weight | 270 kg | 290 kg |
| Plastering thickness | 2~30 mm | 2~30 mm |
| Power | 1.5 KW | 1.5 KW |
| Plastering efficiency | 500 CBM/8H | 550 CBM/8H |
| Voltage | 220 v/380 v optional | 220 v/380 v optional |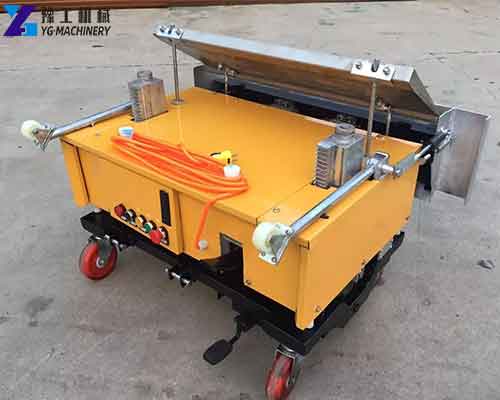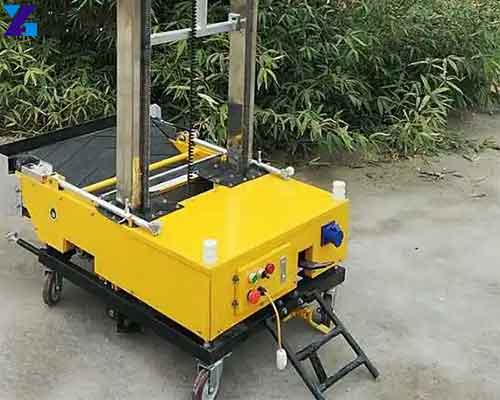 Wall Cement Plaster Machine For Construction:
It is a new machine instead of handmade in the construction plastering area.
The quality is subject to international wall plastering standards.
Very easy and simple to operate.
Saving more than 20% raw material (cement &sand).
It can plaster the wall automatically and go up and down automatically.
It can be plastered by one-time. The thickness of the ash can be adjusted.
Easy to move, without removing any parts of the machine.
It has a large capacity hopper, you can put the ash/lime/gypsum in it one time.
Easy to operate. One or two people can operate.
The quality is up to the international standard. Leakage protection device with high sensitivity, suitable for construction site safety and reliability.
Application of Automatic Wall Plastering Machine:
Automatic wall plastering machine is the ideal equipment for residential buildings, office buildings, etc.
It can plaster on cement walls, brick and concrete walls, hollow walls, light body brick, baking-free brick walls, etc.
The rendering material could be lime, cement mortar, foam mortar, gypsum, etc.
The rendering thickness is no more than 3 cm and the height could be up to 5m.
It could be adjusted to different thicknesses to suit each operation.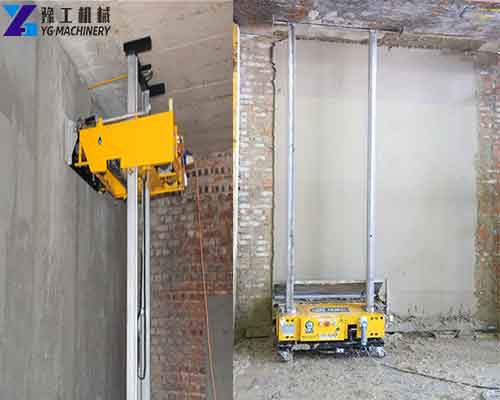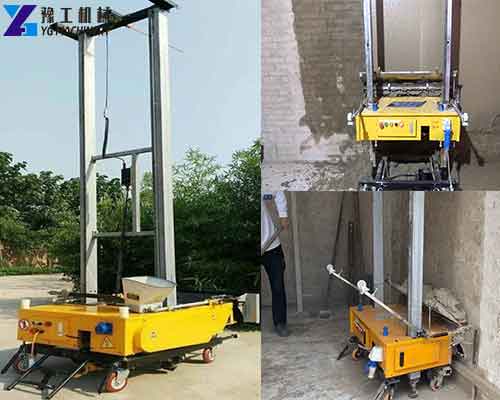 Automatic Wall Plastering Machine Price -YG Machinery
The automatic cement plastering machine is widely used in wall plastering operations in commercial houses, office buildings, factories, schools, rural self-built houses, etc. It has the characteristics of fast positioning, high plastering quality, fast speed, and smooth plastering surface. The advent of the wall plaster machine greatly reduced the labor intensity of the plastering workers, greatly improved the plastering efficiency, and shortened the construction period. As a professional manufacturer of construction machinery, we also have mortar sprayers, shotcrete machines, GRC machines, gypsum spray plaster machines, polyurea spray machines, fog cannon machines, sandblasting machines, hydroseeding machines, mini concrete pumps, mini excavators, etc. Contact us to know more!【WhatsApp/WeChat/Phone/Skype】+86 136 1385 6800