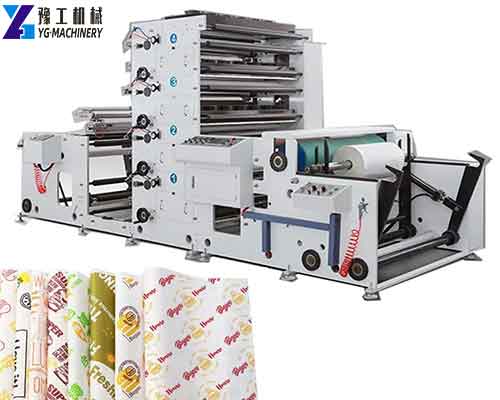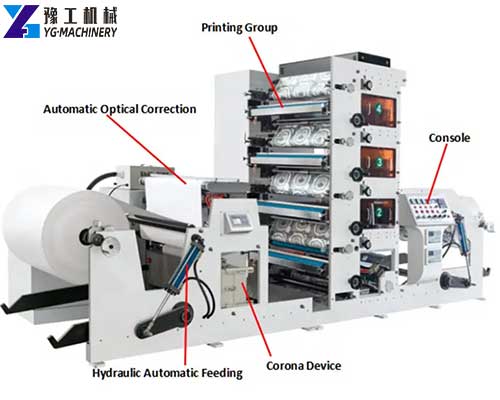 This product is an upgraded flexo paper tea cup printing machine, suitable for paper, plastic film, aluminum foil, polyvinyl chloride, self-adhesive tape, carton weight board, micron board, and other materials. It produces faster than other printing machines and has printing, varnishing, infrared drying, and rewinding functions. This machine is widely used, want to know more? Contact us.【WhatsApp/WeChat/Skype/Phone】+86 136 1385 6800
Paper Tea Cup Printing Machine Technical Parameter:
Machine model
YG-850-4C
YG-950-4C
YG-1000-4C
Machine color quantities
 4 colors
Printing speed
55-60m/min
Maximum web width
860mm
950mm
1010mm
Maximum printing width
850mm
940mm
1000mm
maximum unwinding diameter
1300mm
 printing size
175-380mm
Total power
about 45kw
45kw
50kw
Registering precision
±0.10mm
Total air pressure
0.6-0.8MP
Voltage
380V±10%
Machine weight
4500KG
5000KG
5500KG
Machine dimension
4800*2050*2250mm
4800*2150*2250mm
4800*2200*2250mm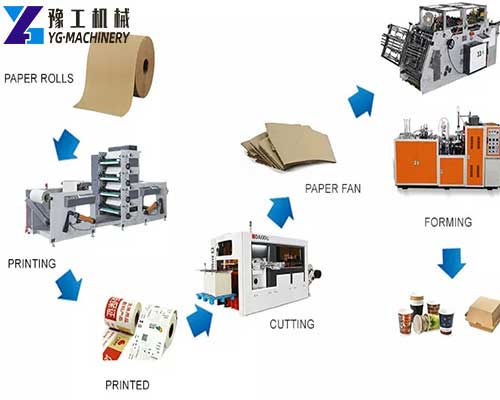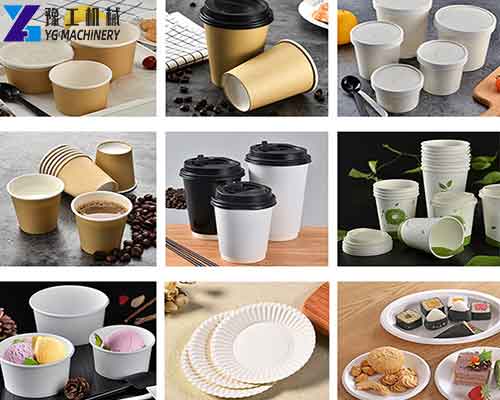 Application of Flexographic Printing Machine:
The flexographic printing machine is a printing machine that uses a flexible photosensitive resin plate as a plate, transfers ink through an anilox roller, and prints a substrate with liquid ink. It can be printed on various materials such as coated paper, cardboard, copy paper, self-adhesive, non-woven fabric, BOPP, PET plastic film, etc. It can be widely used in printing fields such as labels, multi-layer labels, tissue paper printing, plastic film, paper cups, cartons, food packaging, medical packaging, wrapping paper, etc.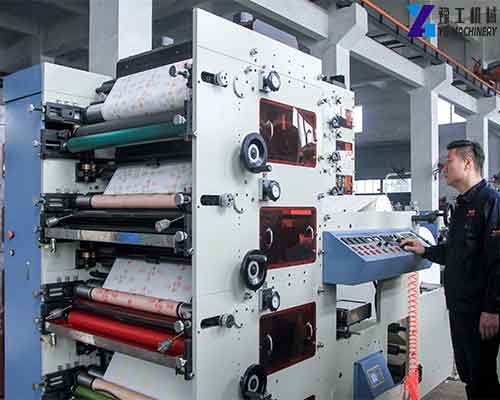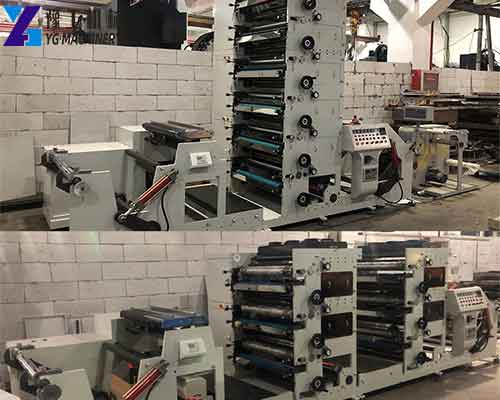 Paper Tea Cup Printing Machine Manufacturer – YG Machinery
Paper tea cup printing machines are now very common equipment. With it, work efficiency can be provided for enterprises. When the printing machine is working, it can transport ordinary paper cups and various irregular paper cups, and can also print self-adhesive trademarks and anti-counterfeiting labels. It is used for special-shaped specifications and materials such as paper cup-coated paper, paper cards, plastic sheets, leather, etc. It can be seen that it plays a considerable role. In addition, we also have paper cup making machines, paper bowl making machines, paper straw making machines, paper dish making machines, paper carton erecting machines, aluminum foil container machines, egg tray making machines, paper bag making machines, A4 paper making machines, napkin paper machines, tissue making machines, woven bag making machines, non-woven bag making machines, etc. If you want to know more machine details, contact us now!【WhatsApp/WeChat/Skype/Phone】+86 136 1385 6800