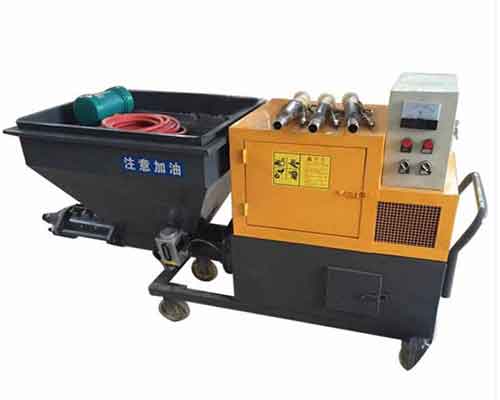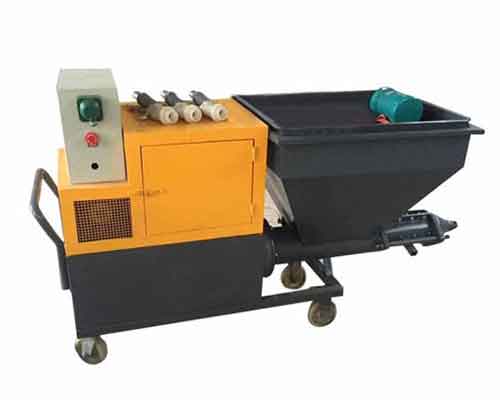 A mortar spraying machine, a kind of spraying machine can be called a mortar sprayer, mortar spray equipment, cement concrete mortar spraying machine, or stucco machine which has a wide range of uses. It is commonly used for indoor and outdoor wall spraying, cement mortar grouting, bridge grouting, and waterproof, fireproof, ceiling, wall, paint, and garden spraying, as well as relief effect coating, sound-absorbing material spraying waterproof plugging, and filling. The mortar spraying machine is very easy to operate and doesn't need scaffolding, or mobile equipment, even the small corners, and roof can be freely sprayed. The use of this equipment can greatly shorten the construction period, improve work efficiency, and save the expense of shelf materials. To meet the needs of different building sites, Henan YG Machinery Co., Ltd, a reliable machinery manufacturer has designed and produced many different models of mortar sprayers for sale. In addition, we also have a special putty spraying machine, shotcrete machine, hydroseeding machine, fog cannon machine, sandblasting machine, wheel washing machine, fog cannon machine, concrete pump, micro excavator, concrete mixer with pump, automatic brick making machine, etc. Customers can refer to the picture of different mortar spraying machines and the parameters for selection. And then you can send us an email or call us directly for a price list and more details.【WhatsApp/WeChat/Phone/Skype】+86 136 1385 6800
Mortar Spraying Machine Parameter:
Model
Mortar Spraying machine
Output
3m³/h
Power
380v/5.5kw
Pressure
2-5Mpa
Conveying Tube ID
Φ32mm
Max. Aggregate Size
≤4mm
Hopper Volume
50L
Screw Length
400m
Particle Diameter
≤5mm
Weight
320kg
Machine Size
1650*750*1190mm
Applicable Material Proportion
1:1:3(Water: Lime: Sand)
Conveying

Distance

Horizontal
Vertical
Cement
50m
30m
Mortar
60m
 40m
Cement Mortar Spraying Machine
This machine is not only suitable for spraying cement mortar, but also suitable for some other materials, such as putty powder, latex paint, true stone paint, dry powder mortar, thermal insulation mortar, waterproof material, fireproof, thermal insulation material, and other water-soluble materials. Compared with the performance of traditional hand-made powder walls, plastering, and other spraying machines on the market, the cement mortar spraying machine in YG Machinery is more efficient and costs less.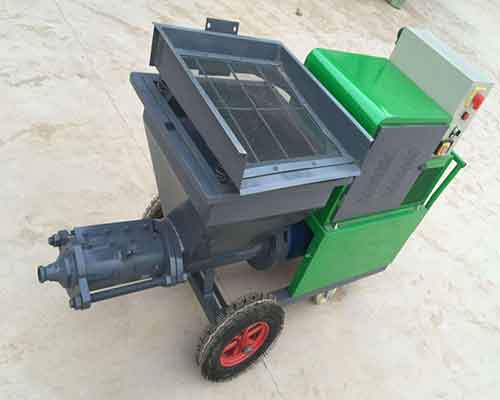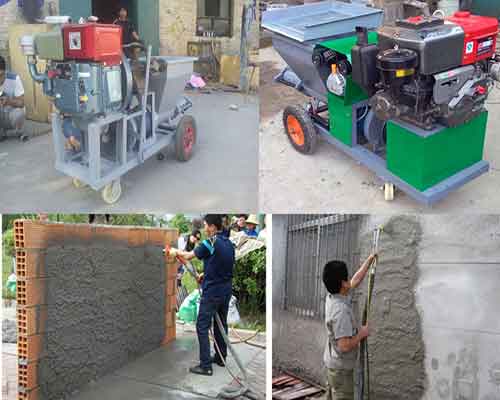 Mortar Mixer and Spraying Machine for Sale
The mixing and spraying machine equipment both the main motor and stirring motor is one of the best-selling mortar sprayer machines in our company. This equipment is electric and can be used by switching on the power supply directly, and the voltage requirement is 220V to 380V.  One of its biggest features is that its air compressor is noiseless. In addition, its ultra-high quality can reduce many maintenance costs. Contact us to tell us your requirements for this machine, we will reply to you as possible as we can.
YG-MS-370       Mortar Mixer and Spray Machine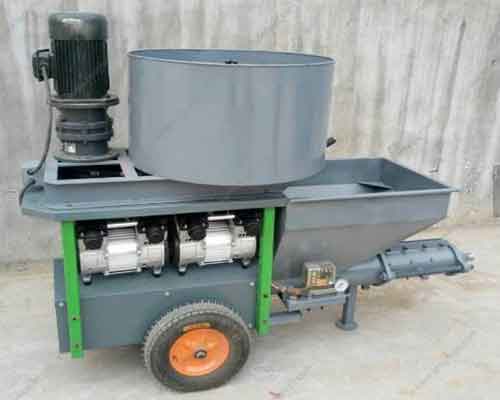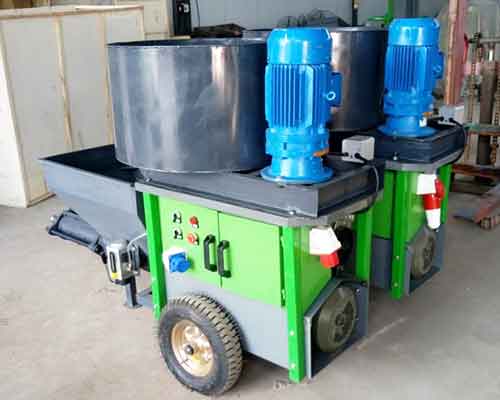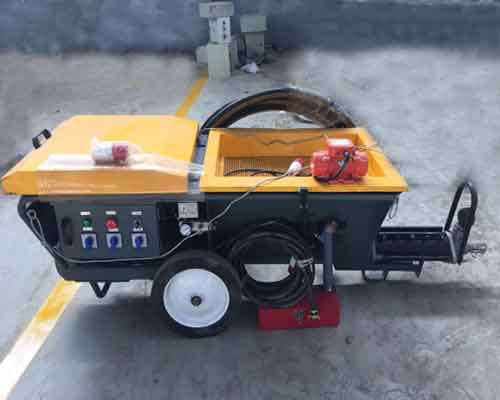 Automatic Wall Painting Machine Manufacturer
The automatic spray plaster machine is more efficient than other models which is a kind of mixing and spraying machine. Operators only need to put the water, ash, and sand into the hopper in a certain proportion and press the switch to start stirring, the machine can automatically mix the materials evenly. This model is equipped with twenty meters of spray pipe, an air pipe, one mortar spray gun, and five types of nozzles. You can choose a suitable nozzle depending on the construction conditions. The volume of the hopper is 60L. The vertical transport distance reached by this machine is 20m and the horizontal transport distance is 40m. So without moving the equipment, workers can do high-altitude and long-distance construction. If the model can meet your needs, please click the inquiry button below the picture to contact us for a quotation now.
The Features of the YG Mortar Spraying Machine:
Adapt to your various needs. Workers can easily adjust the mortar flow by themselves depending on the construction conditions to achieve the best spray effect.
High construction efficiency. A mortar spraying machine can spray more than 100 square meters per hour easily, spraying over 1000㎡ per day, which is the equivalent of twenty experienced workers a day's work.
Saving cost. First, mortar spray equipment equipped with three workers can complete the work of twenty workers a day, which can save a lot of labor costs. Second, it won't produce floor dust when used, as well as reduce the waste of materials and dust pollution. Third, the savings on water and raw material can reduce costs by more than 20 percent.
Convenient to use. Refer to the machine manual, operators can easily learn how to use it. The connection between the spray gun and the feed pipe can be rotated for easy operation. In addition, the machine is small in size and easy to carry on construction sites.
Uniform spraying and strong adhesion. The coating is smooth and fine, no brush marks are visible. The super adhesion can make the mortar integrate with the wall without the phenomenon of dropping dust and also can extend the life of the coating.