Stone wire saw for sale, can also call diamond wire saw or concrete cutting wire saw machine, is a kind of cutting machine which is widely used in mining, waste shaping, large plate cutting, bridge cutting, and underwater cutting. According to the actual needs of different uses, the stone wire saw can be divided into these types, concrete wire saw machine, granite stone cutting machine, mining stone wire saw, granite shaped processing wire saw, and stone wire saw for marble mining. According to the production materials, the stone wire saw for sale can be divided into rubber rope saw, plastic rope saw, spring wire saw and spring and rubber wire saw for concrete cutting. The stone wire saw specifications are mainly controlled by beading which can be from Φ7.2 to Φ11.5. But the formula of different materials is different, beaded recipes should be tailored to the actual conditions of the stone to be effective. You should choose the most suitable stone wire saw for sale according to the material and size you want to cut.【WhatsApp/WeChat/Phone/Skype】+86 136 1385 6800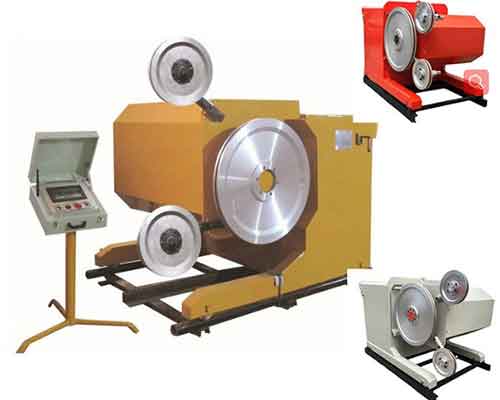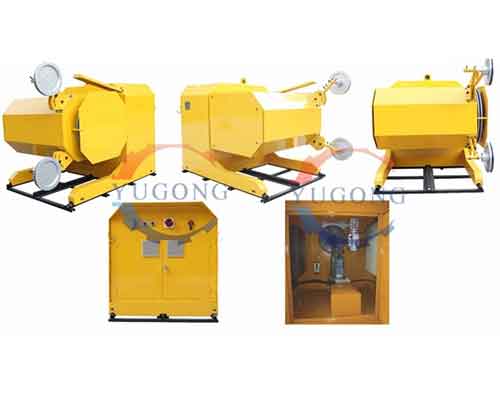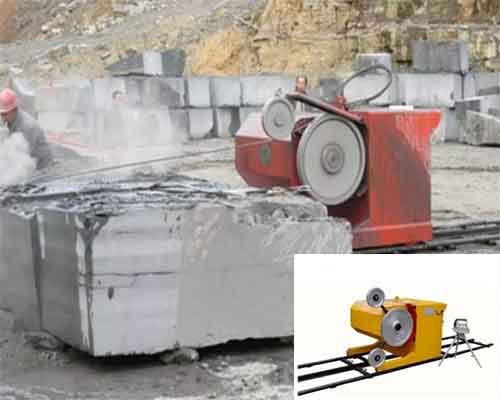 Wire Saw Cutting Machine Parameter:
Model
YG37B
YG45B
YG55B
YG75B
YG55C
YG75C
YG110C
YG15E
YG22E
YG30E
YG37E
YG11X
Main Motor
37KW
45KW
55KW
75KW
55KW
75KW
110KW
15KW
22KW
30KW
37KW
11KW
Flywheel's Diameter
0.75KW
0.75KW+0.37KW
0.37KW
0.75KW
0.75KW
/
Guide Pulley's Diameter
Marble Φ800

Granite Φ600

Marble Φ900

Granite Φ800

Φ600
Marble Φ800

Granite Φ600

Φ5800
Wire Speed
2XΦ380
2XΦ300
2XΦ380
Φ300
Walking Speed
0-160m/h
0-30m/h
Rotation Angle
360 Electric
360 Hand Control
Max Wire Length(m)
60
80
100
120
80
100
120
20
30
50
60
10
Net Weight(kg)
1950
2030
2780
2980
2980
3120
3785
1050
1090
1440
1650
345
Diamond Wire Saw Cutting Machine
The main working principle of diamond wire saw cutting is that the diamond rope is driven by a hydraulic motor to move the cutting body around the cutting surface at a high speed and complete the cutting work. The diamond single crystal as an abrasive material can cut hard objects, such as stone and reinforced concrete. Cutting is carried out under the drive of the hydraulic motor. The hydraulic pump runs smoothly and can be operated remotely by the high-pressure oil pipe. Therefore, the cutting process is not only safe and convenient but also vibration and noise are very small. The object to be cut can be separated without any disturbance. The diamond wire saw machine running at high speed during the cutting process is cooled by water and the grinding debris can be taken away at the same time.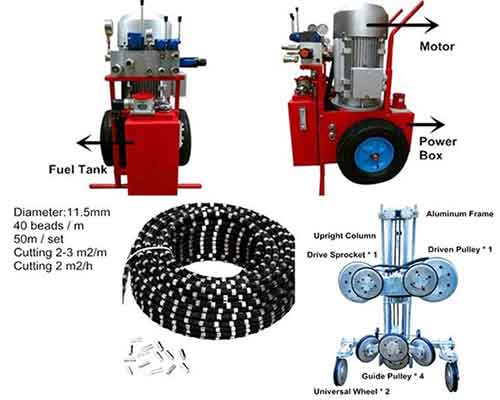 Technical Parameter of Hydraulic Stone Cutter
Wire Saw Wheel Parameters
Hydraulic Pump Station Parameters
Wire Drive Mode
hydraulic
Rated Output Power
22/25KW
Model Type
HM-40/80
Working Voltage
380v 50Hz
Minimum Input Power
25HP/33HP
Hydraulic Pump Station
Gear pump
Output Shaft Speed
350/940/1300r/min
Motor Working Floe
40-100L/min
Maximum Wire Length
18m
Working Pressure
15-20Mpa
Feeding Method
Fully hydraulic
Oil Tank Volume
16L
Wire Saw Wheel
64kg
Weight
98kg
Motor Weight
13kg
Dimension(mm)
650*550*1150
Cutting Type
Transverse and longitudinal cutting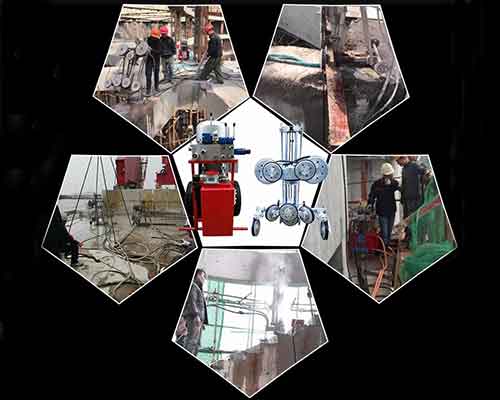 Features of Stone Wire Saw for Sale in YG Machinery
The machine is suitable for cutting any size and shape of objects and can cut and dismantle large reinforced concrete structures.
It can achieve any direction of cutting, such as horizontal, vertical, diagonal, and so on.
Fast cutting speed and high efficiency can shorten the construction period.
The vibration, noise, dust, and other environmental pollution problems in conventional demolition construction are solved.
Remote operation control can achieve the projects of underwater, dangerous operation areas, and other places that the equipment can't reach.
In order to ensure the rapid, environmentally friendly, and safe removal of objects, our company adopts the domestic static cutting process for construction.
Advantages of Static Cutting Technology
No vibration. There is no impact on the original retained structure, so it won't produce micro-cracks and affect the structure of stress and service life.
Low noise. There is only the sound of grinding reinforced concrete when the machine is in the cutting process. The electro-hydraulic motor runs smoothly and there is no harsh sound throughout the entire construction.
No pollution. During the construction process, water-cooled and lubricated diamond tools running at high speed are adopted to carry away the iron chips and concrete chips that have been ground away. The cooling water generated is free of harmful substances. The cooling water can be reused after on-site recovery, and the splash of water can be controlled by a closed system.
Stone Wire Saw Machine Price – YG Machinery Manufacturer
YG wire saw stone quarry cutting machine is equipment using the diamond wire saw for cutting, its cutting speed can be very fast and the efficiency is high. Of course, this wire saw is also highly recommended by our customers for new customers. For customers who invest in equipment, easy-to-operate and cost-effective machines are the most popular. Therefore, we have also received a lot of praise from customers. In addition, we also have a series of cutting equipment available for use, hydraulic stone cutter machines, diamond wire saw machines, hydraulic rock splitters, high-frequency wall saws, hydraulic wall saws, electric wall saws, plasma cutting machines, pile breakers, mini spider cranes, hydraulic shears, excavator drum cutters, firewood splitter machines, horizontal band saw machines, etc. Please contact us if you are interested in our machines. 【WhatsApp/WeChat/Phone/Skype】+86 136 1385 6800