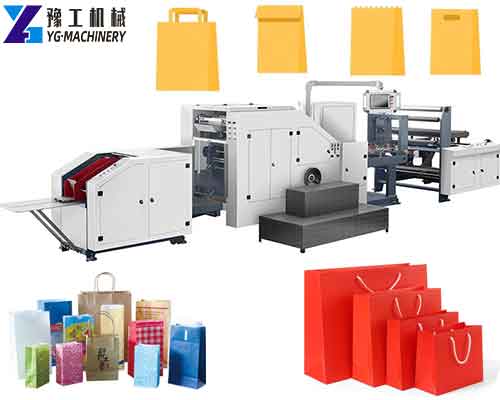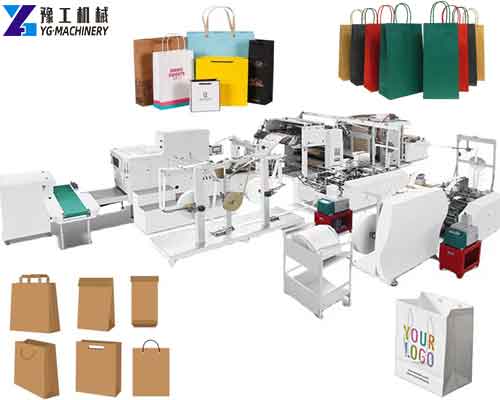 As we all know, paper is a recyclable resource. The raw material for the production of paper bags is trees, which is a renewable resource. It has the characteristics of being degradable and recyclable. Can usually be used as a shopping bag. The convenient printing characteristics of paper can give good publicity to the product. Standard paper bags are made of kraft paper. The paper bag manufacturing machine generally uses white cardboard, whiteboard paper, copper board paper, and kraft paper as raw materials to produce various types of paper bags: including handbags, cement bags, laminated paper bags, four-layer paper bags, clothing bags, food bags, shopping bags, gift bags, etc. It has a wide range of applications and is a very good investment project. If you are planning to expand production or add new business, please consider our paper bag production line.【WhatsApp/WeChat/Phone/Skype】+86 136 1385 6800
Paper Bag Manufacturing Machine Parameter:
Model
YG-330
YG-450A
YG-450B
Cutting length
270-530mm
270-530mm
380-760mm
270-430mm (with handle)
270-430mm (with handle)
380-660mm (with handle)

Bag width

120-330mm
200-450mm
220-450mm
200-330mm(with handle)
240-450mm(with handle)
240-450mm(with handle)
Bottom width
60-180mm
80-180mm
80-200mm
Paper Thickness
60-150g/M2
80-150g/M2
80-150g/M2
80-150g/M2(with handle)
80-150g/M2(with handle)
80-150g/M2(with handle)
Paper roll width
380-1050mm
590-1300mn
630-1350mm
620-1050mm(with handle)
710-1300mm(with handle)
710-1350mm(with handle)
Roll paper diameter
1300mm
1300mm
1300mm
Paper core
76mm
76mm
76mm
Patch length
152mm
152/190mm
152/190mm
patch width
45-50mm
45-50mm
45-50mm
Handle distance
75mm
75/95mm
75/95mm
Application of YG Paper Bags Making Machine:
Tote-style paper bags that can be made from any type of paper and custom colors. Paper bags can also be made from generally recycled paper. Single-coated paper bags for instant food bags, paper bread bags, and other light-duty packaging bags. Single-coated paper bags are not waterproof, even sandwiched or bonded paper bags are not completely waterproof but can be more wear-resistant to a certain extent. Multi-coated paper bags are commonly used to transport bulk materials such as fertilizers, feed, sand, dry powder, flour, and cement. According to different uses: including file bags, envelopes, handbags, cement bags, feed bags, wax paper bags, fertilizer bags, laminated paper bags, four-layer paper bags, medicine bags, clothing bags, food bags, shopping bags, gift bags, wine, and water bag. Different uses, designed specifications, and sizes, including the thickness of the paper bag paper, have many requirements, so it must be customized according to the actual situation, to achieve twice the result with half the effort, economical and practical purposes, for material reduction, green environmental protection, and corporate capital investment, providing more protection. Support customization.
5 Features of Paper Bag Making Machine:
Adopt a famous brand touch screen man-machine interface, the operation function is clear at a glance and easy to control.
Adopt the Japanese original Mitsubishi motion controller, through the integration with the optical fiber, and operation stability.
Japanese Mitsubishi servo motor with German Schick color standard eye correction, accurate tracking printing bag size.
The raw material loading and unloading adopt a hydraulic dynamic lifting structure, and the unwinding adopts automatic constant tension control.
The raw material correction adopts a servo motor to reduce the adjustment time of paper-roll alignment.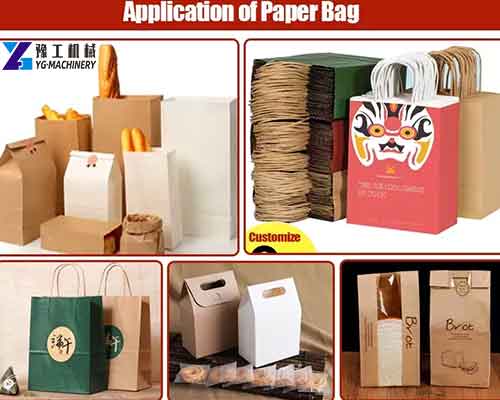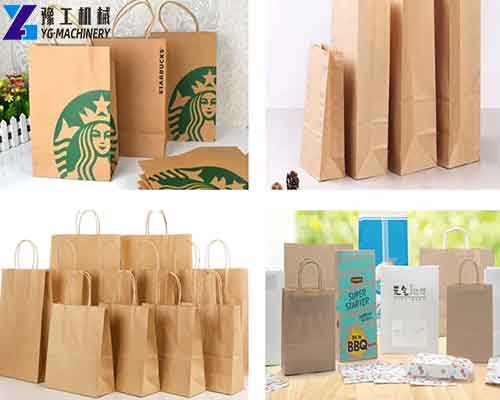 Paper Bag Manufacturing Machine for Sale in YG Machinery Manufacturer:
This automatic paper bag manufacturing machine completes the folding, forming, bag cutting, gluing, bottom folding, bottom paste, and finished bag output of the roll paper at one time. Ideal equipment for eco-friendly paper bags such as dried fruit bags. This machine is a new generation of multi-layer kraft paper bag-making machine designed to solve environmental pollution and comply with green environmental protection. The machine is simple, convenient, and quick to operate, and can produce folded bags, non-folded bags, single-layer packaging bags, or multi-layer packaging paper bags of different bag types. In addition, YG also has disposable cup-making machines, lunch boxes-making machines, wet wipes machines, ballon-making machines, condom-making machines, shoe cover-making machines, surgical cap-making machines, tissue-making machines, woven bag-making machines, diaper manufacturing machines, glove-making machines, nonwoven bag making machines, woven bag making machines, double wall paper cup machines, roll die cutting machines, paper cup printing machines, folder gluer machines, etc. Contact us to know more machinery.【WhatsApp/WeChat/Phone/Skype】+86 136 1385 6800