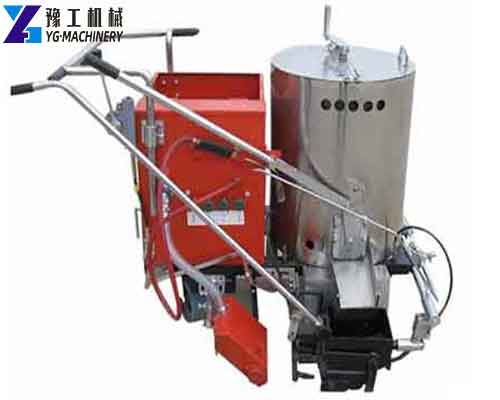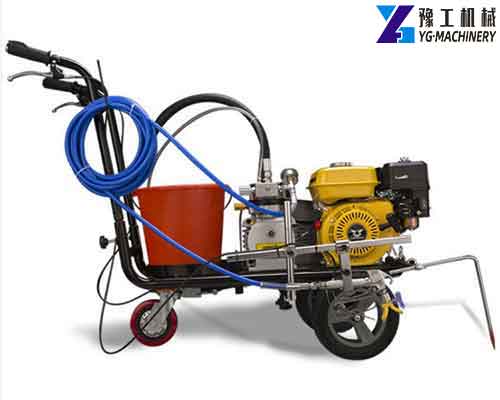 Road marking machine for sale in Croatia also can be called road painting machine or road line marking machine, which is widely in roads, parking lots, railways, highways, bridges, tunnels, coal mines, buildings, and other squares and runways to draw different restrictions, guidelines, warnings and other rules on the flat ground. Road marking machine has played an important role in urban planning and road construction with their advantages of fastness, efficiency, and accuracy, saving the road construction period and economic investment to the greatest extent. The marking machine is divided into two modes of operation: thermoplastic road marking machine and cold paint road marking machine.【WhatsApp/WeChat/Phone/Skype】+86 136 1385 6800
Parameter of YG Road Painting Machine:
| | |
| --- | --- |
| Model | Thermoplastic Road Marking Machine for Sale |
| Glass beads capacity | 25kg |
| Paint bucket capacity | 120kg |
| Hopper width | 10/15/20/30/40/45cm |
| Marking thickness | 1.8-3.0(adjustable) |
| Mark Width | 100-450mm ( Adjustable) |
| Weight | 110kg |
| Dimension | 1000*900*1100mm |
Cold Paint Line Marking Machine for Sale
Model
YG-6L Single Gun
YG-8L Double Gun
Load Flow
6L/min
8L/min
Maximum Output Pressure
25mpa
30mpa
Nozzle Standard Configuration
15''/17''
High-Pressure Pipe Strength
35mpa
40mpa
High-Pressure Pipe Length
Ф6*10m
Ф6*2  Ф10*10m
Weight
72kg
128kg
Maximum Spray Width
20cm
45cm
Engine Power
4.3HP
7HP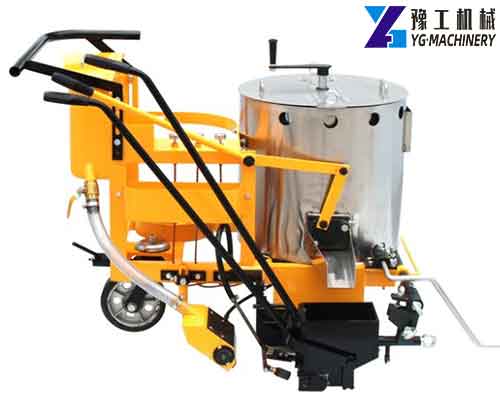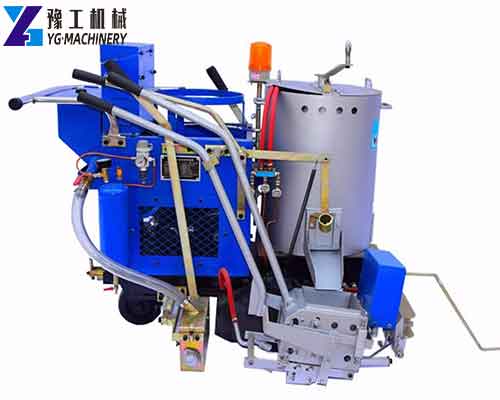 Road Marking Equipment for Sale:
In April 2019, a customer from Croatia bought a road marking machine from our sales manager Polly Guo. Our customers know the road marking machine very well and can tell us directly about their needs, so the two sides communicate. The efficiency is very high, and there is no opinion on machine selection. In YG Machinery, Our company's sales manager is very professional and always responds quickly to customer questions and concerns. Therefore, customers will also fully trust us, not only have good cooperation but also become good friends with the other party. This is a very happy thing. A few days ago, the customer sent feedback, that the machine has been put into use, and greatly praised the quality of our machines and our services. We will definitely do more and better machines for everyone.
Road Marking Machine Price – YG Machinery:
The road marking machine of YG Machinery has received positive feedback from many customers. Our equipment is elegant and beautiful in appearance, high in efficiency, and requires low labor costs, long service life, and so on. In addition, we also have thermoplastic preheaters, shot blasting machines, road rollers, crack filling machines, curb and gutter machines, floor scarifier machines, floor grinders, concrete troweling machines, electric road sweepers, and so on. If there is a suitable model for you, please feel free to click the inquiry button to contact us for a quotation. We'll be sure to get back to you as soon as possible.【WhatsApp/WeChat/Phone/Skype】+86 136 1385 6800