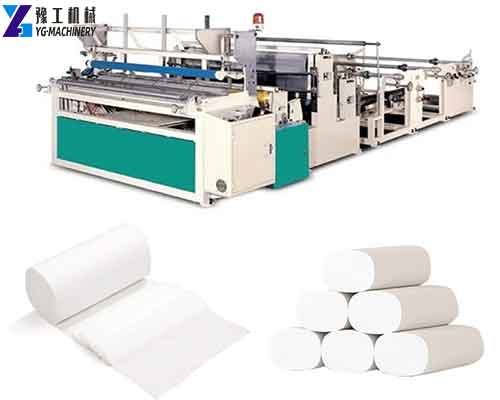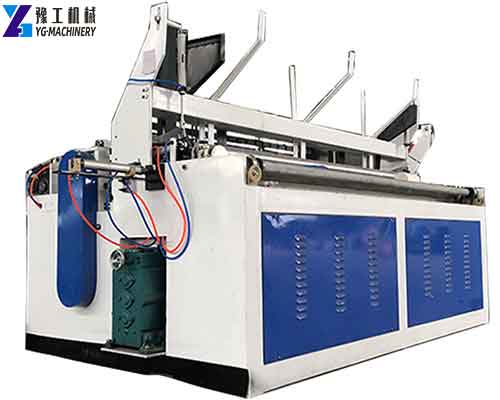 Toilet paper is produced from plant fiber raw materials and is mainly used after going to the toilet for cleaning purposes. Toilet paper is a disposable cleaning and hygiene product and is one of the indispensable types of paper in people's daily lives. It is collectively called household paper together with toilet paper, kitchen towels, hand towels, etc. There are many types of toilet paper. According to the packaging form, it is divided into roll toilet paper, plate paper, flat-cut toilet paper, and removable toilet paper. Among them, roll toilet paper is divided into core and coreless; according to the number of layers, it is divided into single layer, double layer, and multi-layer; according to the processing method, it is divided into plain paper, embossed paper, printed paper, etc. Embossed or printed products look more beautiful. Want to learn more about the toilet paper making machine price? Contact us now!【WhatsApp/WeChat/Phone/Skype】+86 136 1385 6800
Toilet Paper Manufacturing Machine Parameter:
| | |
| --- | --- |
| Base paper width | ≤2100mm |
| Finished product diameter | Φ60~150mm(adjustable tightness) |
| Inner diameter of finished paper core | Φ 32~50mm |
| Base paper diameter | Φ1100mm |
| Inner diameter of base paper core | 3″ |
| Punching pitch (please specify) | 4 knives, mechanical adjustment 90 ~ 180mm |
| Rewinding speed | 0-200m/min |
| Punching method | Pneumatic separation |
| Return tray | 1-3layers |
| Overall dimension (L) × W × H) | 6500×3100×2600 (mm) |
| Machine weight | 3500kg |
| Total power | 4KW |
| Pneumatic system | 3 air compressors with a minimum pressure of 5kg / cm2 PA (provided by the customer) |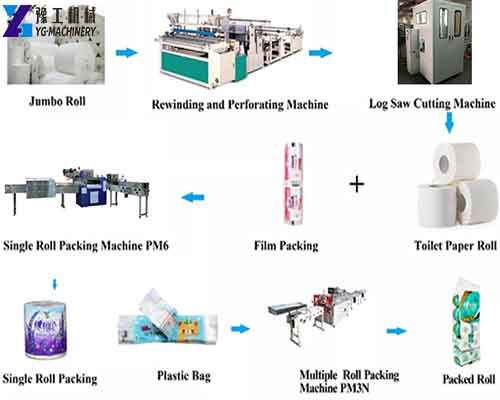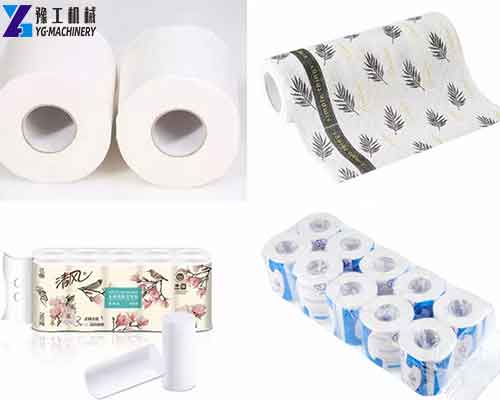 Product Features of Tissue Paper-Making Machine:
A programmable controller and touchscreen control are adopted to maximize the reliability and intelligence of the whole machine.
The full-automatic toilet paper rewinder can process toilet paper without a core, with a core and paper winding tube.
Automatic rollout.
The automatic toilet paper rewinder automatically trims the edge, sprays glue, seals, and pulls the shaft synchronously in an instant, so that there is no paper loss when the rolled paper is turned into the band saw for cutting and packaging, which greatly improves the production efficiency and the grade of the finished product. The finished product has a paper tail, which is convenient to use.
The full-automatic toilet paper rewinder is pneumatic belt-fed, and the reel and each shaft of base paper have an independent tension adjustment mechanism.
5 Characteristics of Toilet Paper:
Cheap: Consumers can buy peace of mind at a relatively low cost.
Larger volume: Retailers cannot stock toilet paper in large quantities on shelves or in warehouses without taking away from other, higher-margin products
Household Essentials: Toilet paper is used in almost every household.
Irreplaceable: While a variety of products can feed or wear people, few other products can replace the function of toilet paper.
Non-perishable: Toilet paper does not deteriorate, so there is little harm in storing or stockpiling toilet paper.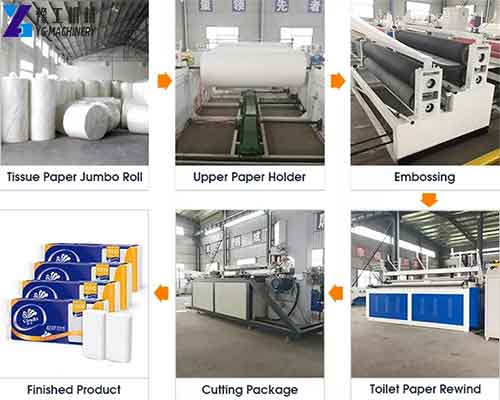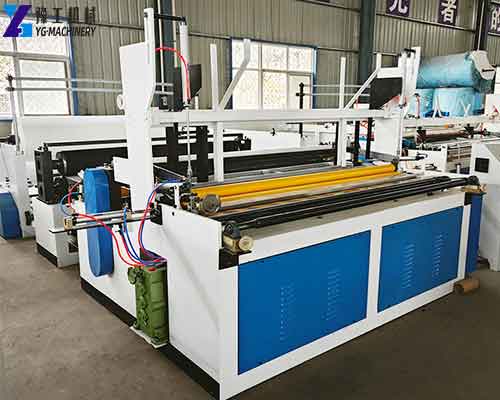 Toilet Paper Making Machine Price – YG Machinery
Toilet paper is mainly used for daily hygiene in people's lives and is one of the indispensable types of paper for people. In order to make toilet paper soft, mechanical methods are usually used to wrinkle the paper and increase the softness of the toilet paper. In addition, in addition to toilet paper, there are also cleaning wipes, facial tissues, paper towels, napkins, etc. We also have napkin-making machines, A4 paper-making machines, tissue-making machines, wet wipes machines, towel-making machines, folder gluer machines, paper cup-making machines, paper bowl-making machines, paper straw-making machines, paper dish-making machines, double wall paper cup machines, paper cup printing machines, roll die cutting machines, paper bag making machines, and other equipment. Contact us to know the toilet roll-making machine price now!【WhatsApp/WeChat/Phone/Skype】+86 136 1385 6800