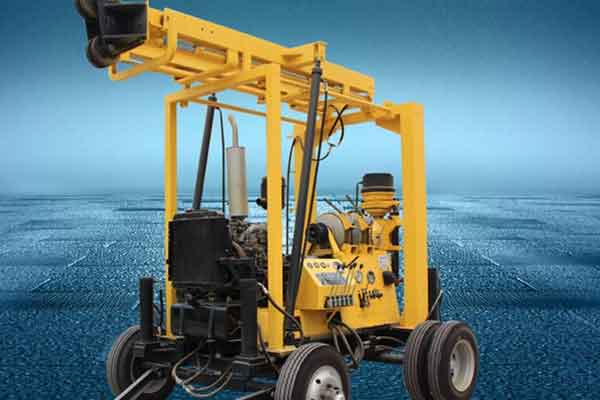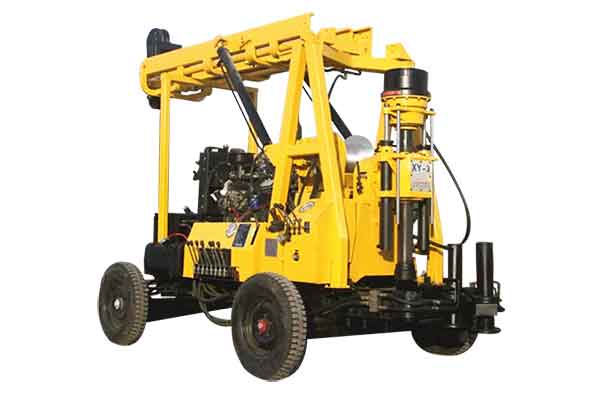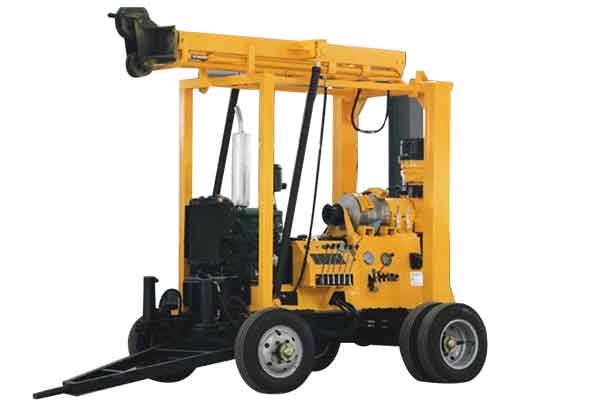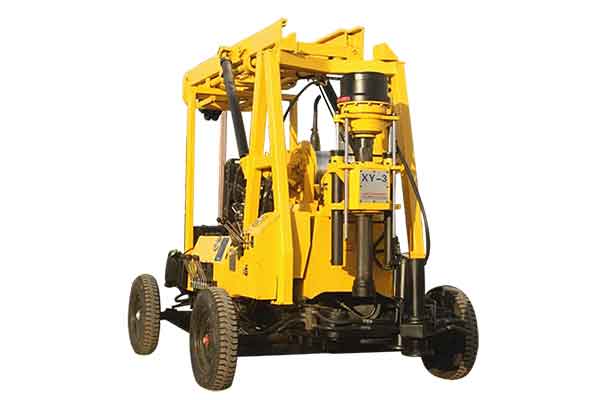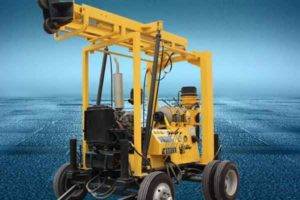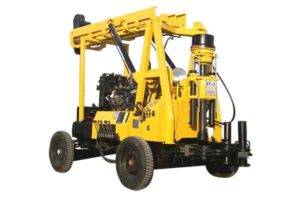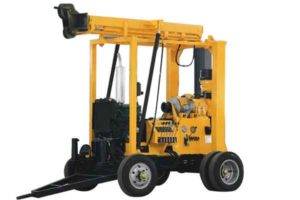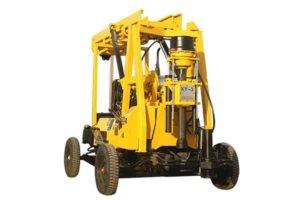 The XYX-3 trailer-mounted water well drilling rig for sale in YG Machinery is a kind of self-propelled drilling rig which is very portable to move. The machine can be used as both a water well drilling rig and a core drilling rig machine. It is an updated model of XY-3 spindle type core drilling rig that our engineers install the wheeled walking device on the basis of the original equipment which doesn't need to be loaded and unloaded from the truck and can save the workers' labor, improving the working efficiency. 【WhatsApp/WeChat/Phone/Skype】+86 136 1385 6800
The Outstanding Advantages of XYX-3 Trailer Mounted Water Well Drilling Rigs for Sale:
The model is equipped with a wheeled traveling mechanism and hydraulic cylinder stanchion, which makes the whole machine convenient to move and facilitates the horizontal adjustment of the drilling rig machine.
The rising and falling tower is a hydraulic operation that is more convenient and reliable.
Diesel Engine adopts an electric start which can help reduce the labor intensity of workers.
The hydraulic automatic feeding mechanism can improve drilling efficiency.
Pressure gauges at the bottom of the bore indicate the pressure for easy inspection of the inside of the bore.
Widely used. Geological exploration, road, and high-rise building foundation exploration and various concrete structure inspections, river embankment grouting hole drilling and direct grouting, civil well, and foundation central air conditioning hole drilling.
Technical Parameter of XYX-3 Trailer Mounted Water Well Drilling Rigs:
Technical Parameter
Model
XYX-3
Drilling Depth (m)
600
Open Hole Diameter (mm)
325
Final Hole Diameter(mm)
75
Drill Pipe Diameter(mm)
60
Drill Pipe Inclination (°)
90-75
Power (kW)
13.2
Weight (kg)
3600
Dimensions(mm)
2900*2560*3300
Spindle
Speed(r/min)
32-1057
Stroke(mm)
600
Winch
Max Pull Force(kg)
3000
Pull Speed(m/min)
0.3-1.9
Rope Diameter(mm)
12.5
Roll Capacity(m)
65
Drill Mast
Rated Load(ton)
18
Height(m)
6.5
Mud Pump
Mud Pump
BW-250
Work Pressure
80kg/cm²
Displacement(L/min)
250
Hose
Inlet Hose Diameter(mm)
76
Outlet Hose Diameter(mm)
51
Buy Trailer Mounted Water Well Drilling Rigs in YG Machinery
The drilling rig series of YG Machinery is one of the best-selling products. At present, customers all over the world are using YG brand drilling rigs to complete their own projects or use them for household water, which solves the water problem of people in many countries and helps them solve a big problem.
Last week, we received feedback from customers that our drilling rig for sale in the Philippines, and the machine is very simple to operate. According to the recommendation of our professional managers and technicians, it is very suitable for their needs. Of course, this allows them to complete projects faster and achieve higher income. At present, he has taken on other drilling projects, which makes him very happy, and he wants to buy multiple drilling rigs and work at the same time so that he can earn more money. If you also want to get benefits faster, please contact us. In addition, we also have other types of drilling rigs, crawler water well drilling rigs, tractor water well drilling rigs, small water well drilling rigs, hydraulic core drilling rigs, crawler DTH drilling rigs, horizontal direction drilling rigs, rotary drilling rigs, anchor drilling rigs, hydraulic pile drivers, down the hole drilling rigs, core drilling rig for mining, portable air compressors, etc.【WhatsApp/WeChat/Phone/Skype】+86 136 1385 6800