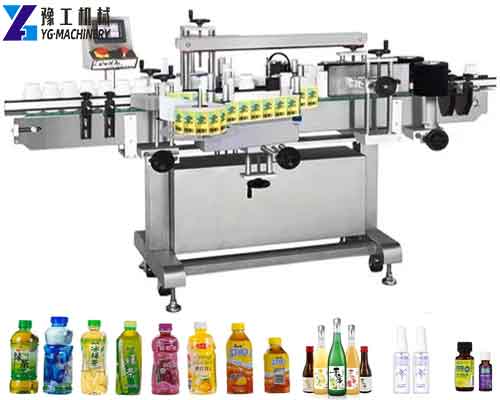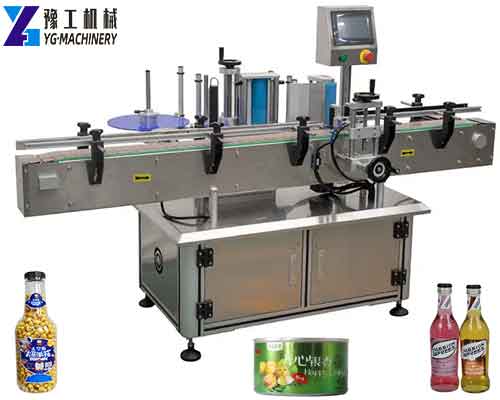 The round bottle labeling machine uses self-adhesive roll labeling paper, and the labeling process is completed by rolling. The self-adhesive labeling machine is clean and hygienic, not moldy, and the label is beautiful, firm, and will not fall off by itself. High production efficiency and other advantages. A fully automatic round bottle labeling machine, it can be used for labeling the circumferential surface of circular objects, and can realize single or double labels on the whole circle or half circle, which greatly improves the packaging quality, saves labor costs, and improves production efficiency. Want to know more machine details? Contact us now!【WhatsApp/WeChat/Phone/Skype】+86 136 1385 6800
Sticker Printer Machine Technical Parameters:
| | |
| --- | --- |
| Label Specification | Adhesive sticker, transparent or opaque |
| Labeling Tolerance | ±1mm |
| Capacity(pcs/min) | 25~60 |
| Suit product size(mm) | φ25mm~φ120mm H:25~150; Can be customized |
| Suit label size(mm) | L:20-380;W(H):20-130 |
| Machine Size(L*W*H) | 1950*1200*1450(mm) |
| Pack Size(L*W*H) | 2000*1250*1500(mm) |
| Voltage | 220V/50(60)HZ; Can be customized |
| Power | 865W |
| N.W(KG) | 185 |
| G.W(KG) | 220 |
| Label Roll | ID:Ø76mm; OD:≤260mm |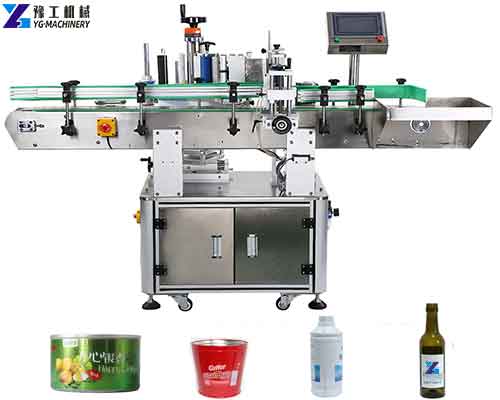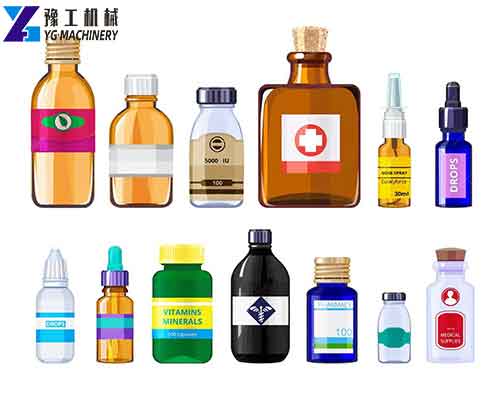 Application and Advantages of YG Sticker Printer Machine:
Label machine is suitable for labeling cylindrical and conical products of various specifications, such as cosmetic round bottles, red wine bottles, medicine bottles, cans, cone bottles, plastic bottles, PET round bottle labeling, plastic bottle labeling, food cans, no Bacterial water bottle labeling, double label labeling of gel water, positioning labeling of red wine bottles, etc. It is widely used in round bottle labeling in food, cosmetics, winemaking, medicine, beverage, chemical industry, and other industries, and can realize semicircular labeling. The round bottle positioning and labeling machine have high stability, and the labeling is smooth and wrinkle-free, which can meet the needs of various industries, such as food, medicine, cosmetics, daily chemicals, electronics, hardware, plastics, and other industries. It has a compact design, simple operation, and convenient use. Its unique precise positioning system can achieve very accurate labeling, fully meet the needs of users, and improve production efficiency and quality. The excellent performance of the round bottle positioning and labeling machine makes it an ideal choice for saving labor and improving efficiency. Realize automation, further improve production efficiency and enhance the competitiveness of enterprises. It is the best choice for you to improve production efficiency and product quality!
Fully Automatic Bottle Multifunctional Labeling Machine
:
Wide application range, can meet the full-circle labeling or semi-circle labeling of round bottles, easy to switch labeling between bottles, and easy to adjust.
The label has a high degree of coincidence. A rectifying mechanism bypasses the label. The label is not deflected. The labeling position is x/y/z and the inclination is adjustable.
Excellent labeling quality, adopting elastic pressure-coated belt, flat labeling, no wrinkles, and improved packaging quality;
Flexible application, bottle standing labeling, automatic bottle splitting function, can be produced in a single machine, or can be connected to the production line;
Intelligent control, automatic photoelectric tracking, with no material and no labeling, no automatic calibration, and automatic label detection to prevent leakage and label waste;
High stability, Panasonic PLC + Panasonic touch screen + Panasonic needle-shaped electric eye + German labor test label electric eye composed of advanced electronic control system
Simple adjustment, labeling speed, conveying speed, and bottle dividing speed can realize step-less speed regulation and adjust according to need;
Rugged and durable, adopting a three-bar adjustment mechanism to make full use of the stability of the triangle, the whole machine is solid and durable.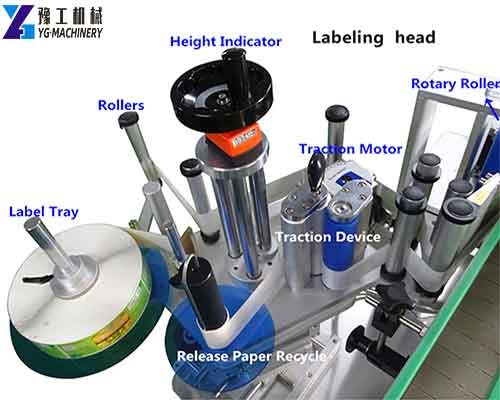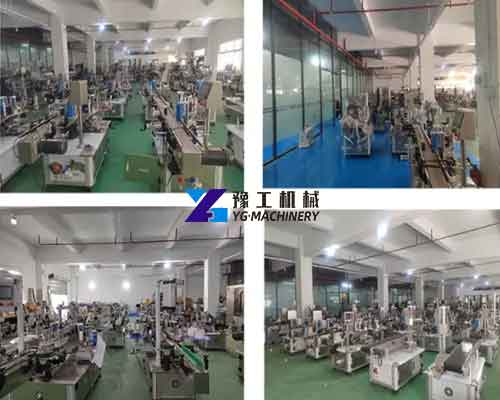 Round Bottle Labeling Machine Manufacturer – YG Machinery
Industries are booming right now globally, with the growth in the industrial sector, the production of different items is also growing. As many of the items are served in bottles nowadays labeling has become an essential part of it. Our round bottle labeling machine can help industries to sort out the round bottle labeling. With different industries demanding this bottle labeler, the industrial applications of the machines are widespread. As a large-scale production company, YG has a very complete pre-sales and after-sales service, and the personnel is of high quality. Since the machines are produced in batches, the cost is relatively low, and the price of the machines will satisfy customers. In addition, we also have paper cup making machines, paper bowl making machines, paper straw making machines, paper dish making machines, paper carton erecting machines, water bottle blowing machines, water bottle filling machines, plastic bag making machines, nonwoven bag making machines, woven bag making machines, balloon making machines, condom making machines, shoe cover making machines, lighter making machines, plastic injection molding machines, etc. If you want to know more machine details, contact us now!【WhatsApp/WeChat/Phone/Skype】+86 136 1385 6800