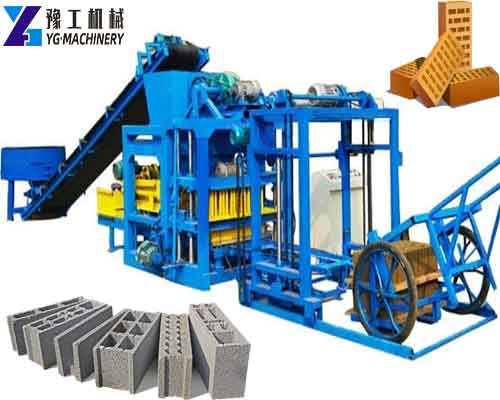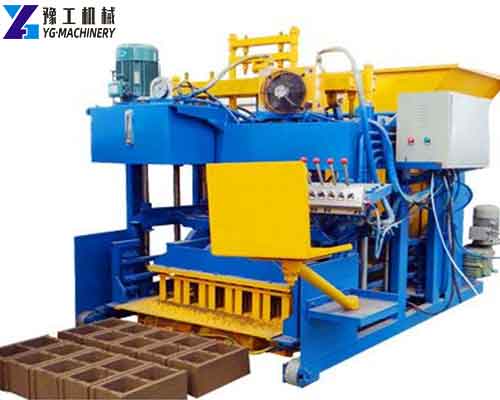 The brick making machine is the mechanical equipment for manufacturing and producing bricks. Generally, stone powder, fly ash, slag, crushed stone, sand, water, etc. are used to add cement as raw materials to produce bricks through hydraulic power, vibration power, and pneumatic power. Want to know the automatic brick-making machine price? Contact us now! In addition, we also have mortar sprayer machines, shotcrete machines, mini concrete pumps, fog cannon machines, etc. Kindly check the menu. 【WhatsApp/WeChat/Phone/Skype】+86 136 1385 6800
Automatic Brick Machine Production Capacity:
| | | | | | |
| --- | --- | --- | --- | --- | --- |
| Block Name | Size (L*W*H)mm | Molding Cycle | QTY/Mould | QTY/hour | Qty/8hr |
| Hollow block | 400*200*200 | 15-20s | 6pcs | 1080-1440pcs | 8640-11520pcs |
| Hollow block | 400*150*200 | 15-20s | 7pcs | 1260-1680pcs | 10080-13440pcs |
| Hollow block | 400*100*200 | 15-20s | 11pcs | 1980-3640pcs | 15840-21120pcs |
| Porous block | 240*115*90 | 15-20s | 15pcs | 2700-3600pcs | 21600-28800pcs |
| Standard brick | 240*115*53 | 15-17s | 30pcs | 6300-7200pcs | 50400-57600pcs |
| Paver | 225*112.5*60 | 20-25s | 15pcs | 2160-2700pcs | 17280-21600pcs |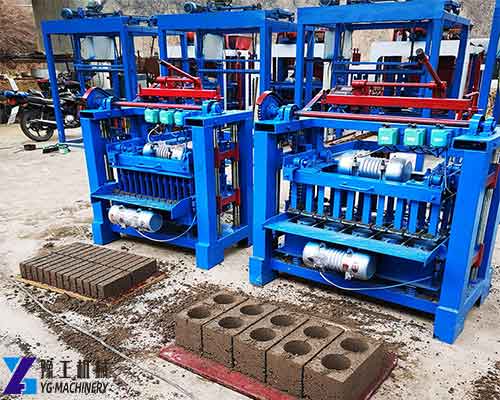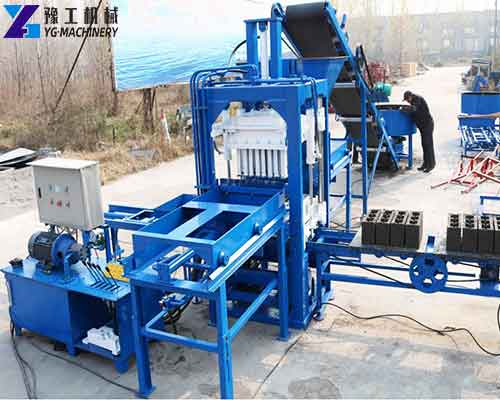 5 Features of YG Automatic Brick Making Machine:
This equipment is mechanical hydraulic PLC-controlled synthesis technique equipment. Its characteristic is highly efficient, easy-operated, and easy-maintained. Block molding mainly by hydraulic, machinery as a sideline, vibrate, and press to finish molding blocks.
The design and manufacture of this machine in accordance with the requirement and standard of<Industrial block making machine for building>.
With a high degree of automation, and intelligent electronic control, the automatic process is controlled by an advanced PLC(Programmable Controller), input and store of process data, and touch screen for blocks, it has the ideal of a flexible Human Conversation Interface.
Good reliability, Hydraulic system preference for improved technology, and perfected workmanship of design. Use an independent integrated type hydraulic station. Avoid the influence of dust and main machine vibration on the hydraulic system.
Good adaptability of raw material, and advanced step vibration molding technology. Adjusting measures to differing conditions. The use of all kinds of waste ash and slag reasonably reduces the dosage of cement and makes many kinds of high-quality bearing or non-bearing blocks.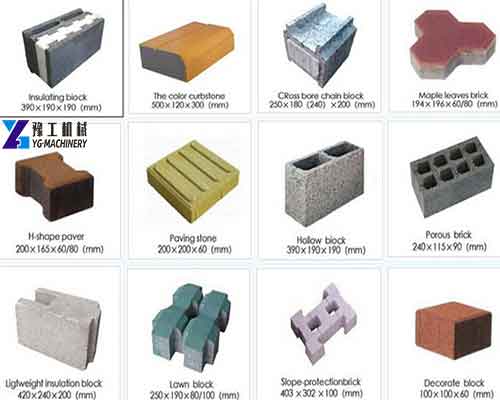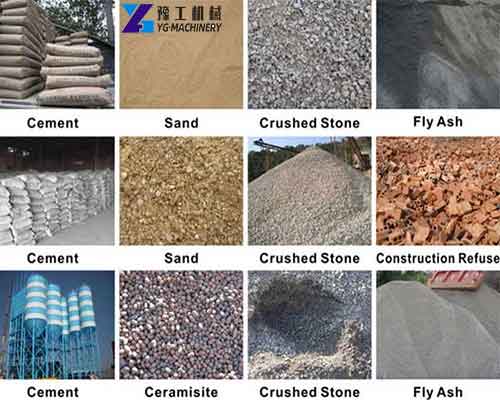 Application of Brick Manufacturing Plant:
Clay bricks are made from local materials, are cheap, durable, and have the advantages of fire prevention, heat insulation, sound insulation, moisture absorption, etc., and are widely used in civil engineering. Scrap bricks can also be used as aggregates for concrete.
Lime-sand bricks are made of lime and quartz sand, sand, or fine sandstone in an appropriate proportion, which is finely ground, mixed with water, semi-dry pressed, molded, and cured by autoclave. Fly ash bricks are made of fly ash as the main raw material, mixed with coal gangue powder or clay and other cementing materials, and are made by batching, forming, drying, and roasting, which can make full use of industrial waste residue and save fuel.
The purpose of ceramic mosaic tiles, ceramic mosaic tiles (also known as "mosaic") ground, is a ground made of small tiles. According to its color varieties, it can be assembled into various patterns, hence the name "Mosaic Brick"; this kind of brick has a smooth surface, solid texture, diverse colors, more durable, and acid, alkali, fire, abrasion, impervious, Easy to clean. Ceramic mosaic tiles are often used on the floors of bathrooms, kitchens, laboratories, etc.
The lawn bricks are made of 100% high-density polyethylene recycled plastics using advanced German technology, so they can be recycled. The product is strong, light, and easy to install. Its excellent quality and simple design have created a perfect environmentally friendly green series of products. It is a new bright spot in garden landscape products and a perfect substitute for cement grass bricks.
Automatic Brick Making Machine Price – YG Machinery Manufacturer
The small brick making machines for sale are small in size, easy to install, disassemble and transport and the produced bricks are free-burning and high-density. Definitely, a no-brainer if you're planning on doing a brick making project! On the one hand, the small brick making machine mixes industrial or household wastes such as fly ash, river sand, sea sand, mountain sand, mineral powder, stone powder, cinder, etc. with cement materials such as proportion cement and lime, and by using different molds for producing various shapes of bricks. The small brick making machines we sell can produce standard bricks, hollow bricks, interlocking bricks, perforated bricks, solid bricks, sand bricks, etc. Of course, we have other construction machinery, hydroseeding machines, fog cannon machines, dust control water trucks, shotcrete machines, sandblasting machines, stucco machines, putty spraying machines, cement forming machines, concrete mixer machine with pumps, micro excavators, GRC machines, etc. Contact us to know more!【WhatsApp/WeChat/Phone/Skype】+86 136 1385 6800