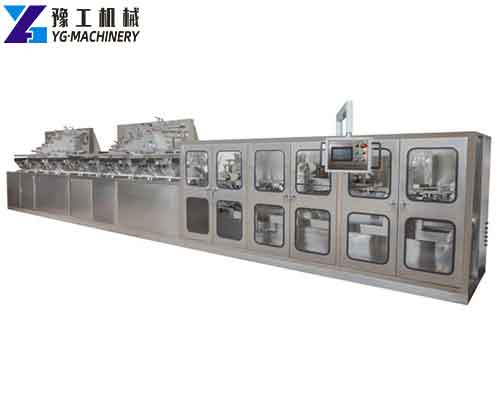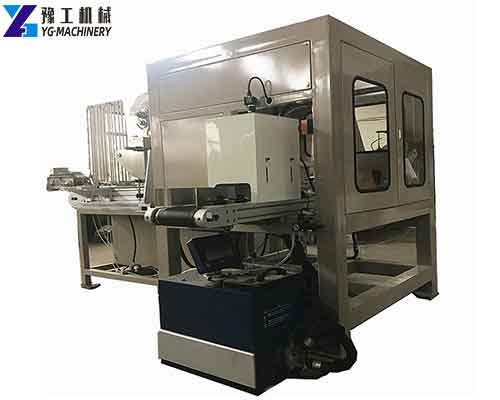 Wet wipes are made of wet-strength, soft-fiber, and high-permeability substrates, which are folded, humidified, and packaged to make disposable sanitary products. Because of their basic functions of cleansing and moisturizing the skin, as well as being easy to carry, they have become indispensable in people's daily lives. Few cleaning supplies were used in business and reception places such as civil aviation, hotels, restaurants, exhibitions, etc. In recent years, with the improvement of people's living standards, the personal consumption of wet wipes has gradually increased, mainly used in outdoor travel, tourism, etc. For occasions where water is inconvenient, there is also cleaning and care for family babies and young children. Wet wipes products are developing in multiple categories and are applicable in multiple ways. At present, on more and more occasions in daily life need to use wet wipes. YG Machinery has a variety of wet wipes machines of different models and will be your best partner. In YG Machinery, we have wet tissue machines, canister wet wipe machines, towel-making machines, wet tissue packing machines, rewinder machines, slitter machines, etc. If you are interested, please contact us as soon as possible.【WhatsApp/WeChat/Phone/Skype】+86 136 1385 6800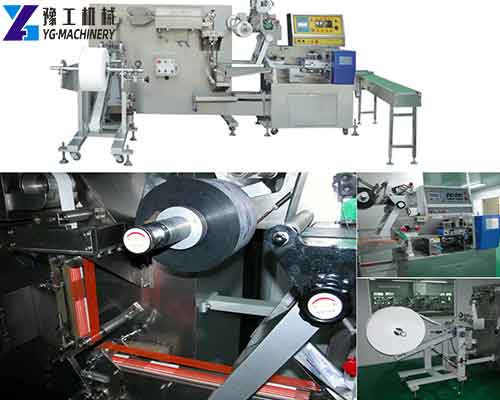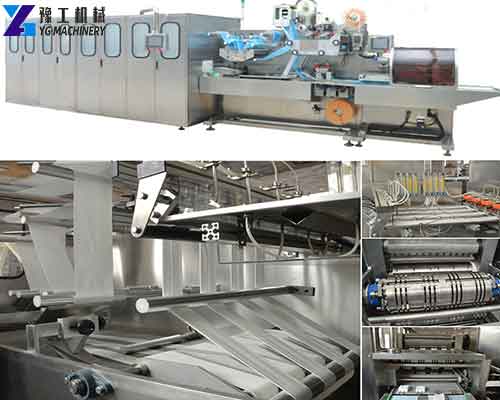 Wet Wipes Machine Work Process:
Automatic non-woven loading → Tension control → Tissue cutting → Tissue folding → Precise online wetting → Tissue cutting → Tissue stacking and counting → Tissue online waiting → Tissue transport to packaging machine → Bag forming → Die-cutting → Labeling → Gusset → Automatic air→ Sealing→ Output of finished products.
Wet Wipes Machine Parameter:
Applicable materials
Spunlace nonwoven, their bond, degradable non-woven fabrics,

wet-strength paper etc

Specification of nonwovens
Max W260mm, Φ1200mm
Applicable packing materials
PET/PE BOPP CPP PET/AL and other hot sealable materials
Film rolling specification
Max W230mm, Φ360mm
Size of wet wipes
L:55-110mm W:30-60mm
Unfolded size
L:110-220mm W:140-260mm
Packing size
L:80-200mm W:40-70mm
Product capacity
80-200 bags/min
Source of air required
0.6-0.8Mpa,100L/min
Power
AC220V 50/60Hz,8KW
Size of the whole machine
L:4000mm,W:3000mm,H:2000mm
Machine net weight
About 2200kg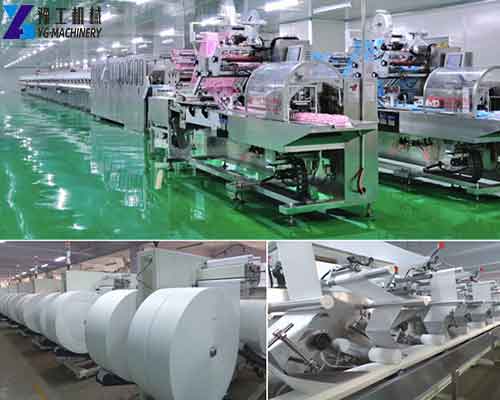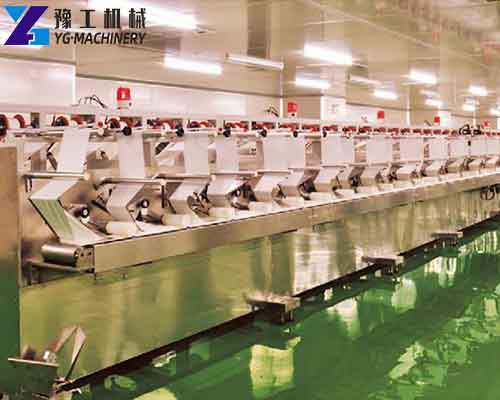 Wet Wipes Machine Feature:
The length and width of the wet wipes can be easily adjusted, and it has a variety of folding methods, which can produce wet wipes of different uses and specifications to meet the needs of new product development in the market. (The latest models have adjustable folding width and multiple folding methods (Z, N, double Z, etc.);
The bag length is set and cuts immediately, no need to adjust the empty running, one step in place, saving time and film.
Processable raw materials: spun lace non-woven fabric; hot-air cloth; hot-rolled cloth; needle-punched cloth, continuous drawing wet wipe products.
Product types: baby wipes, unloading wipes, lady wipes, cleaning, and care wipes, etc. Product size and liquid medicine can be adjusted.
Wet Wipe Production Line Configuration:
Control and drive system: simple touch screen operation, multi-axis servo control, servo precision transmission.
Automatic feeding system: automatically adjust the position of the cloth, keep synchronous and equidistant conveying, and avoid a material jam.
Feeding device: the turbine drives the connecting rod to slide up and down to complete the feeding.
The turret supporting bag mechanism: the main plate drives the four groups of supporting bags to rotate to a fixed position, and pneumatically pushes the supporting plate to complete the bag supporting action.
Film cutting and bag feeding mechanism: electronically control the film length, the cylinder drives the cutting knife to cut instantly, and the irregular slide drives the suction box to send the finished bag to the bag supporting position.
Bag forming device: automatic adjustment of film tension, flexible control of bag length.
Packaging sealing and cutting device: Longitudinal sealing technology, domestic advanced horizontal sealing design, strong and beautiful sealing.
Quality control system: full monitoring of equipment operation, automatic prompts for troubleshooting, and advanced security protection.
YG Lid Applicator Machine-Wet Wipes Machine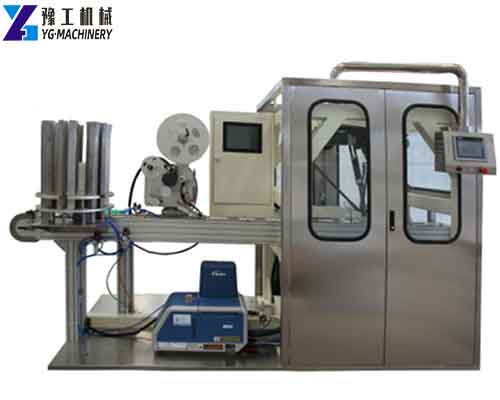 Lid Applicator Machine Parameter:
| | |
| --- | --- |
| Applicable products | Applying plastic lids on top of the packages of wet wipes, sorting |
| Size of product | Max L50-300mm  W50-200mm  H10-120mm |
| Size of lids | Max L 150-180mm  W50-120mm  H2-10mm |
| Specification of label roll | Max W100mm, Φ360mm |
| Applicable labels | Transparent labels&non-transparent labels; Metal label is optional |
| Power | AC380V 50/60Hz,13KW |
| Air source required | 0.6-0.8Mpa |
Specification of Lid Applicator Machine:
Control driving system: HD touch screen, multi-axle motion control, accurate rotating of the servo.
Automatic grasp mechanism: the manipulator is maintenance-free and grasps the products precisely with low noise.
Reduction box of the manipulator: high precision reduction box, high rigidity, low noise, and maintenance-free.
Automatic lids feeding mechanism: fetching and putting a device with servo drive, accurate positioning.
Automatic labeling device: online synchronous labeling.
Vision positioning system: color HD camera, precise coordinate; the transparent sticker is applicable.
Safety guarantee system: fixed, movable, and closed preventive device, confirming ISO 14120:200221.