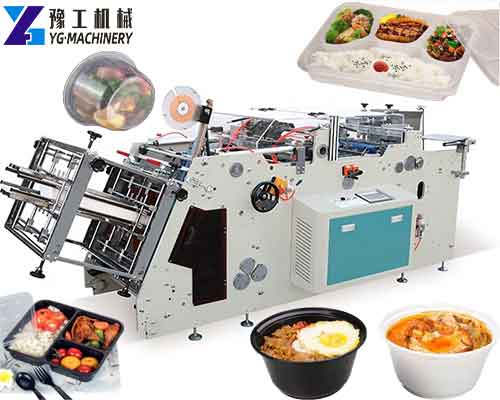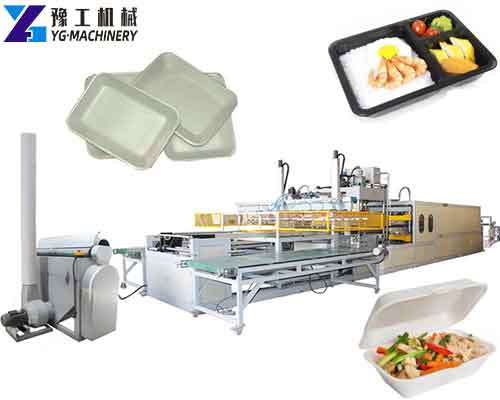 Disposable fast food boxes have been changed from foam lunch boxes to environmentally friendly lunch boxes. The original foam lunch boxes are not resistant to high temperatures and the production process causes damage to the environment and is eliminated. Plastic lunch boxes, paper lunch boxes, wooden lunch boxes, degradable lunch boxes are available, and many more. Among them, plastic has the characteristics of low toxicity, high melting point, strong plasticity, simple production, and relatively low cost, and has become the mainstream material for manufacturing disposable fast food boxes. PP polypropylene, with mechanical and thermal properties, is suitable for food packaging. Lunch boxes are divided into environmentally friendly lunch boxes, mainly plastic, paper, starch, and rare metals. YG's lunch box making machine has now been upgraded to meet market demand. In addition, we also have other product lines such as aluminum foil container machines, disposable paper cup machines, paper bowl making machines, paper dish making machines, paper straw making machines, paper carton erecting machines, egg tray making machines, and so on. Contact us for a quote!【WhatsApp/WeChat/Phone/Skype】+86 136 1385 6800
Disposable Lunch Box Making Machine Parameter:
| | |
| --- | --- |
| Model | YG-7185 |
| Maximum forming area | 710*850mm |
| Maximum punching area | 710*850mm |
| Maximum molding height | 130mm |
| Applicable raw materials | PP, PS, PET, PVC, PLA biodegradable materials, etc. |
| Applicable sheet width | 410-710mm |
| Applicable sheet thickness | 0.15-3.0mm |
| Installed power | 150kw |
| Heating power | 120kw |
| Power supply | 380v, 50hz |
| Applicable products | Suitable for all kinds of blister packaging products such as bowls, lids, dishes, electronic trays, medicine, industry, etc |
| Whole machine weight | 12 tons |
| Appearance size | L11m*M2.3m*H2.5m |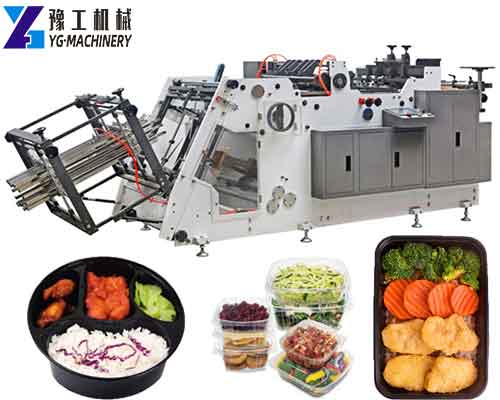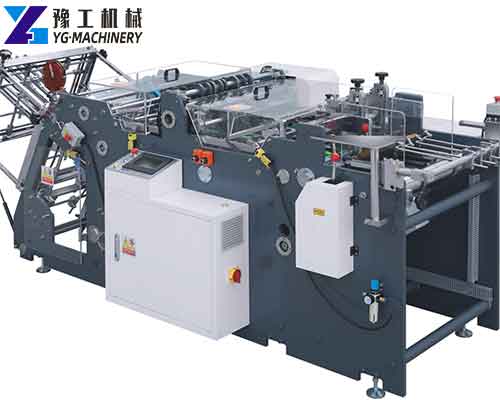 Food Box Making Machine Features:
The positive and negative pressure multi-station forming machine is an innovative product developed by our company for packaging, food, electronics, and other industries that introduced German technology. The machine has four-station fully automatic heating-forming-punching-cutting-stacking counting. Function, it can be adapted to various bowls, lids, boxes, dishes, electronic trays, medicine, industry, and other blister packaging products made of PLA, PS, PET, PP, PVS, ABS, and other materials. The machine is widely used and has strong versatility. The positive and negative pressure forming machine has the advantages of fast speed, low energy consumption, low noise, high safety and sanitation, convenient operation, and maintenance, etc., which are trusted by customers.
Advantages of Lunch Box Making Machine:
The maximum speed of the machine in production can reach 3 seconds/mold, all of which adopt the servo control system, plus the overall advanced matching automation system, which can adapt to various sheets.
This model has the most user-friendly mold replacement structure, which greatly shortens mold replacement time. The advanced heating system adopts intelligent module temperature control, which has a fast response and short time and strives for the highest efficiency and low cost.
In the new type of electric furnace, the upper and lower furnace heating frames are all made of stainless steel with a heat insulation board material design, weight is low, the cost is low, heat dissipation is fast, and the appearance is simple.
The heater adopts a Sino-British joint-venture ceramic infrared radiant heater, and imports solid-state relay non-contact output, ensuring fast temperature rise, high precision, stability, and temperature control error of ±1℃.
The piece-feeding chain adopts an imported double-row roller chain with teeth and an integral aluminum alloy chain guide rail. The structure is compact. The guide rail is equipped with a cooling water circuit, which has high cooling efficiency. The internal circulating water circuit saves water resources.
Each servo motor is equipped with a thermal protection device to prevent the servo motor from damaging the equipment due to long-term overload and overcurrent. Each motor is equipped with an overcurrent protection device.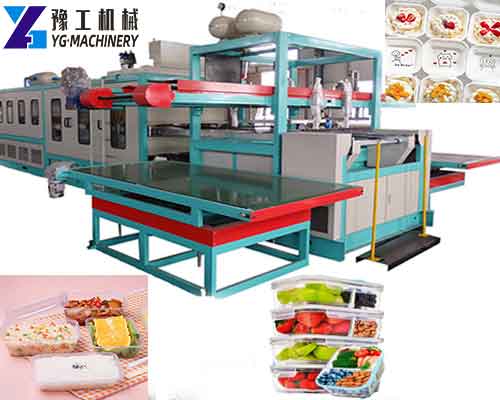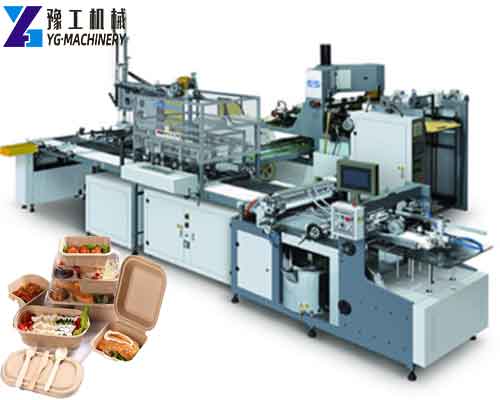 Disposable Paper Food Box Making Machine Manufacturer – YG Machinery
The disposable lunch box machine is currently a favorite device of many customers because the disposable lunch box is now very popular among the public. Not only is it clean and hygienic, but it is also not expensive. In addition, our YG Machinery also has wet tissue machines, toilet paper machines, A4 paper making machines, napkin paper machines, rewinder machines, glove making machines, balloon making machines, condom making machines, woven bag production lines, nonwoven bag making machines, plastic bag making machines, and other equipment. If you like it, please contact us now!【WhatsApp/WeChat/Phone/Skype】+86 136 1385 6800