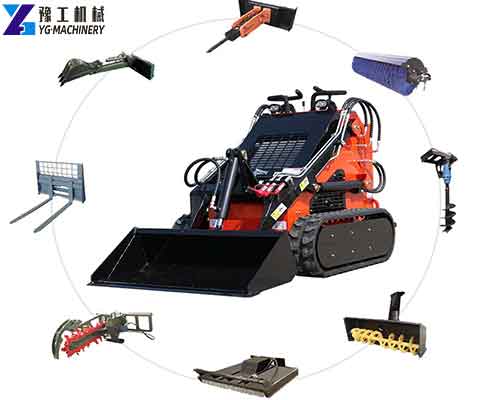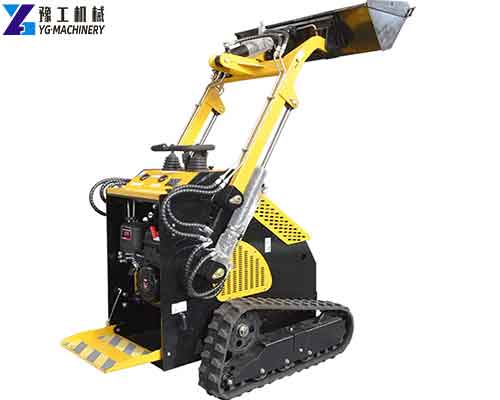 Mini skid steer loaders are also known as skid steers, multi-purpose vehicles, and multi-purpose engineering machines. It is a wheel-type special chassis device that uses the speed difference between the two wheels to achieve vehicle steering. It is mainly used on occasions where the job site is small, the floor is uneven, and the job content is frequently changed. Suitable for infrastructure construction, industrial applications, dock handling, urban streets, houses, barns, barns, airport runways, etc., but also can be used as large-scale construction machinery auxiliary equipment. Contact us to know more!【WhatsApp/WeChat/Phone/Skype】+86 136 1385 6800
Skid Steer Track Loader Technical Parameter:
Item
YG280
YG380
YG380C
With Rubber Track
With Chevron Engineering Tyre
With Chevron Engineering Tyre
Metric
U.S.
Metric
U.S.
Metric
U.S.
Max working height(H3)
2065mm
81.3inch
2143mm
84.37inch
2143mm
84.37inch
Max pin height(H2)
1803mm
71inch
1884mm
74.17inch
1884mm
74.17inch
Max Dumping height(H1)
1386mm
54.6inch
1488mm
58.58inch
1488mm
58.58inch
Max Dumping distance(E)
471mm
18.5inch
348mm
13.7inch
348mm
13.7inch
Max Dumping Angle(a3)
32°
32°
30°
30°
30°
30°
Rollback of the bucket on the ground(a2)
33°
33°
25°
25°
25°
25°
Departure angle(a1)
18°
18°
11°
11°
16°
16°
Total height(H)
1309mm
51.5inch
1233mm
48.54inch
1265mm
50inch
Ground clearance(F)
123mm
4.8inch
118mm
4.65inch
118mm
4.65inch
Wheelbase(L1)
690mm
27.2inch
636mm
25.0inch
636mm
25.0inch
Overall length without bucket(L3)
1778mm
70inch
1752mm
69.0inch
1980mm
78inch
Total width(W)
800mm
31.5inch
1160mm
45.67inch
1160mm
45.67inch
Bucket width(B)
820mm
32.3inch
980mm
38.6inch
980mm
38.6inch
Total length with bucket(L)
2210mm
87inch
2206mm
86.9inch
2430mm
95.7inch
Turn radius forward turning(R)
1237mm
48.7inch
1307mm
51.5inch
1307mm
51.5inch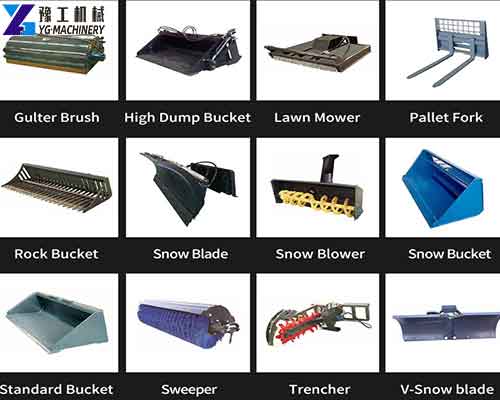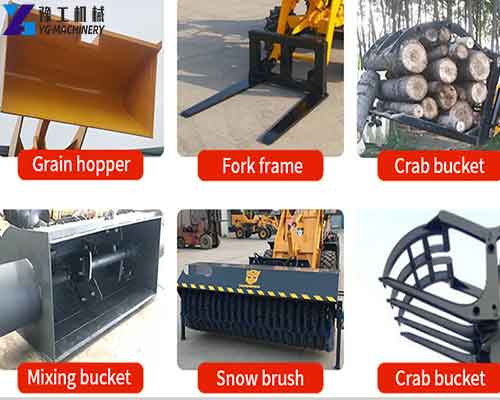 Applications of Skid Steer Loaders:
Skid steer loaders can be used in snow removal, highways, gardens, agriculture, construction, industry, and other fields. Among them, the snow removal industry can use skid steer loaders to clear snow, push snow, load snow, remove and break ice, etc.; the highway industry can use skid steers to perform asphalt milling, cleaning, and collection, concrete crushing, road cutting, etc.; the garden industry Sliding can be used for soil drilling, tree planting, tree transplantation in nurseries, soil plowing, trenching and excavation, etc. In agriculture and industry, it can be used for pasture cleaning, cement kiln building, shipyard sand cleaning, port clearance, etc.
7 Features of YG Mini Skid Steer Loader:
Easy controlled attachment joint and quick hitch plate, the China YG 380 mini skid steer can change attachments quickly and easily.
Folding pedal designed, the driver can stand up the pedal or walk behind to operate the machine.
Clear instrument panel sign, operating conveniently.
Joystick handle optional, operating more comfortably.
International warranty engine, enjoy local 3 years free engine maintenance.
The wheel type and track type of the YG 380 mini skid steer can be chosen.
China hysoon 380 mini skids steer with skid steer attachments is more accessible maintenance machinery, upper cover, and back guard plate can be easily opened and dismounted, you also can quickly discharge the wasted engine oil outside the body, replace the spare parts easily, like a filter, engine oil, oil filter, spark plug and so on.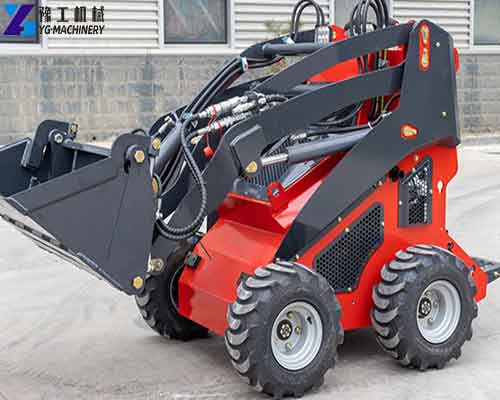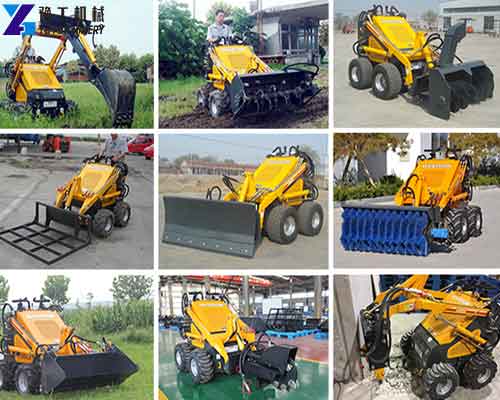 Mini Skid Steer Loader Price in YG Machinery
Different working devices can be replaced or connected at the job site in a matter of seconds, usually only a few minutes. This can be respectively shovel, stacking, lifting, digging, drilling, crushing, grabbing, pushing, soil loosening, ditching, road cleaning, and road compaction operations.
The mini skid steer loader can for various functions. Mini skid steer can attach different attachments, such as buckets, diggers, augers, backhoes, hydraulic breakers, pallet forks, angle brooms, sweepers, lawn mowers, snow blowers, stump grinders, tree spades, 4 in 1 bucket, levelers, dumping hoppers, rippers, grapples, tillers, mixers, stone buckets, trailers, snow blades and so on, thus ensuring there is a tool for every job you can possibly imagine. If you can think of a job for the skid steer loader, chances are there is an attachment specific to that task. In addition, we also have mini excavators, small backhoe loaders, electric forklifts, excavator rock splitters, excavator drill and splittling machines, excavator hydraulic shears, excavator rock saws, excavator pile breakers, firewood splitter machines, horizontal band saw machines, etc. Contact us to learn more about machines!【WhatsApp/WeChat/Phone/Skype】+86 136 1385 6800