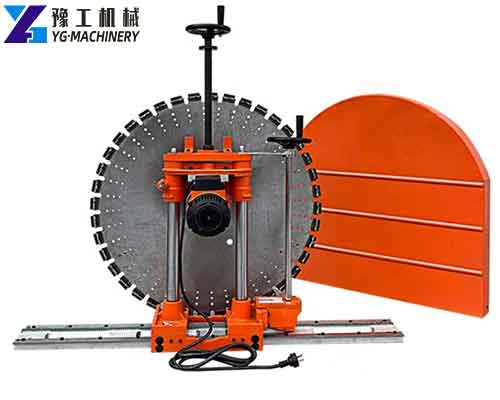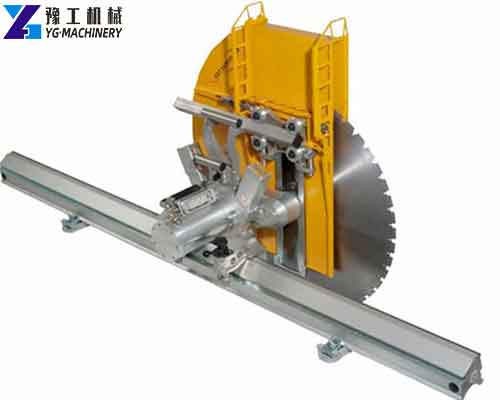 Concrete wall saw is mainly used for the cutting of reinforced concrete walls, brick walls, and other stone materials, as well as the renovation and reinforcement of old buildings. It can also cut large-area walls, such as door holes, windows, or elevator holes. Concrete wall saw can also be called wall cutting saw, concrete wall saw, or wall cutting saw machine, which usually contains two types, hydraulic concrete wall saw and electric wall saw according to the power.【WhatsApp/WeChat/Phone/Skype】+86 136 1385 6800
Parameter of Hot-sale Electric Wall Saw:
Electric Type Wall Saw Machine

Model
YG-800
YG-1000
YG-1200
Type
Manual type / Semi-automatic type / Full automatic type  (every model has three types)
Cutting depth
320mm
420mm
520mm
Saw blade diameter
800mm
1000mm
1200mm
Power/Voltage
7280w/220v
7580w/220v
7880w/220v
Rotary speed
400r/min
380r/min
350r/min
Machine weight
35kg
38kg
45kg
Machine size
55*55*78cm
55*55*88cm
55*55*98cm
Remark:

Manual type means to put the saw blade by hand and walk manually on the track.
Semi-automatic means putting the saw blade by hand, but self-propelled walking on a track.
Full automatic means putting the saw blade automatically and walking on a track automatically.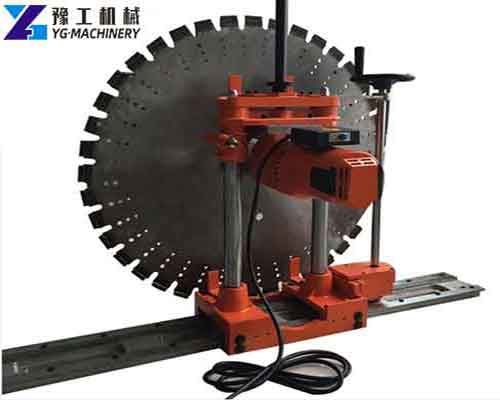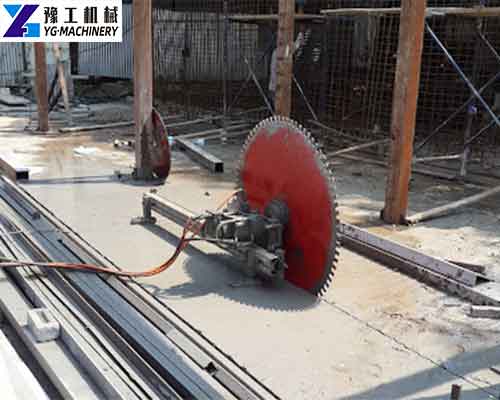 Concrete Wall Saw Features:
Reduce the labor intensity, safe and reliable operation.
With overload protection, powerful, improved cutting capacity, and labor productivity.
Double the working speed to shorten the construction period, to further reduce labor costs, improve the competitive advantage, to expand the scale of construction projects can accept.
Hydraulic systems' own security, reliability, and stability, greatly reduce the cost of the loss of construction equipment.
Advanced cutting equipment, instead of a strong blow or drill rig hole drilling to the construction in a traditional way.
Electric Concrete Wall Saw Working Principle:
Cutting surface smoothly and tidily.
By the track control, cutting position accurately.
No vibration, low noise, environmental protection, security, pollution-free.
the cutting thickness can be adjusted according to the size of the saw blade.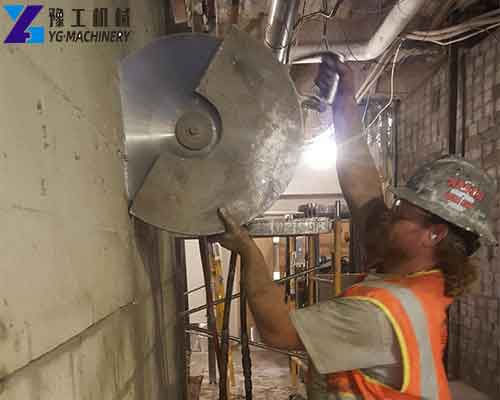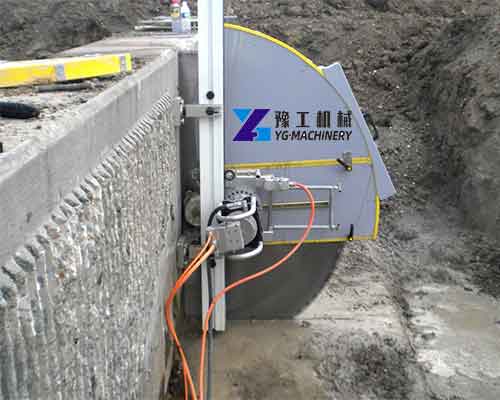 Concrete Wall Cutting Saw Scope of Application:
General reinforced concrete walls, board cutting, demolition, or the door hole.
The cutting surface is required to be smooth, straight, and beautiful concrete cutting.
Cutting depth according to the blade size adjustment, the current use Φ1600 mm blade which has a Maximum cutting depth of up to 600mm.
Four Ways of Using the Wall Sawing Machine:
Transverse cutting.
Longitudinal cutting.
Ground cutting.
Inverted cutting.
Concrete Wall Cutting Saw Price – YG Machinery
When traditional reinforced concrete cutting and demolition construction is incapable of this, advanced reinforced concrete cutting methods (using stone wire saws, diamond wire saws, hydraulic stone cutter machines, concrete wall saws, and hydraulic concrete wall saws). It has the characteristics of safety, efficiency, and environmental protection. In addition, we also have hydraulic rock splitters, plasma cutting machines, concrete pile breakers, CNC waterjet cutting machines, excavator hydraulic shears, mini spider cranes, excavator drum cutters, excavator crusher buckets, hydraulic breaker machines, firewood splitter machines, horizontal band saw machines, etc. Contact us now!【WhatsApp/WeChat/Phone/Skype】+86 136 1385 6800