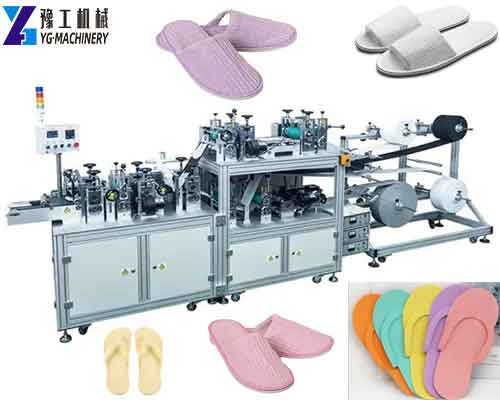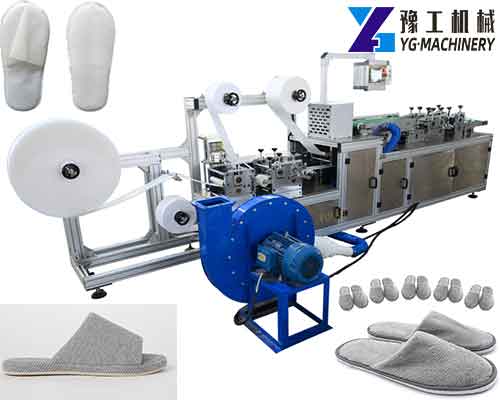 The disposable slipper machine is an automatic machine to produce elastic non-woven slippers. The products are applied to hospitals, hotels, or spa places… Through ultrasonic technology combined with automatic control components, the products can realize the automatic production of each process, What's more, product size and shape can be customized according to demand, and can print personalized patterns to meet different needs, low-cost, high-efficiency, and high-quality production!【WhatsApp/WeChat/Phone/Skype】+86 136 1385 6800
Disposable Slipper Making Machine Parameter:
| | |
| --- | --- |
| Machine Size | 5240*990*1630mm |
| Output | 60-80pcs/min |
| Voltage | 220V/380V |
| Power | 5.5KW |
| Pressure | 0.6 Mpa |
| Fuselage material | Aluminum alloy |
| Special requirement | The mask size needs to be fixed |
| Note | Some accessories need to be changed for different sizes of the mask |
7 Features of Hotel Slipper Making Machine:
Using the ultrasonic and special steel roller, sewn without thread&heating.
Use separate steel cutting mold, 10 times longer life than the traditional model. More flat, more beautiful, no wrinkles.
Machine with auto ultrasonic attach function, more efficiency, and easy operation.
Slipper size(L*W): 270*110mm, other sizes according to our customers;
Machine with auto counting and will stop once reach setting production.
Machine with 2nos. Fabric feeding roll, each roll tension can be adjusted separately.
Suitable for PP nonwoven fabric, EPE, etc.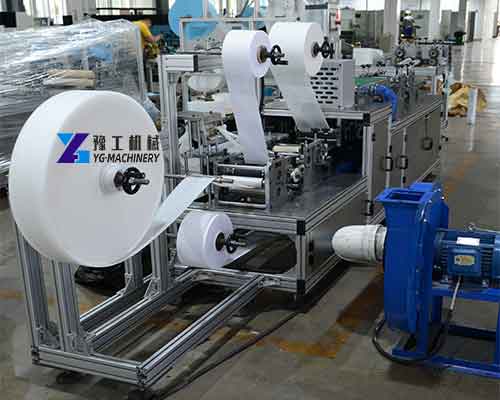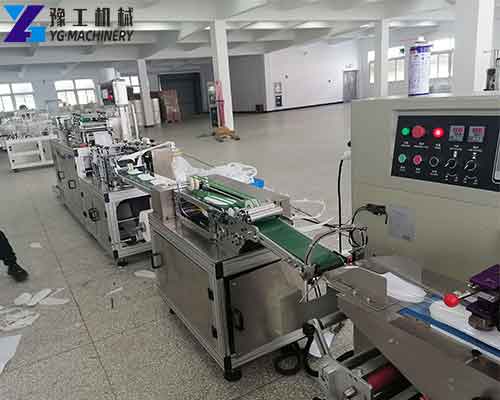 Advantage & Application of YG Disposable Hotel Slippers:
Using soft and comfortable high-quality fabrics, there are terry cloth, dense velvet, coral fleece, etc., which do not irritate the skin and are comfortable to wear. The most comfortable adjustment can be customized according to different foot types. The three-wire car mechanism is selected, which can be very firm and not easy to fall. It can be applied to electronic manufacturing, dust-free workshops, the catering service industry, food processing, school, spraying processing, stamping hardware, health centers, the handicraft industry, hospitals, beauty, pharmaceuticals, factories, environmental cleaning, public places, etc.
Ultrasonic Disposable Slipper Making Machine for Sale:
Due to the various characteristics of the design of disposable slippers, disposable slippers have various advantages, such as air permeability, waterproof and skid resistance, water absorption, and so on. Therefore, whether it is a five-star hotel, guesthouse, home, etc., everyone is more inclined to choose disposable slippers. So, investing now or increasing your investment is a very good option. In addition, we have other equipment, shoe cover-making machines, surgical cap-making machines, wet wipes machines, tissue-making machines, disposable cup-making machines, lunch box-making machines, paper bowl-making machines, paper dish making machines, paper straw-making machines, paper carton erecting machines, egg tray making machines, roll die cutting machines, paper cup printing machines, folder gluer machines, fabric spreading machines, ultrasonic quilting machines, etc. Contact us now!【WhatsApp/WeChat/Phone/Skype】+86 136 1385 6800