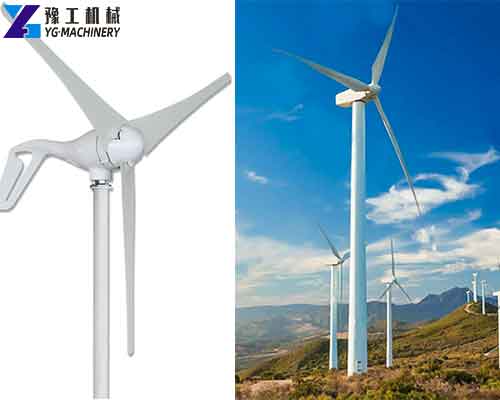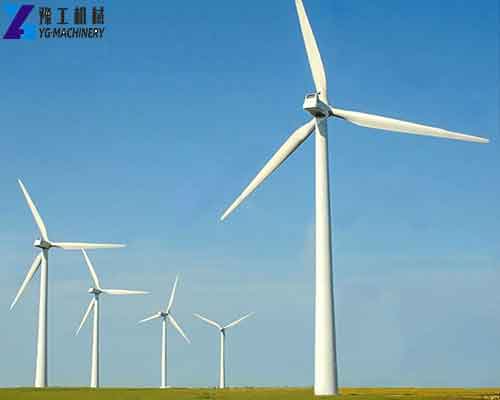 Small scale wind turbines are a small-scale alternative to solar panels, providing clean renewable energy to rural homes, farms, and businesses. This reduces reliance on large fossil-fuel power plants and lowers the burden on the electrical transmission grid. These small turbines are used primarily for distributed generation – generating electricity for use on-site. Contact us to know more about wind turbines.【WhatsApp/WeChat/Phone/Skype】+86 136 1385 6800
Different YG Wind Turbine Parameter:
YG-5

Performance
Rated power
5kw
Peak power
7kw
Start-up wind speed
3m/s
Working wind speed
4-30m/s
Survival wind speed
45m/s
Rotor
Rotor diameter
5.2m
Blade
3pcs reinforced fiberglass
Blade length
260cm
Shell material
Carbon steel
Rated RPM
300r/m
Weight
256kg
Others
Generator type
3-phase AC PMG
Speed regulation & protection
Yawing + electromagnetic brake
Rated voltage
AC 240v
Tower-type
9m guy wire tower
Working temperature
-40℃ to +80℃
| | |
| --- | --- |
| Style Number | YG-10 |
| Wind rotor diameter (m) | 7.8m |
| Blade material and quantity | Fiberglass reinforced * 3 |
| Rated power/max power (w) | 10000/12000 |
| Rated wind speed (m/s) | 11 |
| Rated rotation speed (rpm) | 180 |
| Working wind speed (m/s) | 3-30 |
| Startup wind speed (m/s) | 2.5 |
| Survived wind speed (m/s) | 60 |
| Working voltage (v) | 400V |
| Speed regulation method | pitch-controlled |
| Stop method | Automatic electrical brake |
| Generator style | Three-phase, permanent magnet |
| Wind turbine weight (kg) | 450 |
| AAA Tower height/weight (m/kg) | 12/1200 |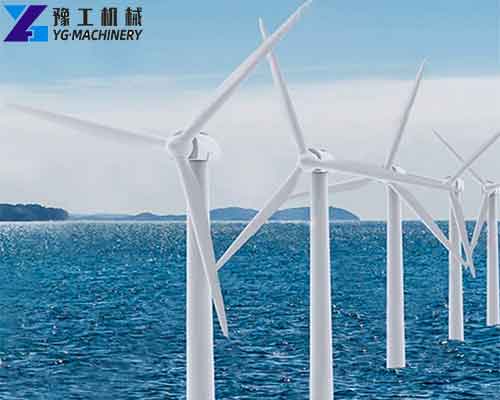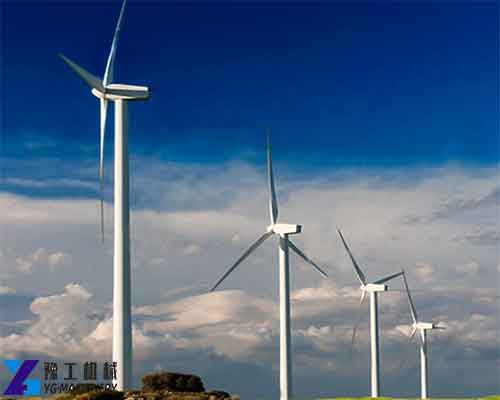 Application of Wind Power System:
The main application fields of small-scale wind power generation systems: it can be built in rural areas, pastoral areas, mountainous areas, developing large, medium, and small cities, or near commercial areas to meet the electricity demand of local users.
Urban Wind Turbine Features:
1. High efficiency, more profit!
This system has our patented Pitch-Controlled wind turbine, which can output 30% more electricity than a normal wind turbine.
The pitch-Controlled wind turbine has the following advantages.
1.1 Lower start-up wind speed!
Pitch-controlled wind turbine blades have the best start-up angle and can be started up with 2.5m/s wind speed. Best wind power availability when the wind speed is lower than the rated wind speed.
1.2 Stable running when wind speed is higher than rated wind speed!
When the wind speed is higher than the rated wind speed, secondary regulation starts to make sure the system has a stable output power.
Lower start-up wind speed, then increase the rotating speed, then have a stable output power with a higher wind speed to make sure there is 30% more electricity output.
2. High-performance On-Grid controller and inverter!
After years of research and practice, we have developed high-performance On-Grid controllers and inverters, which are more suitable for the Pitch-Controlled wind turbine. Each unit of the system can work perfectly, so the system could output more power and has a longer service life.
3. Safety, steady, long service life!
3.1 Leading centrifugal pitch-controlled technology worldwide.
Exactly regulation: The information input source of the pitch-controlled mechanism is the wind rotor rotating speed. System regulation is more stable, reliable, quick to respond, and so on.
Softness regulation: Impact caused by wind speed becoming will be decreased through the pitch control mechanism. Regulation soft, failure rate low.
Longer service life: The system adopts mechanical parts, floating connection, smaller fraction losses, fewer failure sources, better environment adaptability, and Longer Service Life.
3.2 ASP System (Automatic safety protection system)
ASP system, our patent product is a unique protection system in China. It can control the wind turbine to run or stop by testing the environment's wind speed and system working voltage. When the environment wind speed or system voltage is over the set value, it will shut up the wind turbine. When the wind speed is lower than 25m/s, it will release the brake system, wind turbine restart to work. ASP makes nobody guard come true
4. Low Working Noise!
Excellent permanent magnet power technology and aerodynamic characteristics of the blades, lower the noise level of the wind turbine. The noise level is less than 65 dB.
5. Easy installation!
5.1 Easy to install without any heavy equipment like a crane, save installation cost.
5.2 Carry and installation is not limited by landform, especially for mountain areas and islands.
5.3 Tilt-up tower, easy to install and maintain.
Small-Scale Wind Turbine Manufacturer:
Small wind turbines have less generating capacity than the huge commercial turbines found on wind farms, but their reduced costs and added versatility allow wind power to be used in a wider set of applications.  Our small-scale wind turbines have been sold to the United States, the United Kingdom, the Philippines, Malaysia, and other countries, and the price is very competitive, please contact us.【WhatsApp/WeChat/Phone/Skype】+86 136 1385 6800
Other Machine:
YG Machinery also has other machines, fog cannon machines, mortar spraying machines, shotcrete sprayers, hydroseeding machines, auto bricking making machines, micro excavator machines, sand blasting machines, mini concrete pumps, concrete mixer with pumps, shield machines, mini excavators, etc. Contact us now!【WhatsApp/WeChat/Phone/Skype】+86 136 1385 6800