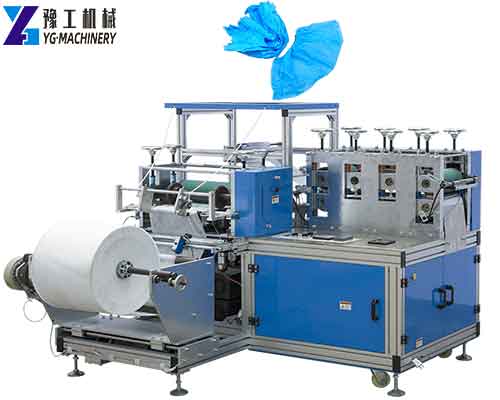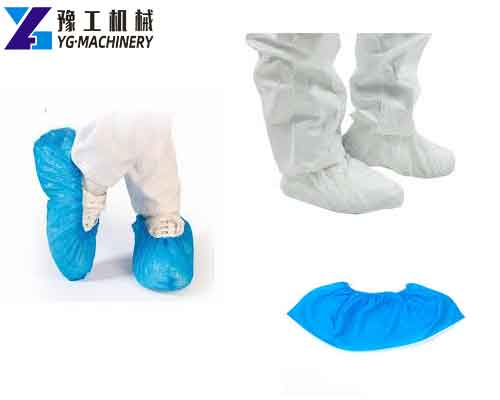 YG Machinery strives to research and develop quality, energy-efficient shoe cover-making machines to benefit the machinery & industrial supplies consumers. As a leading supplier of shoe cover-making machines, we provide professional PE shoe cover machines and nonwoven shoe cover machines. YG Machinery's team is second to none. Our knowledge, energy, and passion ensure you achieve the best possible outcome for your customers. Contact the YG Support Team directly, in case you have questions about the shoe cover-making machine. We will provide specific advice in choosing the system that meets the technical specifications and approvals to give the most cost-effective solution for you. In addition, we also have other machinery, such as meltblown nonwoven fabric, meltblown production lines, wet wipe machines, rewinder machines, face mask-making machines, disposable cup-making machines, diaper-making machines, and paper bag-making machines. Contact us if you need to. 【WhatsApp/WeChat/Skype/Phone】+86 136 1385 6800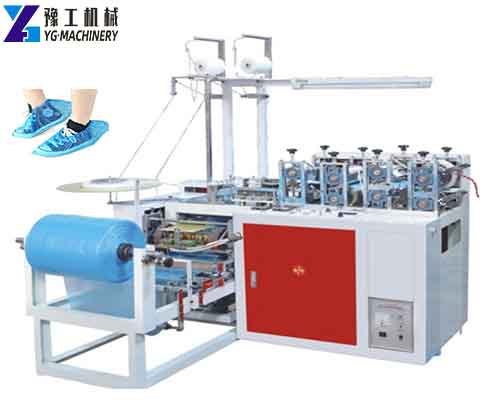 Disposable Shoe Cover Making Machine Parameter:
Suitable material
PE、CPE
Machine size
1500mm*1500mm*1700mm (L*W*H)
Package size
1700mm*1550mm*1300mm(L*W*H)
Capacity
130-160 Pcs/min
voltage
220v/380v (according to customer requirement)
Weight
750kg
power
3.5kw
Finished products size
400*160mm(L*W)
other sizes made according to customer requirement
Material Feeding
Rubber band, plastic film
Main Configuration:
| | | | |
| --- | --- | --- | --- |
| Name | Note | Quantity | Brand |
| Feeding shaft | Mechanical shaft | 1 | China |
| Hemming device | Post position | 1 | China |
| Traction roll | Post position | 1 | China |
| Heating wheel | | 2 | China |
| Rubber band device | | 2 | China |
| Triangular hem | | 1 | China |
| High-temperature roll | | 3 | China |
| Reducer motor | 1.5KW | 1 | China |
| Strengthened ironing device | | 1 | China |
| Copper knife | | 1 | China |
| Fuse device | Electric heating wire | 1 | China |
| Cutter | Roller type | 1 | China |
| Electrostatic Eliminator | 1.6KW | 1 | China |
| Electrical equipment | Schneider | | France |
| Thermometer | Omron | 4 | Japan |
| Frequency converter | DELTA  1.5KW | 1 | Taiwan |
| Body | 6 size Channel steel | | China |
| Collector ring | | 5 | China |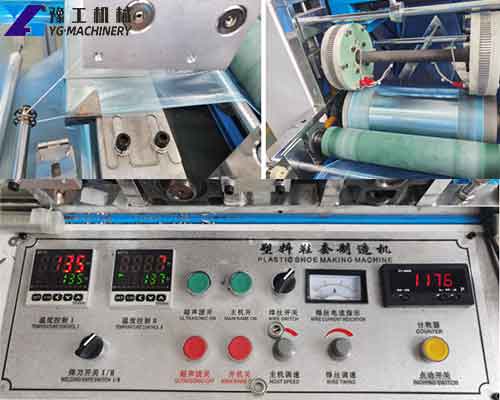 Features of YG Shoe Cover Making Machine:
The shoe cover-making machine is researched and developed by YG Machinery on the basis of the old-type machine, it enhances stability the of the machine, it can automatically work from the material rewinding and become a finishing product, then enhance the output, the capability is higher than other common shoes cover making the machine. We change the outside and the structure and make it look simple and generous, so it is easy to operate and maintain.
Performance and Characteristics:
Disposable Plastic shoe cover-making machine manufacturers can produce PE and CPE shoe covers, good quality, low price, high output advantages, can completely replace manual shoe covers, save labor, reduce costs, and can be customized according to customer requirements, this machine is automated.
Automation of the whole process from feeding raw materials to layered products to counting products. From feeding raw materials to finished products, the whole process of automatic operation only needs one person.
PLC control with both Chinese and English Operation interface, control panel with buttons which is easy to learn, frequency converter control assures more accurate operation, combines heat ultrasonic sealing, auto on and off electric heating assure the welding effect, imported high-quality components ensure the stable performance.
Frequency conversion speed regulation.
Delivery is the finished product.
Automatic constant temperature control.
Selection and Use of Shoe Covers:
Wear shoe covers when entering the contaminated area from the potentially contaminated area and entering the negative pressure ward from the buffer zone.
It should have good waterproof performance and be used for one time.
The shoe cover should be worn in the specified area, and the shoe cover should be taken off in time when leaving the area.
If the damage is found, it should be replaced in time.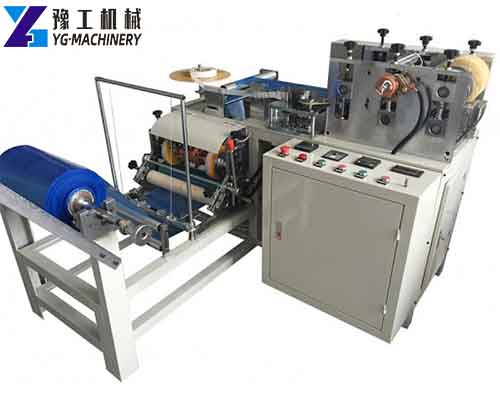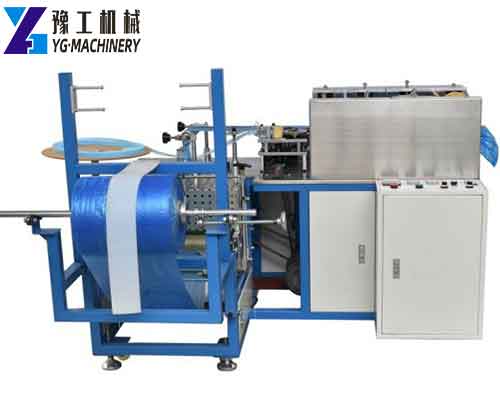 Plastic|PE Shoes Cover Making Machine Manufacturer – YG Machinery
We have earned the trust of our valuable customers by providing manufacturing, importing, exporting, and supplying optimum quality Automatic Plastic Shoe Cover machines. It is made under the strict vigilance of our professionals using premium-grade materials. Perfect in the finish, this is widely demanded use in the cleanroom and food processing industry. In addition to this, our treasured customers can avail of this Automatic Plastic Shoe Cover Machine from us in different sizes and colors at marginal rates.
In addition, YG Machinery not only has the shoe cover making machine, but also the glove production line, which can produce gloves of nitrile, latex, PVC, and other materials, which can be used for daily protection, factory workshops, etc., we also have labor protection gloves making machine, which can also be called knitted gloves making machine can be used to keep warm but also can be used for labor.【WhatsApp/WeChat/Skype/Phone】+86 136 1385 6800