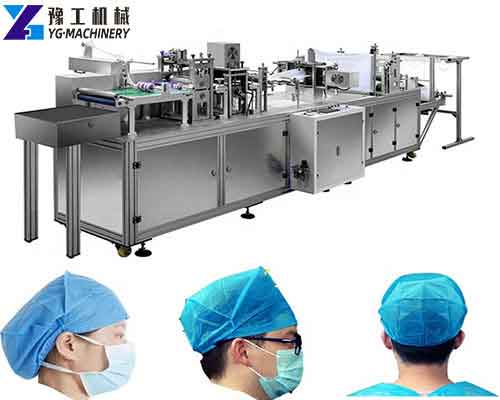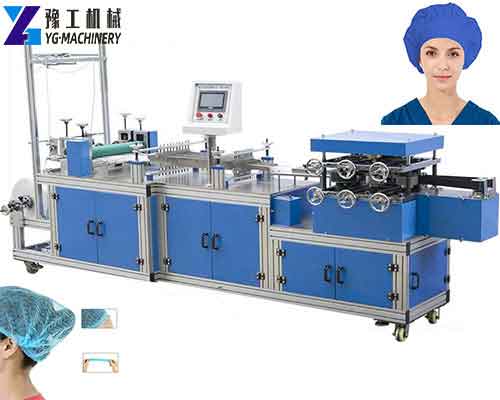 The surgical cap-making machine is fully automatic and integrated equipment that uses non-woven fabric as raw materials to produce surgical doctor caps; also known as ultrasonic surgical cap machine, ultrasonic non-woven surgical cap/doctor cap manufacturing machine. Its finished doctor cap is mainly used by doctors during surgery to prevent pollution and infection; it can also be used in sterile environments such as scientific research and laboratories. In addition, we also have shoe cover-making machines, wet wipes machines, sanitary napkin-making machines, diaper manufacturing machines, balloon-making machines, condom-making machines, etc. If you are interested, please contact us.【WhatsApp/WeChat/Phone/Skype】+86 136 1385 6800
Surgeon Cap Making Machine Technical Parameters:
| | |
| --- | --- |
| Mode | Model-YGJ |
| Speed | 130-180pcs/min |
| Voltage | 220v |
| Power | 4.5kw |
| Ultrasonic device | 3 set |
| Machine size | 3800*900*1300mm (L*W*H) |
| Finished Product size | 480*200mm |
| Net Weight | 825KGS |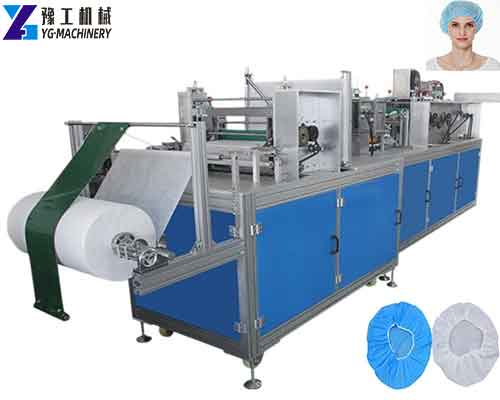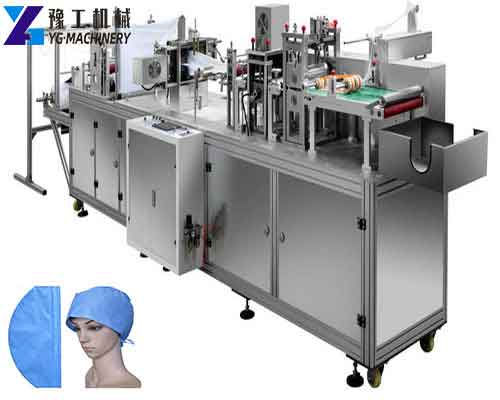 Medical Cap Making Machine Performance and Characteristics:
This machine is a fully automatic disposable bouffant cap machine that uses PE/non-woven as raw material and has good quality, low price, and high efficiency to save labor and lower cost. It's also can be customized.
From feeding to finished product collection all of the procedures are automatic, ultrasonic welding of the two ends of plastic materials or non-woven materials, and the rubber band is effectively fixed. Computer step-less speed regulation, more flexible operation, the whole operation only needs one person.
Frequency conversion and speed control.
Feeding RM and out with the finished product.
Automatic constant temperature control.
High-power ultrasonic welding makes the product more soft and comfortable.
The whole machine adopts aluminum parts to make the machine lighter and smoother.
A PLC touchscreen is provided, and the data display is clearer.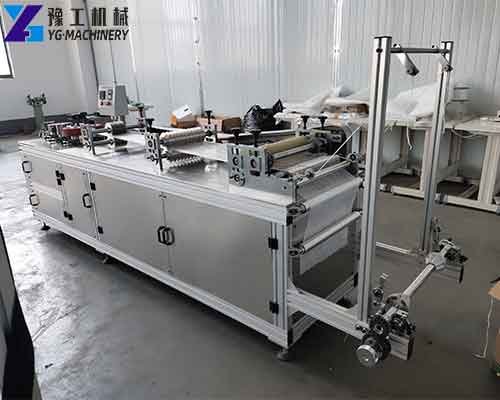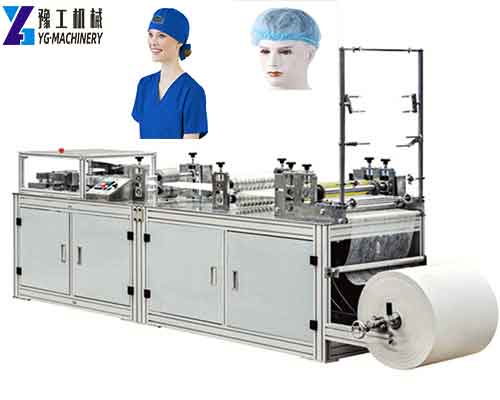 Application of Disposable Cap:
The disposable non-woven headgear cap is made of breathable polypropylene, which is a high-quality non-woven material. Lightweight, flexible, and flexible. There is no glass fiber. Comfortable and safe. The double-stitched elastic band makes the hood flat and comfortable. Designed for use in the food service industry to cover hair to prevent falling out. Prevent hair from falling on food and causing contamination. It is also suitable for electronic products, restaurants, food processing, schools, hospitals, pharmaceutical manufacturers, factories, and clean, public environments. It can also be used in dust-proof places, surgery, chemical workplaces, etc.
Medical Doctor Cap Making Machine Manufacturer – YG Machinery Manufacturer
YG Machinery is a professional manufacturer of large-scale production lines. We have the most advanced technical team, professional sales personnel, and excellent after-sales service. Customers often repurchase equipment from our company. Deeply trusted by customers. And the quality of the machine is praised by customers. In addition, we have other hot-selling products, such as paper cup-making machines, paper bowl-making machines, paper straw-making machines, paper dish-making machines, paper carton erecting machines, egg tray-making machines, lunch box-making machines, woven bag production lines, tissue making machines, napkin making machines, A4 paper making machines, etc. Seize the opportunity to make money. Contact us to know more. 【WhatsApp/WeChat/Phone/Skype】+86 136 1385 6800