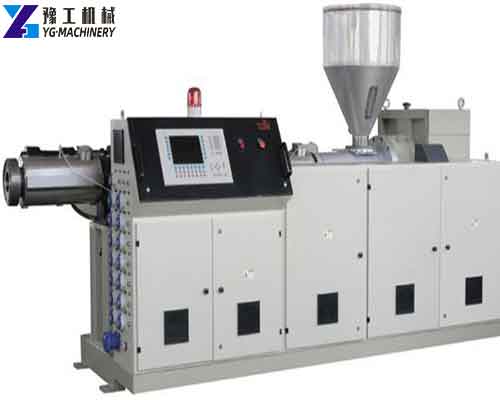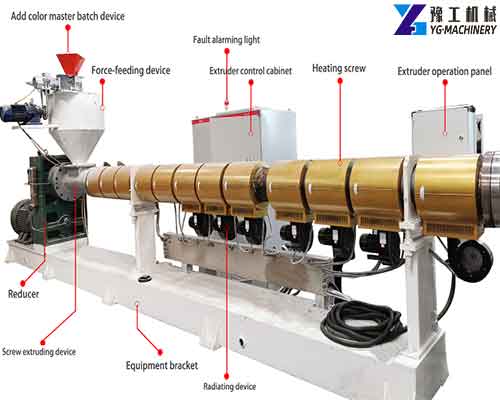 Plastic extrusion, a method through which plastic shape profiles are produced, is an important process for many industries. In this process, shapes are produced when molten plastic is forced through a die. Basic plastic extrusion profiles include strips, channels, and trim. Plastic extrusion, also known as plasticating extrusion, is a continuous high-volume manufacturing process. The plastic extrusion line is suitable for the production of various plastics, please contact us for information.【WhatsApp/WeChat/Phone/Skype】+86 136 1385 6800
Parameter of Plastic Extrusion Machine:
| | | | |
| --- | --- | --- | --- |
| Model | YG-TS35 | YG-TS45 | YG-TS55 |
| Tube size range | 1~4mm | 2~8mm | 8~15mm |
| Screw size | 35mm | 45mm | 55mm |
| Screw L/D | 28:1 | 28:1 | 28:1 |
| Voltage | 380V | 380V | 380V |
| Power | 5.5Kw | 11Kw | 15kW |
| Production capacity | 8~10Kg/h | 15~18Kg/h | 30~35Kg/h |
Advantages of Plastic Extrusion Machine:
The thermoplastic material (in powder, pellet, or granule form) is melted homogeneously and then extruded from a forming die by pressure. In screw extrusion, the pressure comes from the rotation of the screw against the barrel wall. As the plastic melt passes through the die, it acquires the die hole shape and exits the extruder. The extruded product is called an extrudate. We have different types of plastic extruders. Generally, extruders can be classified as continuous or discontinuous extruders. A single screw extruder has different parts with the screw as the most important component. In plastic extrusion, there are various types of die that can be used like T-die, fishtail dies, coat hanger dies, spiral mandrel dies, crosshead dies, etc. Plastic extrusion has a wide range of applications including sheets, films, coatings, pipe, tubing, etc. Plastic extrusion is very popular and for good reason. Its many benefits include versatility, flexibility (literally and figuratively), efficiency, affordability, and formability. What's more, the plastic extrusion process produces very little waste. This is because any remaining plastic can simply be collected, melted, and used again. Also, since plastic extrusions stay for a while after they are removed from the extruder, manufacturers can make changes after extrusion.

Plastic Extrusion Materials Process:
Plastic extrusions are chosen for their various qualities, like how they react or do not react to certain chemicals or their level of transparency. Sometimes, an application requires qualities of more than one material, in which case, engineers may mix two plastics together using co-extrusion.
The list of plastics available for plastic extrusion services is quite long. It includes, among others: low-density polyethylene (LDPE), high-density polyethylene (HDPE), vinyl, polypropylene, polystyrene, butyrate, and PETG.
LDPE:
LDPE, or low-density polyethylene, is durable and flexible. This plastic is also highly resistant to many substances, including a variety of esters, alcohols, bases, and acids.
HDPE:
Like LDPE, HDPE, or high-density polyethylene, is durable. It is also corrosion-resistant, solvent resistant, with a high strength-to-weight ratio and a high tensile strength.
Vinyl:
Vinyl, also known as PVC (polyvinyl chloride), is an extremely popular polymer. It is available as flexible PVC or rigid PVC. It offers the qualities of insulation, salt resistance, acid resistance, corrosion resistance, base resistance, fat resistance, and alcohol resistance. Unfortunately, unless it features a stabilizing additive, vinyl is not very thermally stable. Some of the most common PVC extrusions include siding, pipes, floor coverings, angles, and tubing.
Polypropylene:
Polypropylene is another extremely popular polymer. It is thermally resistant, acid resistant, base resistant, and chemical solvent resistant. It also has low density.
Polystyrene:
Polystyrene is a polymer available in many different forms, including foam. Polystyrene is inexpensive, but because it so slowly degrades, it creates a lot of litter. Nevertheless, it is popular for use in packaging, containers, and plastic cutlery.
Butyrate:
Butyrate, derived from cellulose, is strong, tough, and rigid. On top of that, it has high impact strength and superior dimensional stability. This plastic, which is transparent, is even easy to extrude.
PETG:
PETG, or polyethylene terephthalate glycol-modified, is best known as polyester. Polyester is lightweight, strong, and impact resistant. If treated, it can also serve as an alcohol barrier, a gas barrier, and somewhat of a moisture barrier. it may be extruded into rigid or semi-rigid parts.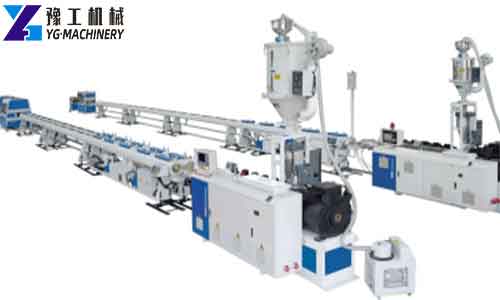 Plastic Extrusion Line Manufacturer – YG Machinery
If you are considering plastic extrusion, you definitely need the help of the right quality manufacturer. The right manufacturer will meet all your needs, including your delivery preferences, delivery schedule, budget, and customization requirements. In order to help you get on the road smoothly, please choose YG PLASTIC EXTRUSION LINE. Also, we have other production lines, glove making machines, face mask making machines, ballon making machines, condom making machines, wet tissue machines, diaper manufacturing machines, disposable cup making machines, lunch box making machines, paper bag making machines, woven bag making machines, nonwoven bag making machines, plastic bag making machines, tissue making machines, napkin making machines, A4 paper making machines, etc. 【WhatsApp/WeChat/Phone/Skype】+86 136 1385 6800