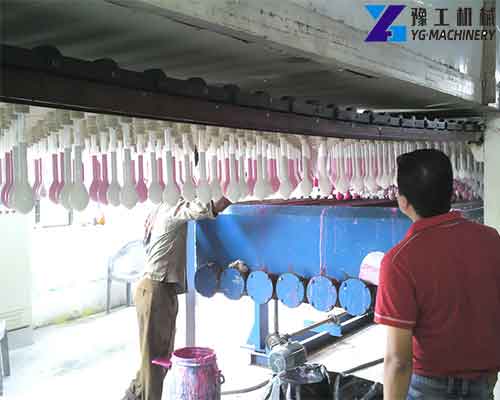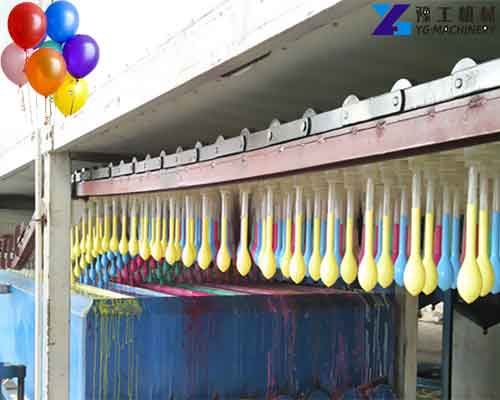 A balloon is a membrane-like capsule made of materials such as natural rubber, latex, neoprene, or nylon fabric, and can come in a variety of colors. Balloons are props that are often used to decorate birthday parties, weddings, corporate events, school events, and other holiday gatherings. The use of balloons as a table decoration for celebrations is also extremely common, and floral designers usually bundle several flowers for each balloon, fill colorful balls, tie ribbons and wrapping paper, and make beautiful balloon gifts. According to the survey, parties and other activities in various countries are increasing, so the demand for balloons is also increasing. At this time, if you can invest in a balloon making machine, it will be a good project. Contact us now to know more!【WhatsApp/WeChat/Phone/Skype】+86 136 1385 6800
Balloon Making Machine Parameter:
Model
YG-QQ45
YG-QQ60
YG-QQ80
YG-QQ100
Dimension(L*W*H*)(m)
45*1.26*4.45
45*1.70*4.45
45*2.23*4.45
60*1.26*4.45
60*1.70*4.45
60*2.23*4.45
80*1.26*4.45
80*1.70*4.45
80*2.23*4.45
100*1.26*4.45
100*1.7*4.45
100*2.23*4.45
Layer
2
2
2
2
Color/time
4/6/8
4/6/8
4/6/8
4/6/8
Mold/row
16/24/32
16/24/32
16/24/32
16/24/32
Mold(pcs)
10912/16368/21824
14944/22416/29888
20272/30408/40544
25600/38400/51200
Capacity(pcs/hr)
10560/15840/21120
14400/21600/28800
19200/28800/38400
24000/36000/48000
Heat(Kcal/hr)
250000
400000
500000
625000
Power(kW/hr)
23kw
29kw
32kw
40kw
Weight(ton)
35
42
45
56
Heating Source
Steam、Thermos oil、Natural Gas、Electricity etc.
Voltage(V)
380/220V   50-60HZ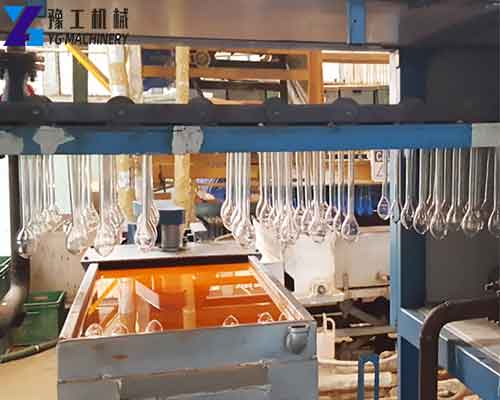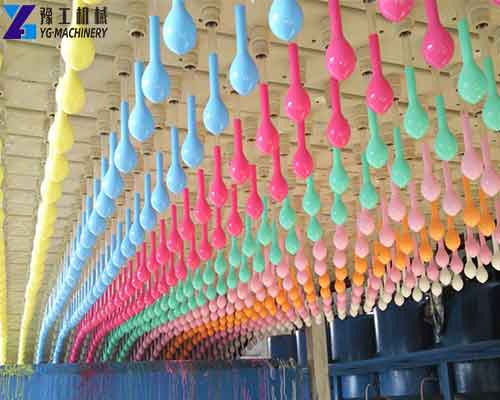 Features of Latex Balloon Production Line for Sale in YG Machinery:
The natural latex toy balloon production line adopts continuous production mode and direct dipping mode, the film formation is uniform, the color is gorgeous, various specifications and special-shaped balls can be produced online at the same time, and balloons of various specifications can be produced at the same time; the length of the production line is 35 meters, 40 meters, 60 meters, 80 meters, and other specifications, can be automatically demolded, high output, no-sag products.
The machine is humanized according to the process of natural latex solidification and molding. The process is reasonable and the automatic glue-filling system is balanced to make the product stable. The thickness of the coating is even and uniform, without sags, uniform temperature, high output, easy demoulding, and so on. Features.
The oven adopts the principle of hot air circulation to make the internal temperature of the oven even, and the chemical fiber asbestos insulation material is used to effectively ensure that the temperature is not lost, thereby improving the use of the machine's thermal efficiency. The machine's heating system uses a PID temperature intelligent instrument, combined with a high-performance control switch, to improve the accuracy of temperature control, thereby improving the pass rate of products.
Specially designed elastic piston mold connection device, easy to change the mold operation, no mold drop phenomenon.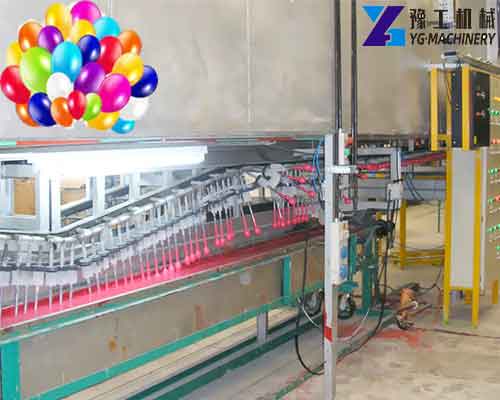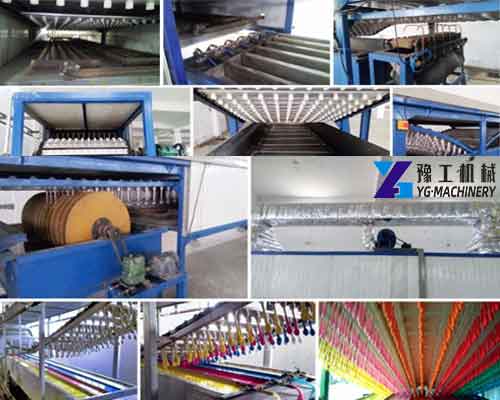 Advantages of Balloon Making Machine:
This equipment is designed according to the chemical properties of the raw materials and the requirements of the balloon-forming process. The process flow is compact and the structure is reasonable.
The drying box adopts the tunnel drying method, the principle of hot air rising, and the recycled hot air circulates and stirs so that the machine can get the best effect under the minimum power.
This machine makes great use of the effective heating space in the design process, adopts the principle of hot air circulation and an intelligent PID temperature control system, and the temperature control is accurate so that the machine can achieve the best energy-saving effect and reduce the cost.
High output, unique joint design, simple operation of changing molds, and speeding up the cycle speed.
The automatic vibrating glue dispensing and glue dispensing system makes the finished balloon of good quality.
Adopt a special high-temperature resistant chain, co-extrusion one-step method, speed up production speed and increase output.
Balloon Making Machine Price – YG Machinery Manufacturer
YG Machinery is the manufacturer of disposable hygiene products machinery development, design, and production, mainly in the production line for diaper making machines, sanitary napkin making machines, tissue making machines, wet tissue machines, disposable cup making machines, glove making machines, condom making machines, paper bag making machines, lunch box making machines, paper bowl making machines, paper dish making machines, paper straw making machines, A4 paper making machines, napkin making machines, folder gluer machines, and a series of household paper, disposable products processing equipment for toilet paper, tissue paper, and napkin paper. And our products are very cost-effective. If you are interested in our machinery, please contact us now!【WhatsApp/WeChat/Phone/Skype】+86 136 1385 6800