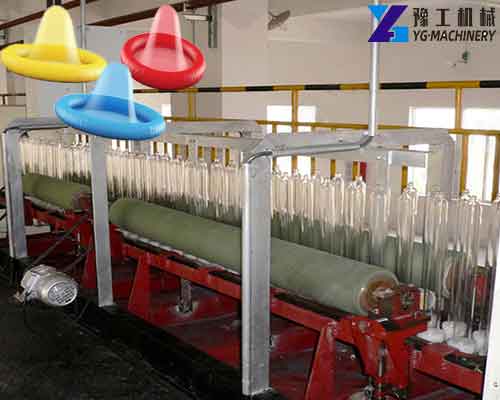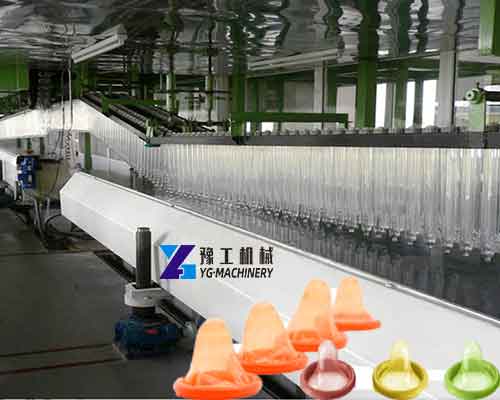 The real need for condoms in the world is always expanding. More boys and girls now choose not to have children, but sexual intercourse is an unavoidable form. And condoms can also reduce the risk of gonorrhea, chlamydia, trichomonas vaginitis, hepatitis B, and HIV transmission. So, if you are willing to invest in condom making machines, this will be a good project. Contact us to know the condom making machine.【WhatsApp/WeChat/Phone/Skype】+86 136 1385 6800
Condom Manufacturing Machine Parameter:
| | |
| --- | --- |
| | Length 65m×Width 3m×Height 4.5m or Customized |
| | 350,000 pcs/24h or Customized |
| Number of Installed Molds | |
| Chain Length of Production Line | |
| | |
| | |
| | |
| | |
| | |
| Heat Energy Consumption (steam) | |
| | |
| | |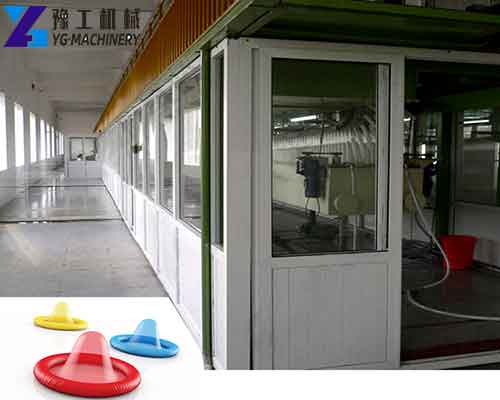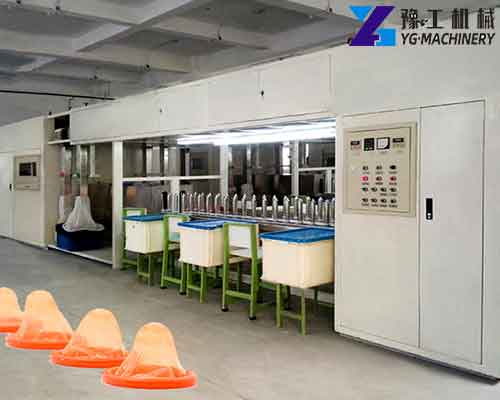 A clean mold is dipped into a latex tank filled with 21°C liquid latex, then baked at 116°C, then soaked, and baked again. In this way, six machines are making condoms on glass molds non-stop in one second, with an output of more than 500,000 per day.
Technical Advantages of Vertical Dipping and Vertical Flap Drying Condom Equipment:
Adopting advanced three-step impregnation process technology, advanced process layout, and diversified process production adjustment.
The ammonia water swelling process is canceled and the longer alkaline water tank design is changed to achieve the effect of swelling and leaching, which is environmentally friendly and economical.
The template is made of 304 stainless steel, the whole chain is driven by three hosts, and the frequency conversion speed control is used to make the equipment run smoothly.
The whole machine is the ceiling made of a stainless steel plate and sealed with plastic steel.
The equipment has been fully, effectively, and reliably designed to prevent head bubbles, backflow, crooked necks, curling, pinholes, etc.
It can produce all kinds of ordinary and special-shaped condoms such as smooth, granular, threaded, and colorful condoms.
All rubber materials used in production are pressure conveyed by fully enclosed stainless steel pipelines.
Energy-saving design of the film drying structure, which consumes 19.5kg of standard coal per 10,000 condoms.
De-filming with clean water and continuous pickling to fully ensure the cleanliness of molds and equipment.
Mix powder on the machine, dehydrate, and directly dry after vulcanization, making the production operation more energy-saving and simpler.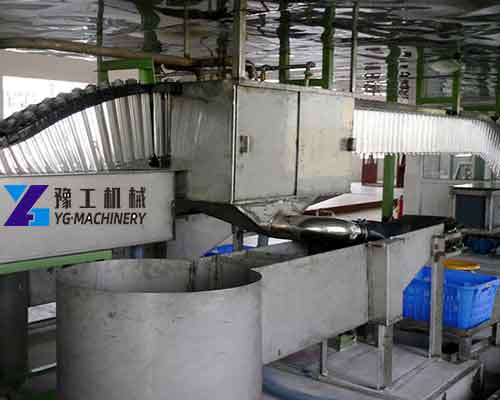 Automatic Latex Condom Making Machine Features:
The automatic design is completely according to the chemical capability of raw material and condom molding craftwork, compact facility flow.
According to the theory of hot air moving up, the oven adopts a tunnel drying way to reclaim the hot wind by circulating a mixture that gets the best effect at the minimum power.
Utilize the effective heating space and the hot-wind circulation theory to reduce the cost; multi PID intelligent controlled temperature systems make the error cannot exceed ±5, even heated and good brightness.
High output, special union joint design, easy to replace the mold, pick up the circular speed.
An automatic vibrant drip or uniform latex system makes gloves excellent and has a uniform thickness.
Adopt the special fire-resistant chain; pick up yield speed, and advanced output.
Condom Making Machine Manufacturer – YG Machinery
As a custom production factory, we also can custom produce it to clients' own needs, such as if you want a large-scale production ability, we also can produce the more length dipping line for you, which needs more time. such as a normal factory capacity is 20 million pcs annually. let us know your budget and your demand, we can custom work for you. Furthermore, we design, develop and build turnkey condom factories for our customers, including all the condom machines, production know-how technology, and training programs required for the management and employees.
In addition, we also have glove making machines, balloon making machines, wet tissue machines, diaper making machines, sanity napkin making machines, disposable cup making machines, paper bowl making machines, paper dish making machines, paper straw making machines, paper carton erecting machines, aluminium foil container machines,  lunch boxes making machines, woven bag production lines, paper tea cup printing machines, egg tray making machines, ultrasonic quilting machines, paper bag making machines, etc. Please contact us to know more about machines!【WhatsApp/WeChat/Phone/Skype】+86 136 1385 6800