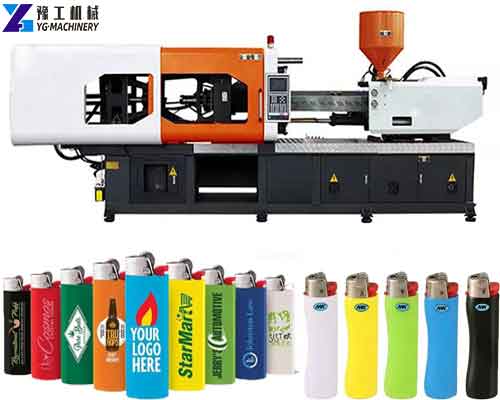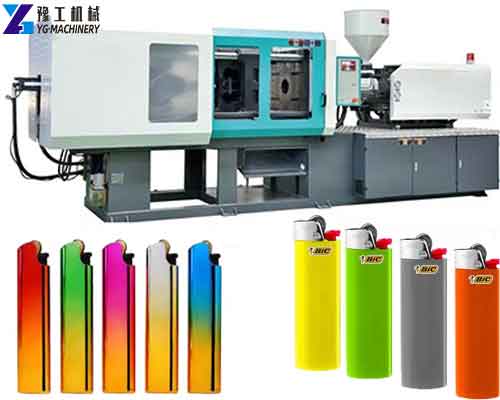 A lighter is a small fire-making device. They are mainly used for making fires, smoking, cooking, and other fires. The main components of the lighter are the ignition mechanism and the gas storage box. When the ignition mechanism operates, sparks are emitted into the gas area to ignite the gas. The ignition mechanism is the most active part in the evolution of the lighter, and it is also the part with a more complex structure. These are all essential products in daily life and, of course, are in great demand. Please contact us if you have an idea to invest in lighter making machine.【WhatsApp/WeChat/Phone/Skype】+86 136 1385 6800

Lighter Making Machine Parameter:
YG218
Unit
A
B
C

INJECTION UNIT

SCREW DIAMETER
mm
45
50
55
SCREW L/D RATIO
L/D
24.4
22
20
SHOT VOLUME(THEORETICAL)
cm3
460
569
688
INJECTION PRESSURE
Mpa
227.5
184.3
152.3
SCREW SPEED
rpm
180
SHOT WEIGHT(THEORETICAL)(PET)
g
514
635
767
SHOT WEIGHT(THEORETICAL)(PS)
oz
14.78
18.27
22.11

CLAMPING UNIT

CLAMPING FORCE
Kn
2180
OPEN STROKE
mm
500
SPACE BETWEEN TIE BARS(W*H)
mm
510*510
MAX.MOULD HEIGHT
mm
530
MIN.MOULD HEIGHT
mm
200
EJECTOR STROKE
mm
150
EJECTOR FORCE
Kn
70
EJECTOR NUMBER
8+1
DIE HOLE DIAMETER
mm
160

OTHERS

SYSTEM PRESSURE
Mpa
16
MOTOR POWER
Kw
18.5
HEATING POWER
Kw
16.3
OIL TANK CUBAGE
L
230
MACHINE WEIGHT
Ton
7
BOUNDARY DIMENSION(L*W*H)
m
6*1.47*2.2
SERVO DRIVER CAPACITY
Kw
22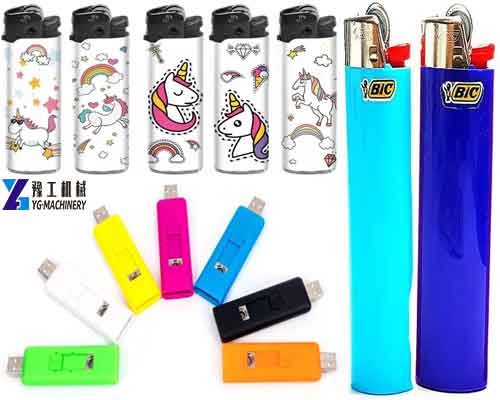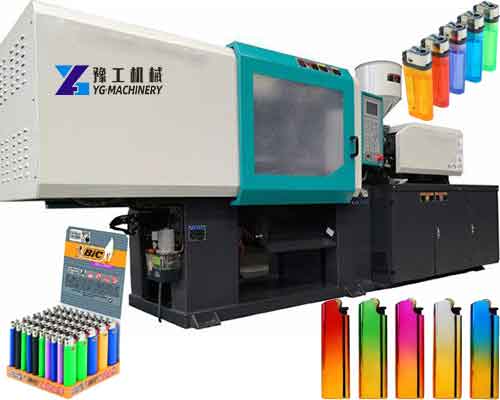 Why Buy YG
Advantages of YG Lighter Making Machine:
The new generation mold locking device and computer emulation optimized parameter make motions of the moving plate, fixed plate, and high rigidity toggle structure, the characteristic of high strength and anti-fatigue is secured. Compared with similar machines, it owns a bigger internal spur between tie bars, mold space, and mold opening stroke and may process plastic products of a bigger size.
A short and forceful double-cylinder injection system ensures steady injection motion. The strain-free fixed mold plate and screw assembly with optimized design help to reach better plasticizing capacity and effect. PID temperature control regulates the speed and pressure of injection, pressure keeping, smelting, back pressure, and other motions to ensure the quality of formed products and the continuation of production. Auto material preparation, drooling proof, and anti-cold start lapse functions ensure highly efficient, simple, and safe operations.
High efficiency, Energy-saving, and highly precise proportional pressure and flow variable displacement pump system make the hydraulic system match the required power for the entire machine operation without loss of high-pressure throttle and overflow energy. Compared to a constant displacement pump, t saves power by 30%~60%. A motor with the same power may be fitted with an oil pump of bigger displacement and thus accelerates the speed of the machine. Besides, the low oil temperature will prolong the service life of sealing elements.
Buffer device is used in every mold opening and clamping oil way to ensure steady mold opening and clamping operation without any impact. Besides, differential mold clamping operation is fitted to ensure high production efficiency.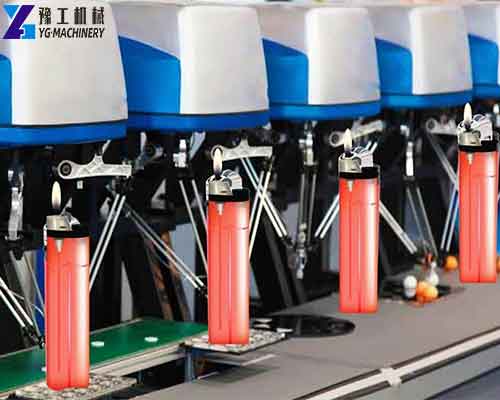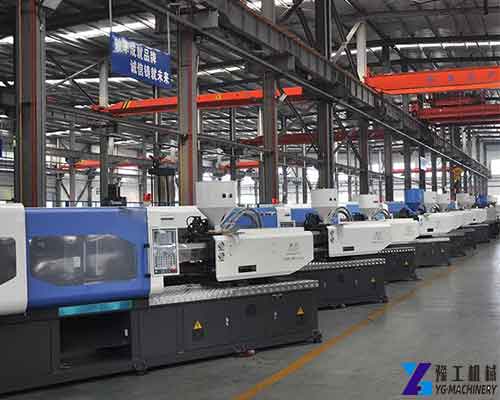 Lighter Making Machine Price – YG Machinery Manufacturer
YG Machinery is a China famous manufacturer. In terms of designing the machine, it is very advanced, and the machine is stable and looks good. And has a perfect after-sales system, which supplies all kinds of machinery, injection molding machines, PET bottle blowing machines, cast film machines, plastic bag making machines, disposable cup making machines, lunch box making machines, aluminum foil container making machines, egg-tray making machines, shoe cover making machines, surgical cap making machines, disposable slipper machines, soap making machines, balloon making machines, condom making machines, glove making machines, etc.【WhatsApp/WeChat/Phone/Skype】+86 136 1385 6800