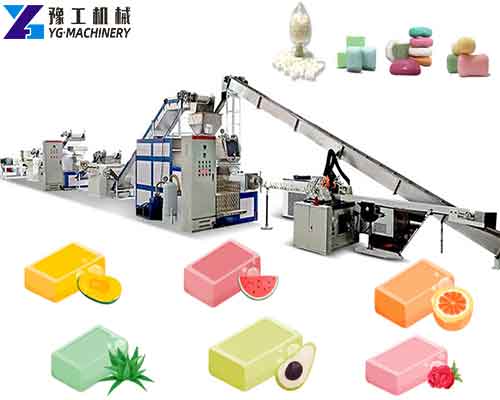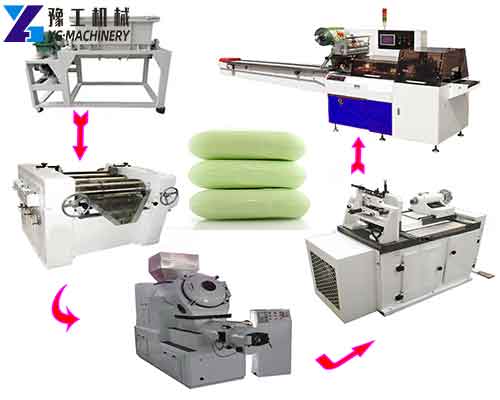 Soap, a surfactant used in personal cleansing products, usually comes in the form of a solid block. The more lather, the better the decontamination effect. I believe that everyone is familiar with soap. In our daily life, we also use it to wash clothes in addition to washing our faces and bathing. With the progress of production technology and the continuous improvement of people's quality of life, people not only require soap to have the function of decontamination, but also put forward different requirements for the color and fragrance of soap, so soap begins to be added with fragrances and colorants, and even It also increases the effect of nourishing the skin and lasting fragrance. Soap is a daily necessity, and the amount is very large, so it is a good choice to invest in a small soap making machine.  【WhatsApp/WeChat/Phone/Skype】+86 136 1385 6800
Soap Production Line Parameter:
The equipment of YG Machinery can reach 500kg-6000kg. And the equipment can be customized according to customer requirements.
 Equipment
 No.
 Model
 Capacity
 Volt/Freq

Work Platform

1
YG01
nil
nil
 Material Mixer
2
YGB50
100-300kg/h
380V/50Hz
YGB100
300-500kg/h
380V/51Hz
YGB200
500-1000kg/h
380V/52Hz

Three-roll Grinder

3
YGM65-30
30kg/H
380V/50Hz
YGM100-50
50kg/H
380V/50Hz
YGM150-80
80kg/H
380V/50Hz
YGM200-150
150kg/H
380V/50Hz
YGM260-500
500kg/H
380V/50Hz
YGM315-600
600kg/H
380V/50Hz
YGM405-850
850kg/H
380V/50Hz
YGM405+1000
1000kg/H
380V/50Hz
Semi-finished Product Conveyor
4
YGSS01
nil
380V/50Hz
Freezer
5
YGLD01
nil
380V/50Hz
Vacuum Plodder
6
YGT100A
100kg/H
380V/50Hz
YGT300A
300kg/H, carbon steel
380V/50Hz
YGT300B
300kg/H, stainless steel
380V/50Hz
YGT500A
500kg/H, carbon steel
380V/50Hz
YGT500B
500kg/H, stainless steel
380V/50Hz
YGT1000A
1000kg/H, carbon steel
380V/50Hz
YGT1000B
1000kg/H, stainless steel
380V/50Hz
Vacuum Pump
7
YGKB01
nil
380V/50Hz
Cutting Machine
8
YGK01
manual dicing
380V/50Hz
YGK02
pneumatic dicing
380V/50Hz
YGK03
electronic dicing
380V/50Hz
 Soap Printer
9
YGY01
semi-automatic
380V/50Hz
YGY02
fully automatic one-on-one
380V/50Hz
YGY03
fully automatic one-on-three
380V/50Hz
Finished Product Conveyor
10
YGS06
nil
380V/50Hz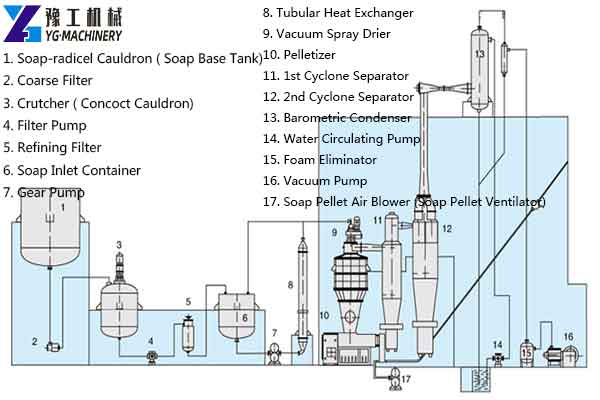 YG Soap Making Machine Main Features and Advantages:
Microcomputer control, automatic straightening, automatic fixed-length, automatic cutting.
Very easy operation.
Multiple batches of simultaneous input length and quantity, computer storage memory.
Hydraulic (double tube double knife) cut off, no card cutter, more precise and quieter.
Smooth operation, low failure rate, easy maintenance, and cheap accessories.
Soap Production Process?
The technological process of soap production includes refining, saponification, salting out, washing, and alkali precipitation before it can be produced into soap.
1. Refining: The purpose is to remove impurities in the oil. The refining process includes degumming and deacidification and decolorization. Degumming is the removal of colloids such as phospholipids in oil. The colloids such as phospholipids can be hydrated with water and then precipitated out. This method is called the hydration method. Concentrated sulfuric acid can also be used to carbonize and precipitate phospholipids and similar impurities. This method is called acidification.
2. Saponification: After the oil is refined, it undergoes a saponification reaction with an alkali. The main saponification method is the boiling method. The soap pot is cylindrical or square. The soap pot is not only equipped with pipelines for oil, lye, water, brine, etc., but also direct steam or steam coils, in order to introduce steam and stir the soap material.
3. Salting out: In the closed soap material, add salt or saturated brine to separate the soap from the dilute glycerin water. After the closed soap gel is salted out, the upper layer of soap is called soap particles, and the lower layer of salted glycerin water is discharged from the bottom of the soap pot to recover glycerin.
4. Washing: After separating the waste liquid, add water and steam to boil the soap granules to make them form the separated state into a uniform soap glue, and wash out the residual glycerin, pigment, and impurities.
5. Alkali precipitation: The glycerin, salt, pigment, and impurities in the soap particles are further washed out by alkali precipitation, which can completely saponify the residual oil in the soap particles. The lowest concentration of alkali at which the alkali precipitation water is completely precipitated is called the alkali precipitation water limit concentration. The upper layer is pure soap base and the lower layer is soap stock. Soap stock is dark in color and has many impurities, and is generally reused in the next alkali precipitation.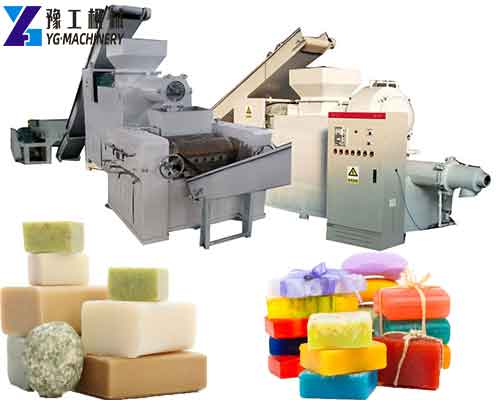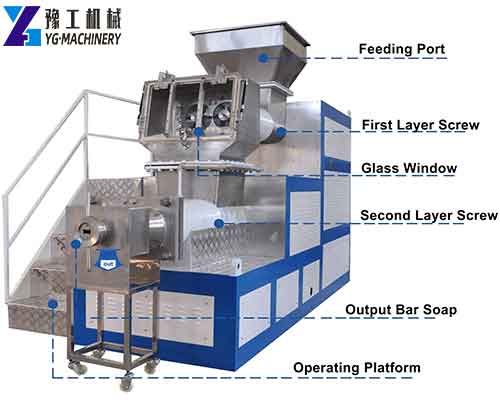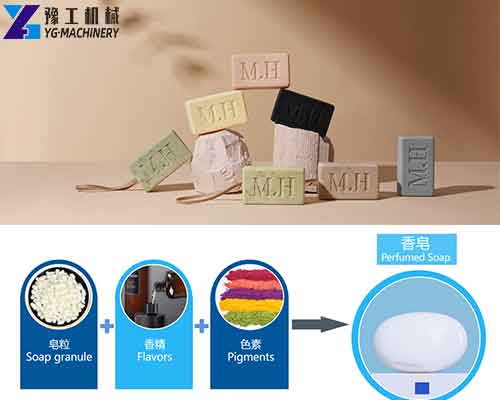 Benefits of Washing Hands with Soap:
Handwashing is a cornerstone of public health, and new hygiene behaviors and public health services were a major factor in the rapid decline in infectious disease mortality in rich countries at the end of the 19th century. Along with fecal isolation and safe disposal, and the provision of sufficient purified water, hand washing with soap or hand sanitizer is one of the most effective ways to prevent diarrhoeal disease (cutting infection rates by half), and it is also the cheapest. In addition, washing hands with soap can limit the spread of respiratory diseases (reduce infection rates by a quarter). Also, washing your hands with soap or hand sanitizer is a strong barrier against other diseases (eg, worms, eye infections such as trachoma, and skin infections such as impetigo).
Application of Soap:
Soap has a wide range of uses, in addition to the familiar washing of clothes, it is also widely used in the textile industry. Usually, the sodium salt of higher fatty acid is used the most, which is generally called hard soap; Its potassium salt is called soft soap, which is mostly used for shampooing and shaving. Its ammonium salt is often used to make vanishing cream.
Why Choose YG Small Soap Making Machine?
The company has formed a complete set of equipment and devices for 500kg-6000kg continuous saponification, refined granulation, vacuum drying, pneumatic conveying, soap powder collection, refined grinding, printing, and other processes to the market, as well as the supply of supporting auxiliary machines. The laundry soap production line included a mixer, three roll mill machines, a refiner machine, a plodder machine, and a cutting machine. All products of the company are unique series, and it is an enterprise that can provide machinery and equipment for the whole process of soap making. Choose YG, you will never regret it.
In addition, we also have other machinery, wet wipe machines, tissue making machines, disposable cup making machines, lunch box making machines, aluminum foil container machines, paper bag making machines, garbage bag making machines, cast film machines, balloon making machines, condom making machines, disposable slipper machines, shoe cover making machines, surgical cap making machines, sanitary napkin making machines, diaper making machines, etc. Contact us to know more about machines.【WhatsApp/WeChat/Phone/Skype】+86 136 1385 6800