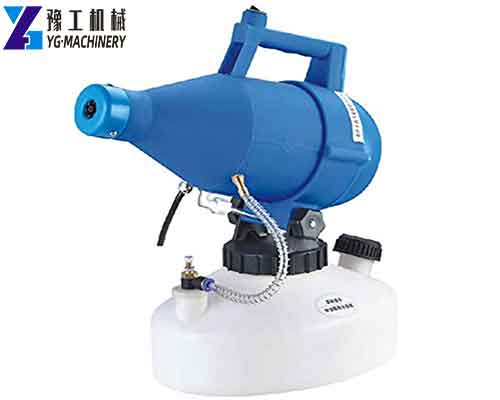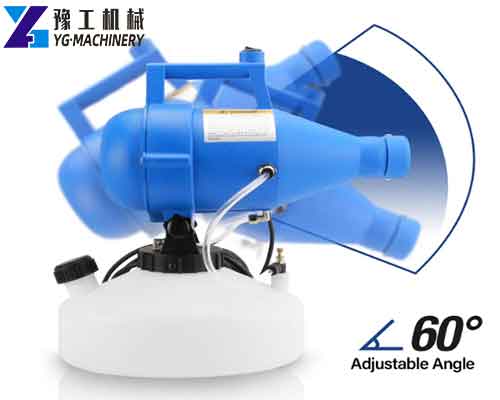 The disinfectant sprayer machine is sterilization equipment that can be widely used, and it is very popular in the market. The special design of the disinfection machine produced by our company enables the chemical agents to be sprayed with ultra-fine particles, which can accurately control the flow rate, effectively save the cost of expensive drugs and reduce pollution, especially when using high-concentration undiluted drugs. Suitable for all kinds of chemical agents such as insecticides, disinfectants, bactericides, deodorants, herbicides, and other water-soluble chemicals. We have several types of disinfectant sprayers with different capacities. Of course, we also have backpack-type electrostatic sprayers, household fog smoke sprayers, face mask making machines, meltblown production lines, industrial oxygen generators, PSA nitrogen generators, cryogenic air separation plants, wet wipes machines, shoes cover making machines, disinfection tunnels, intelligent disinfection doors, and fabric rewinder machines. If you need it, please contact us.【WhatsApp/Wechat/Phone/Skype】+86 136 1385 6800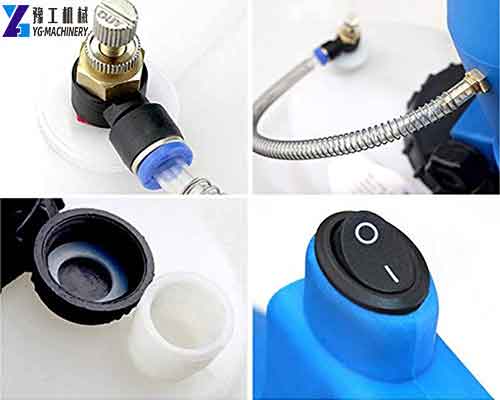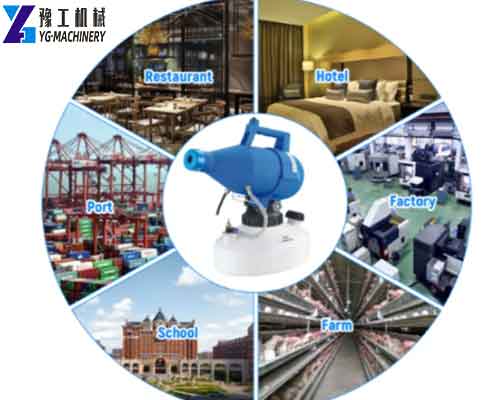 4.5L ULV Electric Portable Sprayer
| | |
| --- | --- |
| Name | Portable Ultra-low Capacity Nebulizer |
| Rated Power | 1200W |
| The capacity of the Kit | 4.5L |
| Spraying range in static wind | 8-10Meters |
| Spraying Rate | 150-260ml/Min |
| Wire Length | 7meters |
| GW | 3.6kg |
| NW | 2.9kg |
| Product Size | 42*21*41cm |
| Package Size | 39*22.5*43cm |
4.5L ULV Electric Portable Sprayer Feature:
Make Your Large Area Disinfect Effortlessly within Minutes. Unlike traditional ulv foggers, our disinfectant fogger machine contains up to 2x more power and mist volume, making it extremely effective to use. You can spray an 8-10m area with this handheld sprayer.
Convenient to operate. The disinfectant spray machine is extremely lightweight and easy to operate. Simply hold the sprayer in your hands and spray away!
Comfort to Carry. The curved handlebar helps diffuse the overall weight of the house fogger, making it easy to hold.
Adjustable. Along with a fully adjustable spray rate, our fogger machine lets you adjust the spray distance as well! Plus, the fog particles can be changed anywhere from 0 to 50 microns.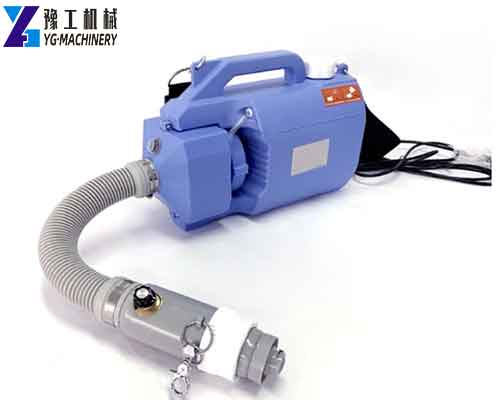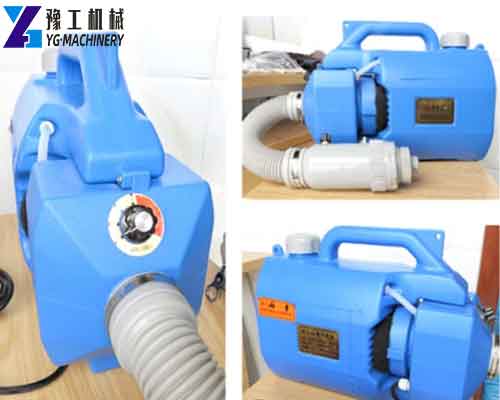 5L ULV Disinfectant Sprayer Machine
| | |
| --- | --- |
| Name | Disinfectant Sprayer Machine |
| Rated Power | 800W |
| The capacity of the Kit | 5L |
| Spraying range in static wind | 6-8 Meters |
| Spraying Rate | 400ml/Min |
| Fog Particles | 10-150μm(adjustable) |
5L ULV Disinfectant Sprayer Feature:
Ultra-low Capacity Sprayer. Using the principle of air atomization and negative pressure adsorption, the spray solvent is sprayed out with high speed and very fine particles.
Adjustable Fog Volume. By changing the nozzle with different aperture, the size of droplets can be controlled to adapt to different occasions and applications
Corrosion-Free Material. The chemical liquid pipeline is made of silicone, which is resistant to corrosion, high and low temperatures, and is not easy to age.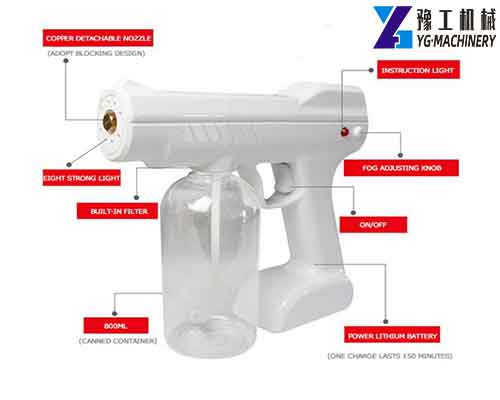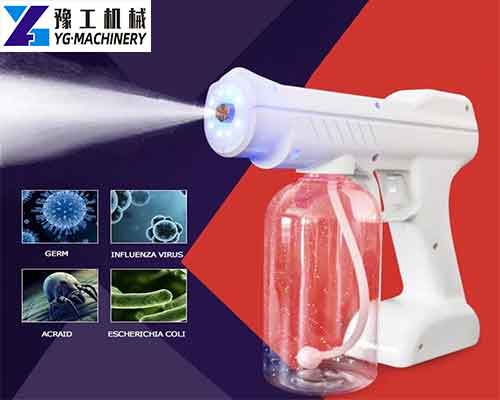 UV Handheld Disinfecting Gun
| | |
| --- | --- |
| Name | UV Handheld Disinfecting Gun |
| Rated Power | 1200W |
| Operating Voltage | 220V |
| Material | ABS |
| Normal Color | White |
| GW | 1.52kg |
| Product Size | 285*245*67mm |
| Power Cord Length | 230mm |
Disinfecting Gun Using Area:
Applying herbicides, pesticides, insecticides, and other chemicals.
Disinfection of buildings, hotels, hospitals, bedrooms, bathrooms, roof cavities
Disinfection of horse stables, farms, sheds & barns, and factories.
Mosquito and insect control.
Sanitizing, disinfecting, and cleaning.
Spraying livestock.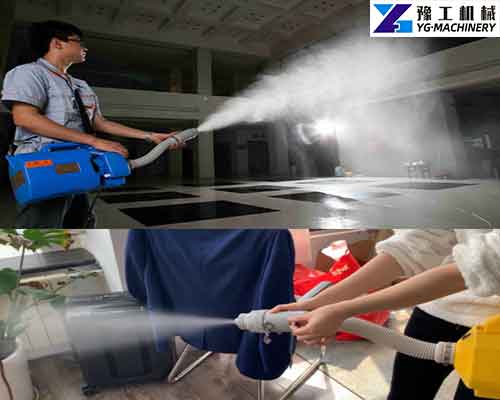 Application Range of Sprayer:
Disinfect:
Food processing plants.
Cargo transportation (ship, aircraft, container).
Medicine packaging workshop.
Hospital.
School, infant daycare center.
Pet Hospital, veterinary clinic.
Family, business club.
Remove Odor:
Remove smoke from hotels and conference rooms.
Garbage passage for apartments and high-rise buildings.
Garbage disposal site and garbage transfer station.
Fertilizer production plant.
Store Disinfection:
Use an ultra-low volume (ULV) sprayer to spray, because it sprays a large number of dense and fine droplets of chemical liquid droplets, the diameter of the liquid droplets is small, and the droplets are suspended in the air for a long time, which has a continuous effect on the germs and pests in the air. The killing effect, at the same time, has a humidifying effect on the air.
Factory Disinfection:
The sprayer emitted by the hot smoke machine has good diffusion and strong penetration and will enter the walls of the warehouse, the gaps in the underground, and the cracks in the packing box. Where there is air in the warehouse, the smoke of the liquid medicine will diffuse and penetrate, completely killing the latent Pests and pathogenic microorganisms in any corners and gaps in the warehouse.