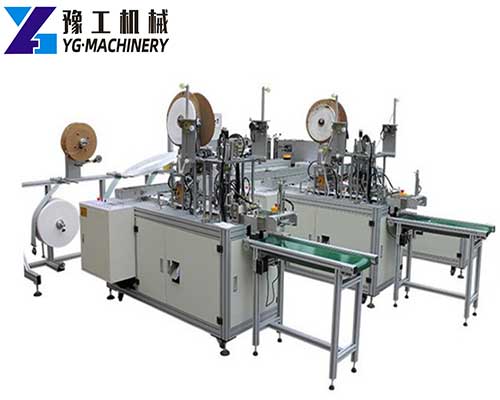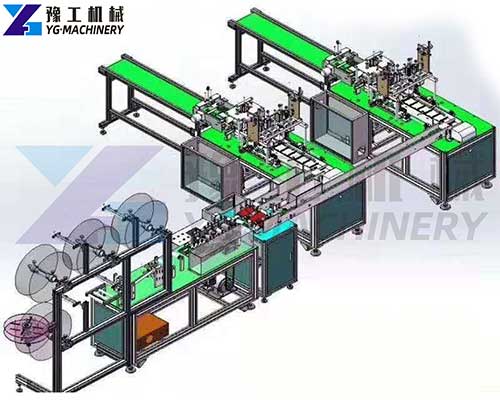 As the global epidemic intensifies, the world is now building a large number of new mask production lines to solve the shortage of masks. The face mask making machine is a multi-layer non-woven fabric made by hot pressing, folding forming, ultrasonic welding, scrap removal, ear strap bridge welding, and other processes to produce various masks with certain filtering performances. The mask equipment is not a single machine, it requires the cooperation of multiple machines to complete various processes. The more popular mask equipment in the market includes a cup-shaped mask machine, a non-woven flat mask machine, an N95 mask machine, a 3M9001/9002 folding mask machine, a duckbill mask machine, a three-dimensional dust mask machine, etc.
Our mask making machine is fully automatic and semi-automatic. The semi-automatic mask machine can be purchased separately from the slice forming machine, cutting mask machine, earloop welding machine, ultrasonic sealing machine, etc., which can use more labor to improve production efficiency.
Of course, our company also sells masks, protective clothing, protective gloves, infrared thermometers, and other personal protective equipment. To facilitate future work, we have also developed disinfection channels and fog sprayers, handheld spray guns, which can be widely used in offices and roads. If you want to make your own mask and sell it, you can use our mask machine. we also have melt-blown cloth machines, glove making machines, shoe cover making machines, wet tissue machines, balloon making machines, tissue making machines, etc.  If you need it, please contact us as soon as possible.【WhatsApp/WeChat/Skype/Phone】+86 136 1385 6800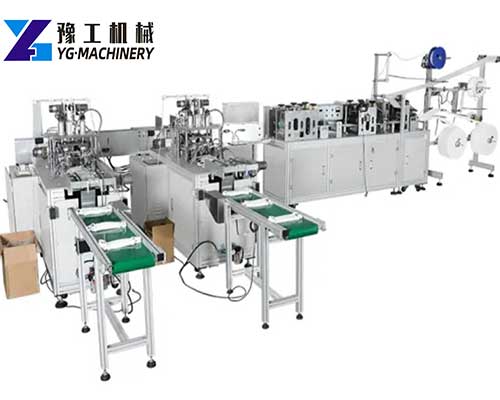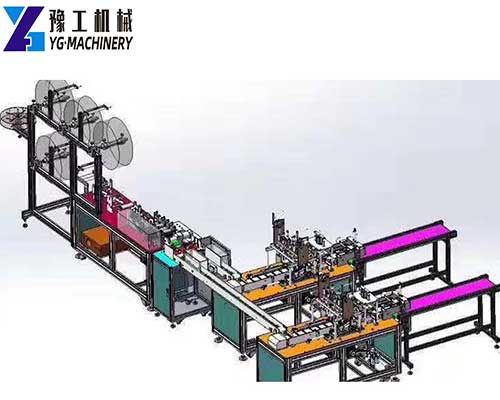 Face Mask Making Machine Parameter:
| | |
| --- | --- |
| Product name | Fully Automatic Disposable Earloop Mask Making Machine |
| Machine size | 5700*3600*1800mm |
| Machine weight | 1900Kg |
| Voltage | AC220V ±5% 50/60HZ |
| Operation ratio | 99% |
| Yield | ≥98%( Not including the raw materials for undesirable and misoperation) |
| Operating environment | A clean and tidy environment without corrosive gas and harmful dust,degree0°~40° |
Disposable Mask Making Machine for Sale
One-to-two flat mask equipment is the special equipment for the production of disposable flat masks. It consists of 1 body machine and 2 ear band welding machines. It can automatically complete the mask body molding, automatic nose bridge reinforcement, and automatic ear band welding. The unique design not only improves production efficiency but also reduces labor costs. Nose line insertion, edge banding, and cutting of finished products are automatically automated, requiring only one person to operate. The equipment adopts ultrasonic welding methods with beautiful style, sanitation, and environmental protection. The ear-band flat masks produced by the automatic one-drag two-plane mask machine have clear and comfortable, have no pressure, good filtering effect, fit the human face, and can be applied to medical, electronics, construction, and other industries.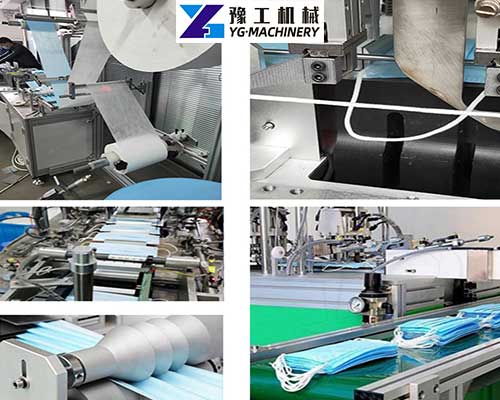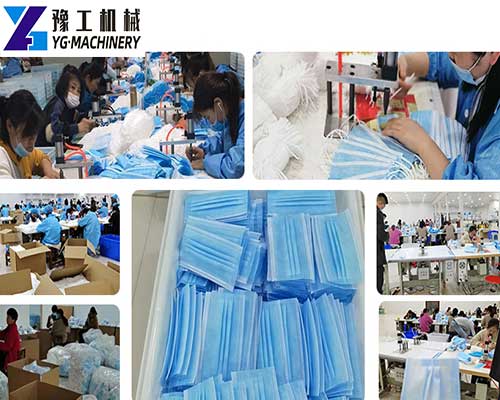 Work Flow:
(mask body)manual feeding→automatic band feeding→ultrasonic earband welding→nonwoven fabric sideband feeding and wrapping→ultrasonic sideband welding→sideband cutting→finished product output→counting→finished product stacking→conveying with device
Disposable Mask Making Machine Features:
The whole machine is automatic operation from material feeding, nose line insertion, edge banding, and cutting of finished products, it only needs one person to operate.
Computer PLC programming control, servo motor drive, and a high degree of automation.
Automatic tension control of raw materials to ensure the balance of raw material tension.
The frame structure is made of aluminum alloy, which is not rusty, durable, easy to clean, and beautiful.
High stability, low failure rate, beautiful and solid without rust.
Photoelectric (optical fiber) testing materials to reduce errors and waste.
The mold can be replaced for children or adults, other models ( standard adult models), for children, need to be customized.
Types of masks: one to three layers of masks can be produced.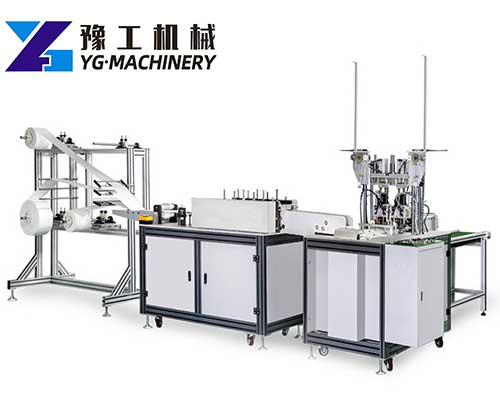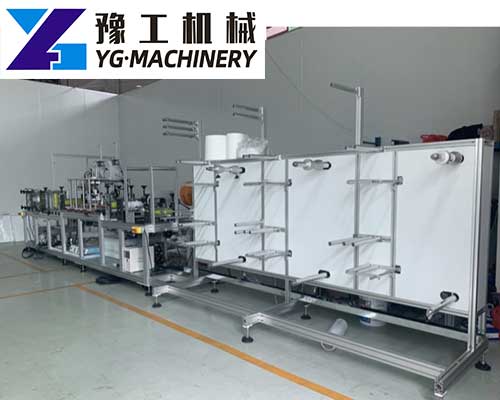 N95 Face Mask Making Machine
Full automatic N95 mask machine with advanced program control to complete automated production, from raw material with 3~4 layers, to automatically complete the operation, including automatic printing, nose bridge strips, folding molding, and welding ear strap; the equipment feeding via servo, special positioning system with the perfect cooperation of each production station, to produce high-quality folding masks. The mold can be adjusted according to the requirement, to produce different types of folding masks.
N95 Mask Making Machine Parameter:
N95 Face Mask Making Machine

Fold symmetry
2 mm
Stable production capacity
45-60 pcs/min
Air pressure
0.6-0.8 Mpa
Motor power
1.5 kW
Rated power
12 kW
Machine size
8500*1500*700 mm
Face mask type
Built-in nose bridge
Machine weight
2350 kg
Feature of N95 Mask Making Machine:
High performance, low failure rate, beautiful, firm, no rust.
Computer PLC programming control, servo drive, a high degree of automatic.
Photoelectric detection of raw materials to avoid errors and reduce waste.
This machine is an automatic folding mask all-in-one machine, including automatic raw material transportation; automatic transportation, cutting off the bridge of the nose bridge, welding of the edge of the mask, folding, ultrasonic fusion, molding, and cutting.
How to Buy a Mask Making Machine?
In modern society, due to the continuous deterioration of the natural environment and the enhancement of people's awareness of protection, the market demand for disposable medical masks and protective masks is constantly expanding. Many customers are keenly aware of this business opportunity and want to get involved in the industry of mask production. However, in view of the unfamiliarity with the mask production process, the purchase of mask raw materials, the selection of mask machine manufacturers, the planning of mask production workshops, the industry standards for mask production, etc., when inquiring and consulting relevant information and making relevant budgets, it seems blind and confused. The following are some common sense introductions to the ultrasonic mask machine to help customers who are ready to show their talents in the mask production industry to shine a little twilight in the mist and know the direction:
First of all: masks are simply divided into flat masks and three-dimensional masks in appearance. Flat masks are mostly used in the medical industry, and three-dimensional masks are mostly used for daily protection. This article is mainly for the purchase of an ultrasonic plane mask machine ( ultrasonic medical mask machine).
Secondly: the plane mask machine series can be divided into the inner ear band mask machine production line, outer ear band mask machine production line, and strap mask machine production line according to the different welding methods and usage methods of ear bands.