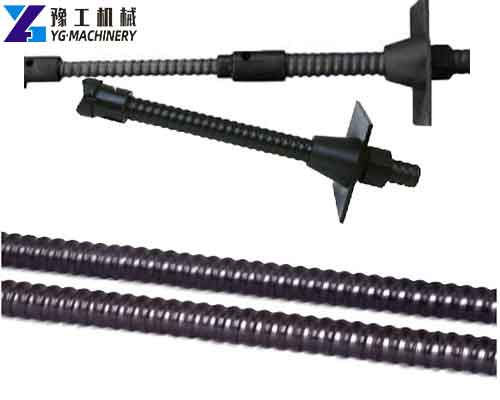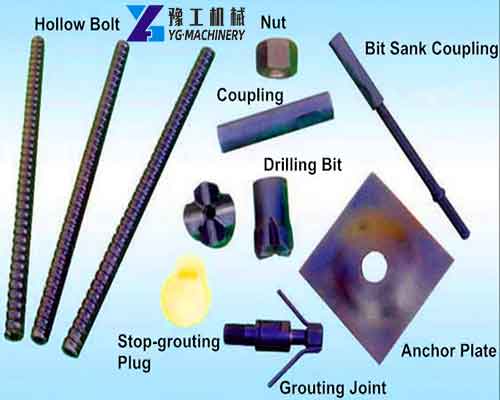 A hollow grouting anchor is a kind of hollow anchor. The bolt is threaded throughout the body. It is connected with a sleeve and is long. A disposable drill is installed at the front end. Hollow grouting anchor technology, as a technologically and economically superior technical means, is more and more widely used in various engineering fields. At present, it is not only widely used in major coal-producing countries in the world, but also popularized and applied to metallurgy, water conservancy, hydropower, railways and highways, and military and construction projects. In addition, we also have shotcrete machines, grouting pumps, mortar sprayers, fog cannons, hydroseeding machines, mini concrete pumps, sandblasting machines, etc. Contact us to know more.【Whatsapp/Wechat/Phone/Skype】+86 136 1385 6800
Hollow Grouting Anchor Product Parameter:
Product
Specifications and Models
Performance Index
Weight
Unit
 AnchorHollow
25*2.6mm
180KN
1.45
m
25*3.5mm
180KN,16%

or 153KN 21%

1.82
25*4.5mm
193KN,21%
2.27
25*5.2mm Iron standard
193KN,21%

TB/B 3209-2008

2.4
25*7.1mm Iron standard
193KN,21%

TB/B 3209-2008

3.04
30*3.5mm
192KN,21%
2.28
30*5.2mm Iron standard
192KN,21%

TB/B 3209-2008

3.04
32*4.2mm
240KN,10%
2.75
32*6.3mm Iron standard
240KN,21%

TB/B 3209-2008

3.8
Rebar
22
172KN,17%
2.87
25
223KN,17%
3.75
Plate
100*4
0.24
each
120*4
0.35
150*4
0.55
150*6
0.88
Nut
25
0.13
30
0.2
32
0.25
Stopper
25,30,32 Plastic
0.03
Anchor Head
25,30,32 Plastic
0.03
25 Expending-shell  ( iron )
0.65
25 Expending-shell  (steel )
0.7
32 Expending-shell ( iron )
0.95
Drill Bit
25 Cross
0.3
25 Ball gear
0.4
32 Cross
0.4
32 Ball gear
0.48
Coupling
22/25
0.25
22/30
0.25
25/25
0.25
25/32
0.3
32/32
0.55
Bit Sank Coupling
25,32
2.7
set
Grouting Joint
25
1.55
each
30
1.5
32
1.45
Escape-pipe
Internal diameter 6mm
0.05
m
Plug Head
30
0.05
each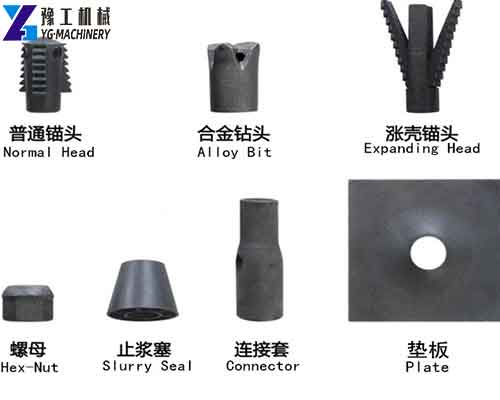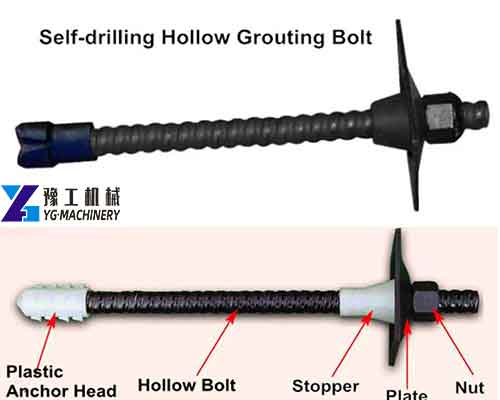 Application of YG Hollow Anchor:
Mainly used in highway, railway, tunnel advanced support, slope support, foundation pit support, and other good geological conditions of the surrounding rock system support, after drilling with a rock drill to the design depth of the anchor, the anchor will retreat the anchor body is mounted on the head, placed in the hole, and then grouting can be used to consolidate the broken rock body, improve the rock body, cut off the groundwater and the rod body to prevent corrosion, thereby achieving a good support purpose.
Hollow Bolt Features:
Hollow design, realize the function of grouting.
Grouting is full and pressure grouting can be achieved.
The rod body is well centered, and the mortar can wrap the full length of the anchor body to avoid the possibility of corrosion and achieve the purpose of long-term support.
Easy installation, without the need to process the thread on-site, it can easily install the pad and nut.
The upward exhaust anchor heads us adopted to completely solve the problem of exhausting the hollow anchor rod above the horizontal line.
Working Principle of Hollow Grouting Anchor:
The technical principle of the hollow grouting anchor is that one end of the prestressed anchor is connected to the rock and soil or structure, and the other end is anchored in the rock and soil layer, and the prestress is applied to form an anchor system to support the rock and soil pressure. Water pressure, anti-floating, anti-overturning, and other structural tensile forces maintain the stability of rock and soil. By applying to prestress to the anchor rod, the deformation of the rock and soil body can be actively controlled, and the stress state of the rock and soil body can be adjusted, which is conducive to the stability of the rock and soil body. The required drilling diameter is small, no large machinery is needed, and the structure is light and reliable. The construction equipment is light, simple, and flexible, requires a small working surface, and the labor intensity of the workers is low; based on the use of mechanized operations, the process is simple, the construction is safe, and the relevant processes are easy to intersperse. Prepare a special construction plan before construction and make technical explanations. According to the design requirements of prestressed anchors, soil conditions, and environmental conditions. Reasonably select construction equipment, utensils, and process methods, and set up a work platform for facility workers.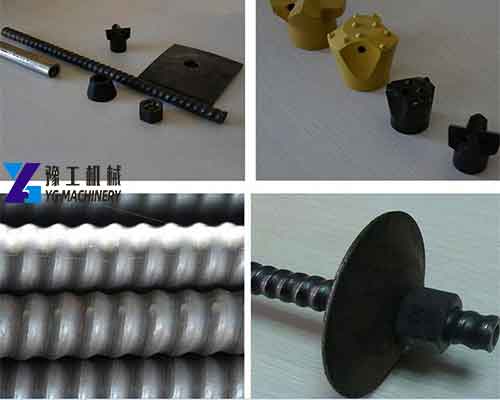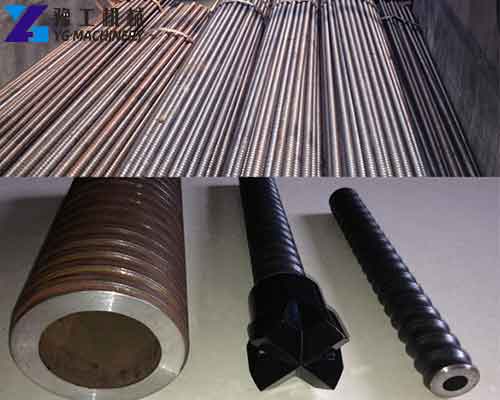 Hollow Grouting Anchor Advantages:
High construction efficiency: The self-drilling hollow prestressed anchor technology integrates drilling, grouting, and anchoring, and each construction process is completed in one process, which can save construction time.
It is suitable for startups that are difficult to form holes: in the case of relatively soft and broken surrounding rocks, it is generally difficult to form holes. Even if holes are formed, it is easy to collapse the holes, and it is difficult to penetrate other anchor rods or anchor cables in the holes. Drilling hollow anchor technology just avoids the shortcomings of conventional methods. After the drilling is completed, the rod body does not need to exit when left in the hole, so it is not afraid of collapsing the hole, saving the time of penetrating into other rod bodies, and reducing the construction difficulty.
Hollow grouting anchors are highly adaptable:self-drilling hollow anchors have full threaded bodies, which can be cut at any position to adapt to different construction conditions.
High anchoring force: the self-drilling hollow anchor rod body is a trapezoidal thread, which is firmly connected with the coupling sleeve, and has a good combination with the grouting body.
Hollow grouting anchor has a good anchoring effect: during grouting, since the grout is grouting from the bottom of the hole, the grouting is full, the compactness is good, and the grouting quality is good.
Hollow grouting anchor construction is simple and convenient: compared with conventional anchor construction, the procedures such as drilling start, installation of anchor rods, and installation of grouting pipes are reduced, and the construction is quick and simple.
Other Machinery for Sale in YG Machinery Manufacturer:
YG Machinery also sells other machinery, such as thermoplastic road marking machines, mini road roller machines, floor shot blasters, asphalt crack filler machines, floor grinder machines, floor scarifiers, concrete curb machines, trailer-mounted water well drilling rigs, rotary drilling rigs, horizontal directional drilling rigs, rebar straighten and cutting machines, rebar thread rolling machines, diaper making machines, disposable cup making machines, glove making machines, etc. Contact us now!【Whatsapp/Wechat/Phone/Skype】+8613613856800