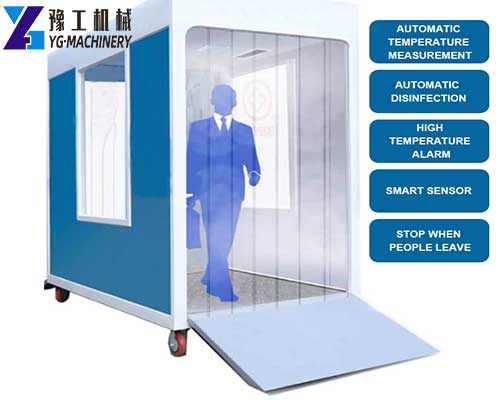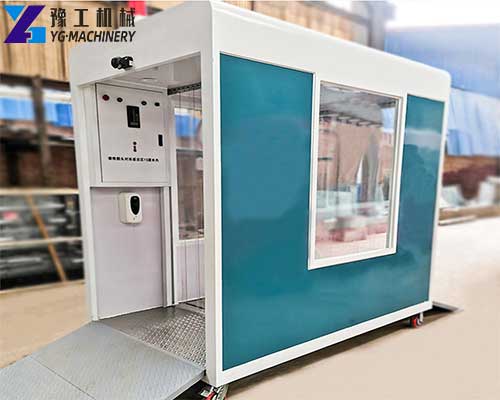 Since the coronal virus (COVID-19) occupies the agenda of the world and our country, many countries have outbreaks of the virus. There is no trend of improvement, we would like to introduce you to the disinfection tunnel in order to create a safer social and working space.
In the process of research and development, production, and sales, we have designed a product with advanced CE standards and medical product certification functions together with engineers and designer teams. It can be used for many years, and the disinfection door will not accumulate bacteria and prevent the growth of bacteria. Our products have attracted the attention of many countries and are designed for use in social facilities such as municipal facilities, public institutions and organizations, schools, private hospitals, factories, movie theaters, shopping centers, and hotels. Because we do not know how long the Covid-19 epidemic will last, and no other epidemic will occur during this process, the fact that your employees feel safer in the work area will have a positive impact on job performance. Our disinfection cabin can serve users for a long time. Our equipment minimizes the possibility of moving from one place to another. You can provide the solution to disinfectant products that the company needs to put in.
Disinfectants approved by the Ministry of Health should be used and damage to the eyes and eyes should be avoided. If you want to know more, please contact us as soon as possible.【WhatsApp/WeChat/Phone/Skype】+86 136 1385 6800
Note: If you use an appropriate disinfectant, it is not harmful to your health.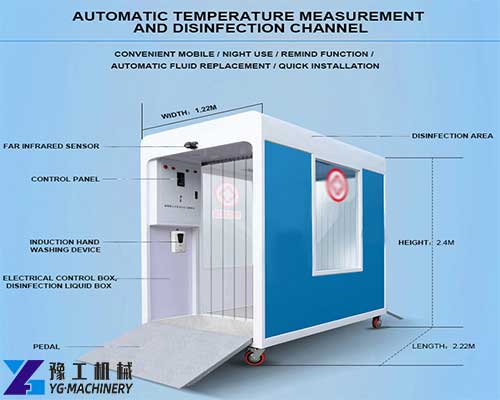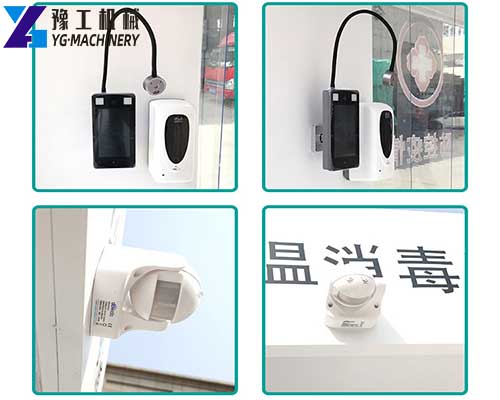 Disinfection Tunnel Parameter:
| | | | |
| --- | --- | --- | --- |
| Model | Spray disinfection temperature and disinfection | Spray channel length | 1460MM |
| Temperature measurement channel length | 640mm | Fog method | Ultrasonic atomization |
| Human induction method | Microwave detection | Inner size | 2.1*1.0*1.95M |
| Temperature location | Head or wrist(contactless) | Spray efficiency | 3-6kg/H |
| Outsize | 2.1*1.1*2.45M | Vol. | AV220V |
| Spectral range | 8-14um | Temp. collection distance | 10-20cm |
| Spray area protection | Anti-stick PYC curtain | Use noise | Less than 36dB |
| Power | 900w | Temperature collection time | 2s |
| Disinfectant capacity | 20L | Temp. display | Numbers |
| Use environment | 0-35 degree | Temp. collect range | 34-45 degree |
The disinfection tunnel is specially designed for body temperature detection and body disinfection of people in public areas.
Feature of Disinfection Chamber:
Stable control of disinfection level to ensure disinfection effect; Food grade disinfectant to ensure human safety.
Infrared human body temperature measurement, voice alarm; Automatic induction antivirus.
Automatic reminder function for cleaning and maintenance.
Disinfect the soles.
LCD Chinese display, far infrared remote control.
Adjustable three-speed air volume, equipped with magnetic channel lighting (easy to use at night).
The upper and lower slopes can be folded and disassembled with a Universal wheel with a brake function, easy to move.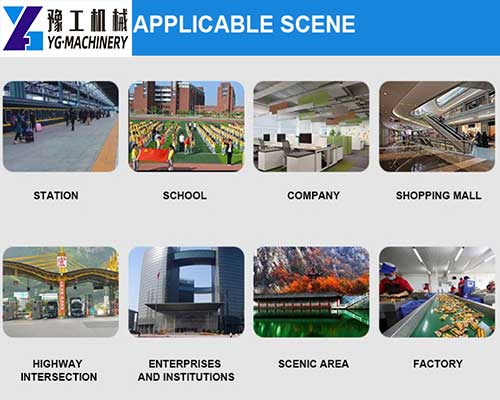 Application of the Disinfection Channel:
Widely used in hospitals, schools, communities, supermarkets, shopping malls, scenic spots, stations, airports,  factories, construction sites, exhibitions, KTV, and other places.
Station, school, company, shopping mall, highway intersection, enterprises and institutions, scenic area.
Personnel disinfection passages are mainly used for pedestrian passages in farms, epidemic prevention stations, slaughter plants, food factories, hospitals, and other places where high sanitation conditions are required.
Advantage of YG Disinfection Door:
The equipment uses the food-grade disinfectant to ensure the safety of personal application;
low operating cost, high disinfection, and sterilization, low risk, automatic detection of objects in and out of the channel, real-time display of operating status, equipped with casters and handles, which facilitates rapid mobile deployment during an emergency;
Beautiful shape, scientific design, and environmental protection, with a service life of 12 years.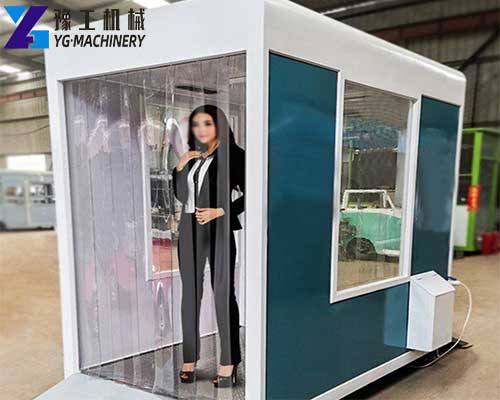 Disinfection Tunnel Functional Characteristics:
Automated disinfection: The whole process is completed automatically and intelligently, without the need for personnel to operate, saving effort and effort.
Disinfection of intelligent units: Automatic disinfection when entering the same channel, but no disinfection when going out.
Comprehensive disinfection: The mist drops are three-dimensionally wrapped around the object to be disinfected, realizing three-dimensional disinfection without dead ends.
Electronic lock function: Automatically forced disinfection can achieve the best disinfection effect.
Disinfection and comfort: Disinfection of outsiders is not uncomfortable and comfortable. Saving liquid medicine: Micro-mist disinfection fully saves the amount of liquid medicine used.
Durable: The equipment has a long service life, less maintenance, a safe and reliable system, and long-term benefit from an investment.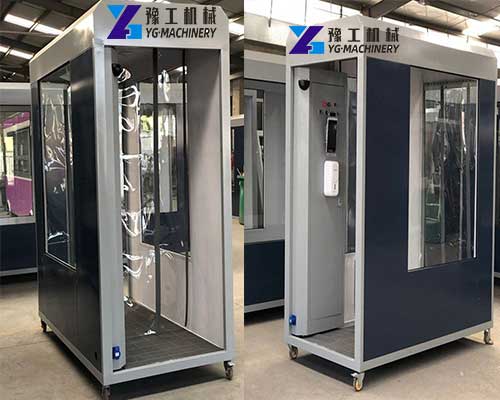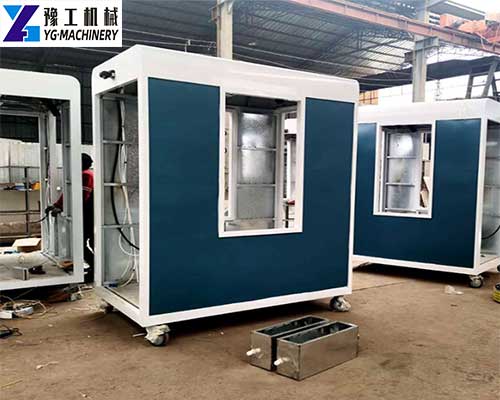 Disinfection Chamber Manufacturer – YG Machinery
Intelligent temperature inspection and disinfection tunnel, the equipment is integrated, intelligent, and removable. It is mainly used in public health emergencies. It can disinfect people or pets, goods, and other living organisms in public places. Harmless and pollution-free; non-contact body temperature detection of personnel can quickly, simply, safely, intuitively, and accurately determine whether the detection personnel have abnormal body temperature. In case of abnormal conditions, that is, the personnel temperature is higher than the set temperature, the channel will give a voice alarm and intercept the personnel.
China, Singapore, South Korea, and other countries have demonstrated the importance of combating this virus by disinfecting streets, buildings, cars, clothes, and smoke. Please contact us for detailed information, hope our disinfection door can take care of the health of your guests and employees. Now we also have other disinfection machines, such as electrostatic backpack sprayers, fog smoke machines, air disinfection machines, handheld spray guns, etc. In addition, wet tissue machines, industrial oxygen generators, home beer brewing machines, and face mask making machines are for sale in YG Machinery manufacturers. Welcome inquiry.【WhatsApp/WeChat/Phone/Skype】+86 136 1385 6800