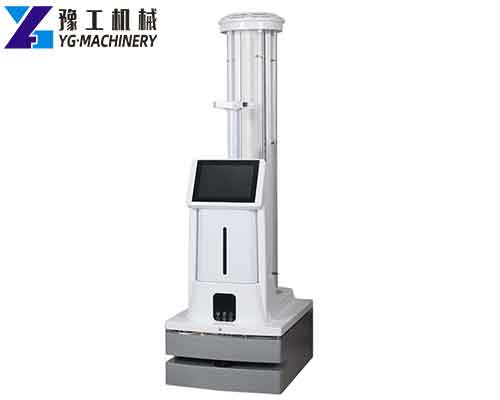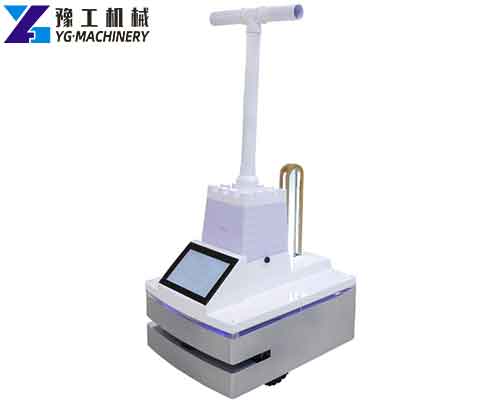 The smart UV sterilizer robot is a combination of a universal wheeled chassis and an ultraviolet sterilization lamp. It is suitable for shopping malls, homes, schools, office areas, and other places that can be blocked and sterilized on a relatively flat floor. The robot is equipped with lidar, it can realize the omnidirectional scanning and distance detection of the surrounding environment, and carry out planned disinfection and sterilization according to the obtained contour map, so as to prevent the human body from being adversely affected by close tracking contact. The robot is driven by high-density lithium batteries, is maintenance-free, and can be recycled for a long period of time. At the same time, we also have small hand-held spray guns, electrostatic sprayers, car disinfection machines, household oxygen generators, etc. which can be used together to achieve better disinfection effects.【WhatsApp/WeChat/Phone/Skype】+86 136 1385 6800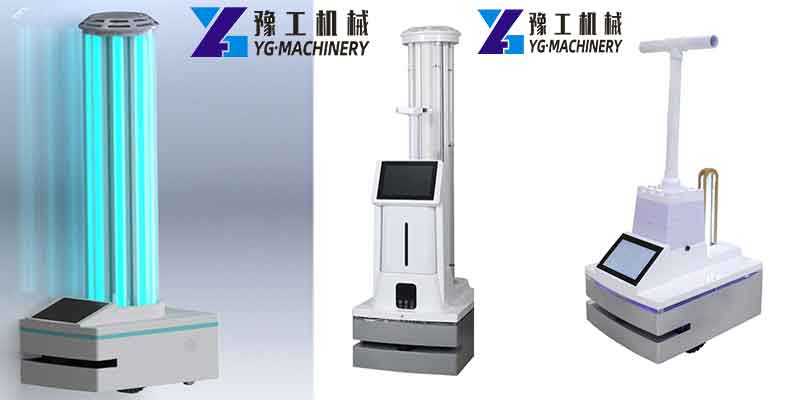 Parameter of YG Smart UV Sterilizer Robot:
| | | |
| --- | --- | --- |
| Dimensions | Chassis dimensions | 635*486*1530mm |
| Weight | with battery | 45KG |
| Power | Battery | Ternary lithium battery |
| | Battery capacity | 24V/40Ah |
| | Charging time | ≤2H |
| | Maximum charging voltage | 29.4V |
| | Endurance time(no load) | 6H |
| Performance | Maximum load | 50KG |
| | Maximum operating speed | 0.7m/s |
| | Navigation accuracy | ±50mm |
| | Direction | 360° rotation |
| Communication | Wireless network | 2.4G/4G WiFi |
| | Debug port | Ethernet RJ45 |
| | USB | USB2.0 |
| Charging pile | Dimensions | 400*128*250(mm) |
| | Input voltage | AC220V |
| | Output voltage | 29.4/7A |
| | Rated power | 200W |
Application Scenarios:
Suitable for disinfection of public places in small and medium-sized offices.
Scene: Airport, high-speed rail, subway, hospital, school, supermarket, hotel, office building, bank, library, gymnasium, factory, smart park.
Features:
Ultraviolet sterilization technology. 254nm wavelength ultraviolet technology, the sterilization rate is as high as 99.99%.
Automatically set working time. The autonomous operation automatically starts the disinfection task within a specified time.
Automatic recharge. Automatically re-charging when the power goes low.
Autonomously taking lift function. Autonomously taking the lift, free to work on different floors(optional).
In terms of killing performance, the car body is equipped with 8 ultraviolet light tubes to achieve 360-degree coverage and killing. The cumulative light intensity: is 936UV/cm², the coverage radius is not less than 6 meters, and it has a good environmental surface, The killing effect of air. The body of the car is equipped with a human body sensor module. During the operation, the ultraviolet light will automatically turn off when the human body is detected to avoid harm to the human body.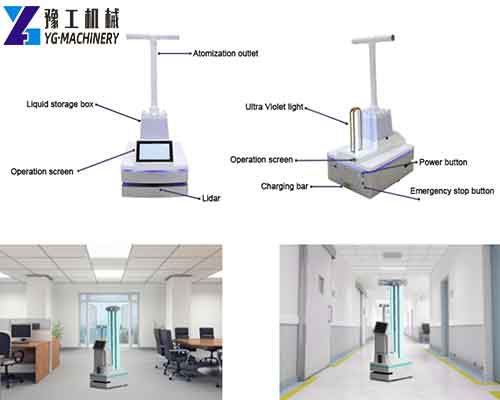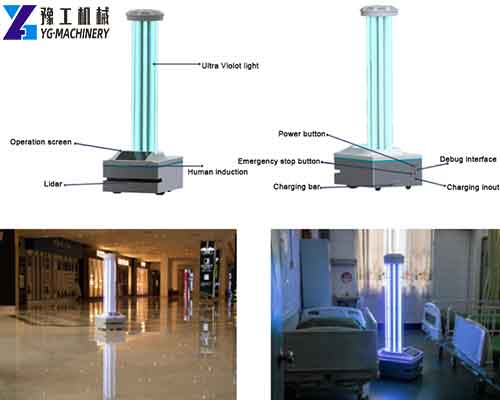 Why Buy the Autonomous Disinfection Robot?
Application of disinfection robots in Covid-19:
In China, after the outbreak of the new crown virus, robots also participated in the fight against the epidemic.
Robots have been widely used in many places, from disinfection, transportation of medicines and medical equipment, and cleaning up waste products to temperature measurements. It is believed that the new crown epidemic has triggered a major breakthrough in the popularization and application of robots in the medical system. Our users include some factories and offices, as well as Wuhan's airport and a hospital. Airport robots are in the luggage hall, checking the body temperature of arriving passengers during the day and disinfecting them at night.
From the perspective of infection prevention and control, preparing for cleaning and disinfection is a wise choice. Demand for this product has also increased significantly recently, with orders coming from Italy, Japan, Thailand, South Korea, and the United States.
Replace Manual Disinfection: areas that cannot or should not be accessed
To deal with a highly infectious pathogen like the coronavirus, the first round of disinfection is essential. Similarly, due to the high mobility of your workplace, continuous sanitation work is also necessary. Unfortunately, disinfection is a high risk for people and exposes your employees to major threats of exposure and cross-transfection.
At this time, the disinfection robot can serve as the "first rapid response echelon" and play a key role. When a room or place is most seriously polluted, the disinfection robot can easily enter the area to disinfect the ground and air without the risk of infection. The subsequent health work has a low risk of infection and can be performed manually. In addition to safety, the use of disinfection robots can indirectly reduce the consumption of protective clothing and supporting protective products, and ease the difficulty and complexity of the procurement.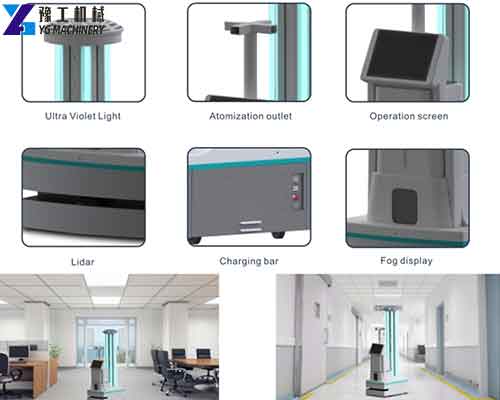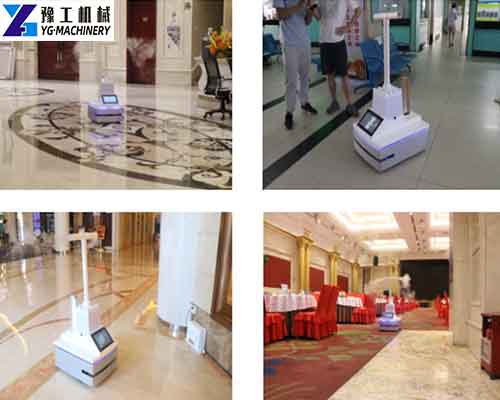 Best High-Quality Smart UV Disinfection Robot Manufacturer – YG Machinery Factory Price
YG's intelligent smart UV disinfection robots have been sold to many countries in the world, and they have received a good response. They have indeed reduced the workload for most people and are safer. At this stage of the epidemic, we are all selling at the lowest price, in order to make more people affordable and protect themselves from the epidemic. In addition, we also sell hand-held spray guns, intelligent temperature measurement integrated disinfection doors, electrostatic sprayers, small car disinfection machines, fog cannon machines, oxygen generator machines, glove making machines, face mask making machines, balloon making machines, condom making machines, wet wipes machines, disposable cup making machines, paper bag making machines, lunch box making machines, and other disinfection equipment to meet the needs of different customers. If you are interested, please contact us as soon as possible, now there are many surprises waiting for you when placing an order!【WhatsApp/WeChat/Phone/Skype】+86 136 1385 6800